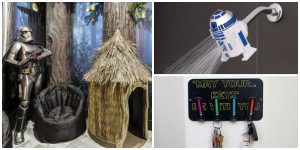 Star Wars Themed Decór Items That Have Us Feeling The Force
By Sachin P
---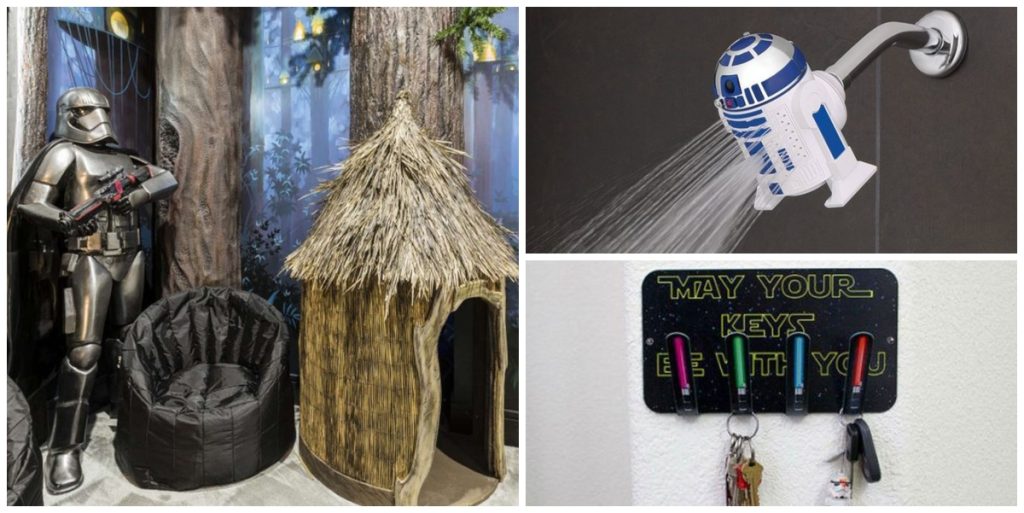 "May the Fourth Be With You!" as sci-fi lovers say from across the galaxy. They greet each other with a wink and smile on the special occasion. But just because each Star Wars fans understand the significance of May 4th as a constructed event does not imply that we can't have our fun with it as well, right? If you are confused about what we're getting at, with each successive year, that pleasure has expanded to include home furnishings in addition to the regular branded items. Many of these items don't appear to be Star Wars-themed at first glance. In fact, several might be described as—dare we mention it—stylish. So keep reading as we reveal our picks for Star Wars-themed home goods and decorations that every enthusiast would be happy to exhibit on May 4—and any other day of the season, period.
Dewback Loveseat
Dewbacks certainly are a lot of fun to saddle, but that isn't feasible. So we figured the next best thing is to recline on a Dewback-style sofa instead. Check to see whether Dewback is scratching your woodwork or floor molding.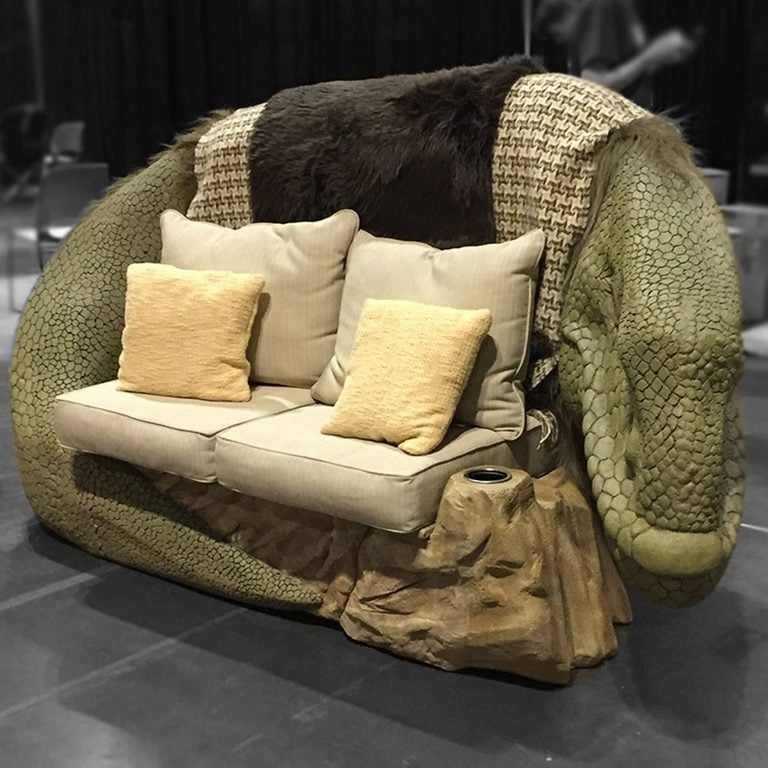 Remember that scene in The Mandalorian where Kuiil meets Din Djarin? Kuiil was riding a dewback. They seem like docile creatures and are quite ideal for navigating the terrain of the planet in question. Plus, they were so lovely to Grogu!
Emperor's Cabinet
When you don't want to spend time and energy to make an incredibly awesome bar, one such small AT-AT drink cupboard should suffice. It's nicknamed the "Emperor's Cabinet," and it really is a piece of genius made out of high-quality plywood.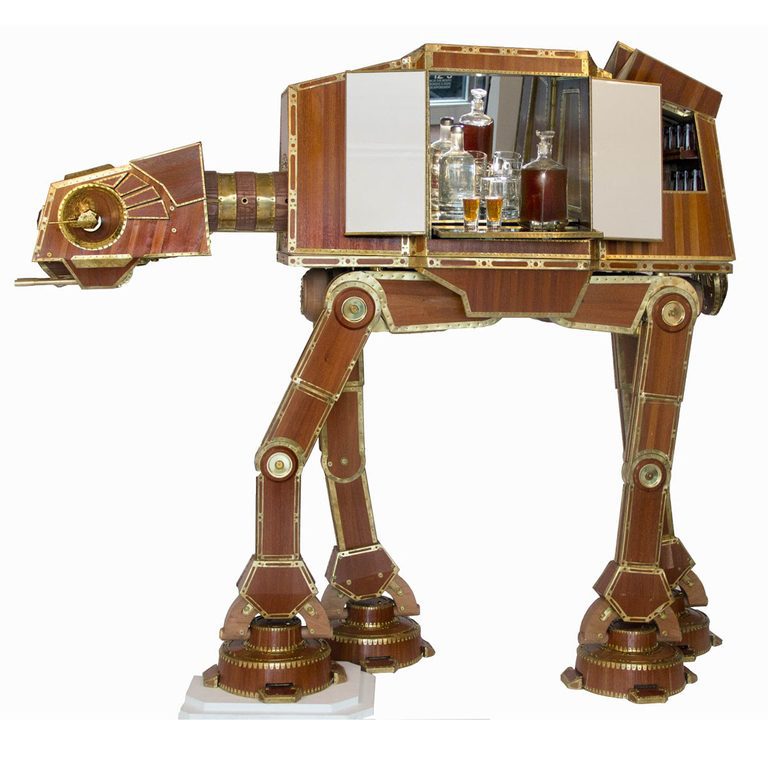 It also features mahogany wood with brass trim and glass. Just look at this setup. It seems like it is about to participate in the battle of Hoth. It looks so good. Just look at the lining. It's so luxurious-looking!
Star Wars Wall Clock
With such a magnificent Death Star timepiece, you do not have to worry about time, in a sense, that is. It's made from vinyl records, so anyone who appreciates Star Wars, as well as vinyl records, will go crazy about something like this.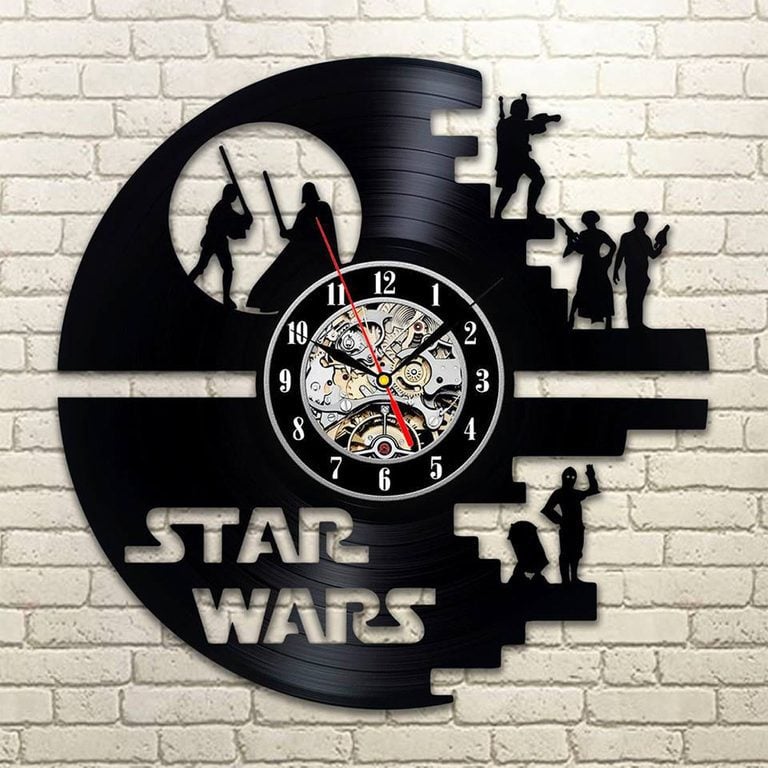 Embrace your quirky side with some furniture that is both simple and enjoyable. You can see the fight between Luke and Darth Vader and Boba Fett in all his glory along with Leia, Han along with the droids, C3PO and R2-D2.
Death Star Fire Pit
There aren't too many industries or goods that have not yet incorporated any sort of Star Wars-related item. However, West Coast Fire Pits has a Death Star fire pit. The fire pit is produced from made-to-order carbon steel and comes with a fuel input.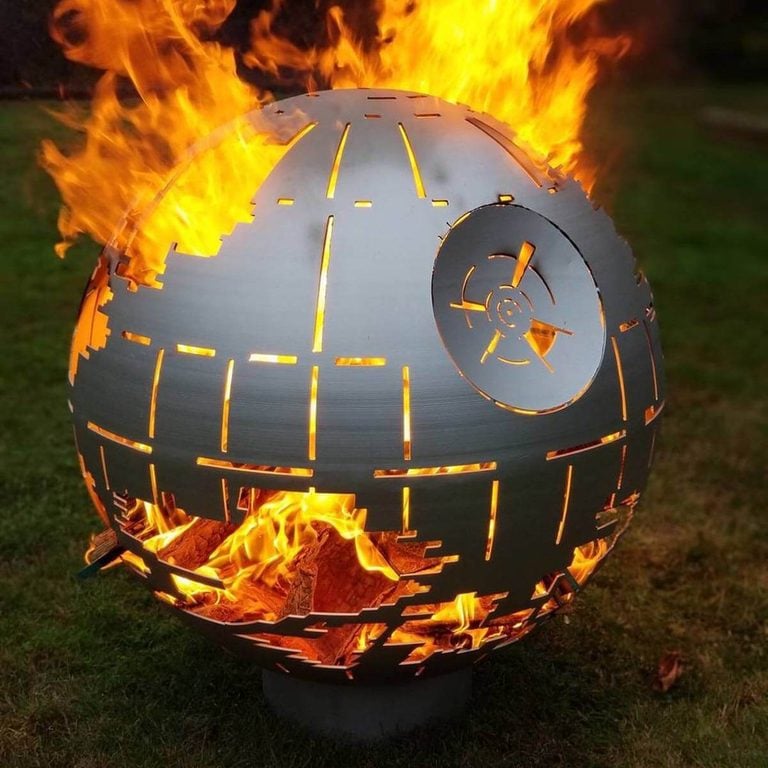 When it comes to Star Wars merchandise, it's hard to make a case it somethings, but this was one of the best. If your backyard contains some fantastic Star Wars features already, then the Death Star fire pit will certainly fit in well.
AT-AT Shelves
Put every one of your Star Wars memorabilia on each and every rack that will also accommodate it. While some other shelving may be attractive, the legendary All Terrain Armored Transport proves to be a functional shelf in the home for all you fans out there.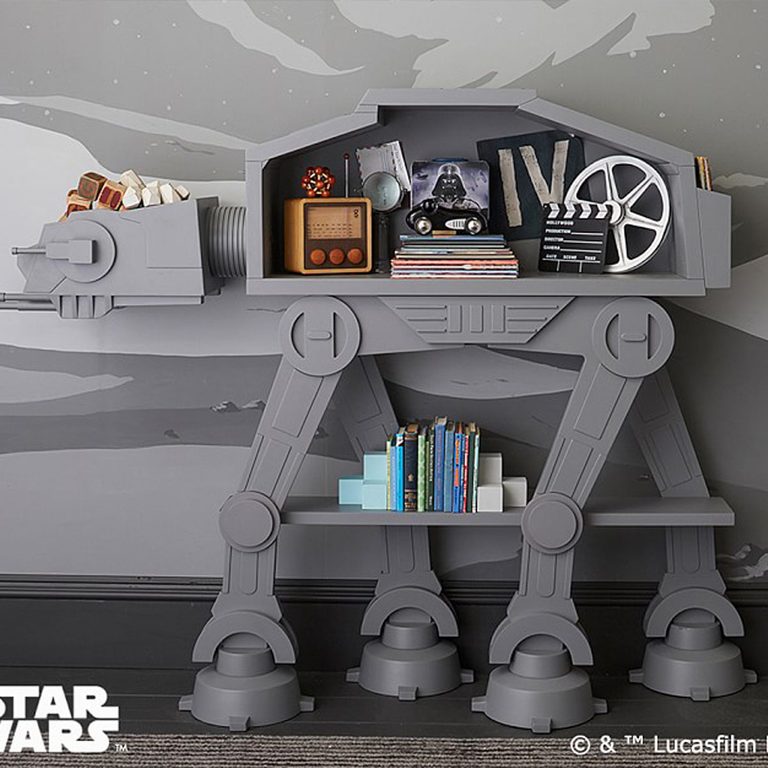 It is secured towards the wall to protect it from tipping over. It looks like it has enough space to accommodate all your favorite items and trinkets. Plus, this will be a great addition to any home, especially in the kid's room, whether you are a die-hard Star Wars fan or not.
Classic Collector Case Storage Table
Take into account this next item as your home's version of a mature tuck box. This shelving desk incorporates classic imagery from the Star Wars films and thus will serve as a home for all of your favorite Star Wars collectibles.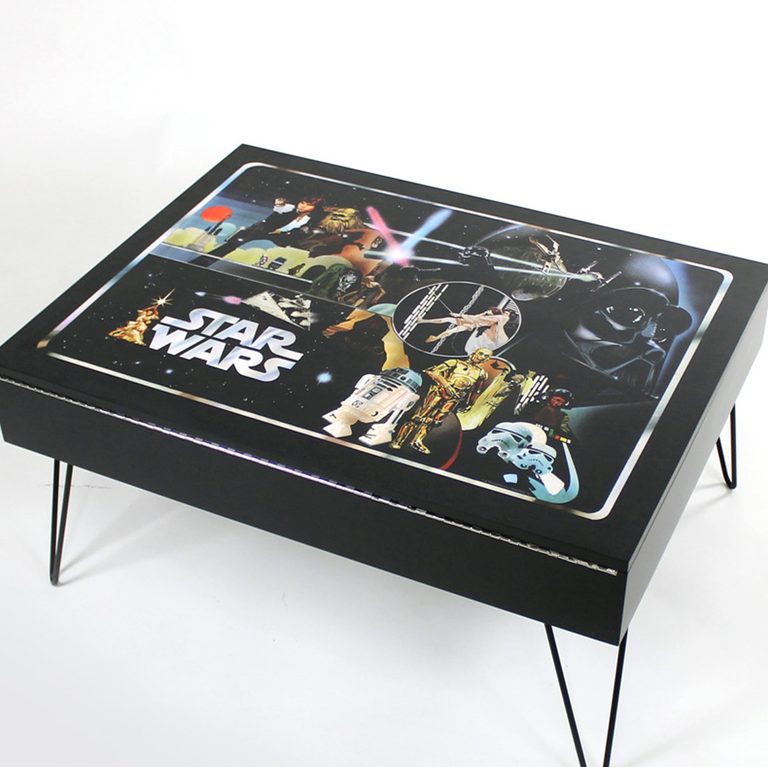 How cool is that, by the way? Not only does it serve as a piece of art, but it also incorporates a specific pop culture art vibe into a thing that is as common as a desk. We completely dig the vibe this brings to the house.
Cantina Living Room Furniture Set Concept
Perhaps your organization isn't really superior to the ones who attended the Mos Eisley Cantina, then why not just end up making folks feel more at ease there? Alternatively, use the location as a rendezvous site for Star Wars fans binge-watching the franchise.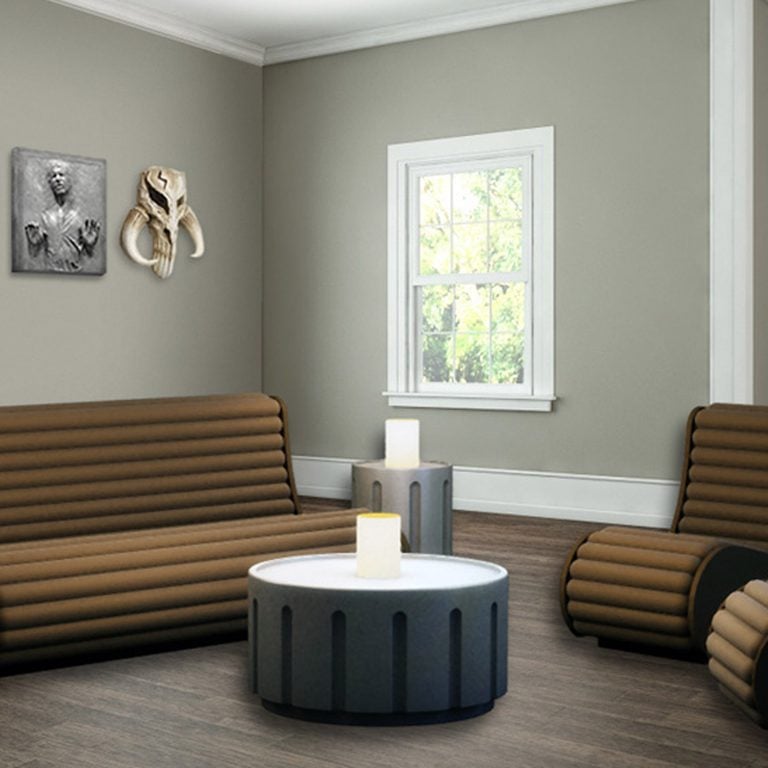 Examine how and where to squeeze everybody in so that no individual's sight is obstructed. Because that's the last thing you want to let happen during a Star Wars marathon — unsatisfied mega fans with no clear line of sight.
Han Solo Carbonite Coffee Table
With this fantastic coffee table, anyone can store Han Solo precisely where they like to keep him. The problem would be that the table costs roughly the same as Han Solo's obligations to the villainous Jabba the Hut. So, it is quite an investment.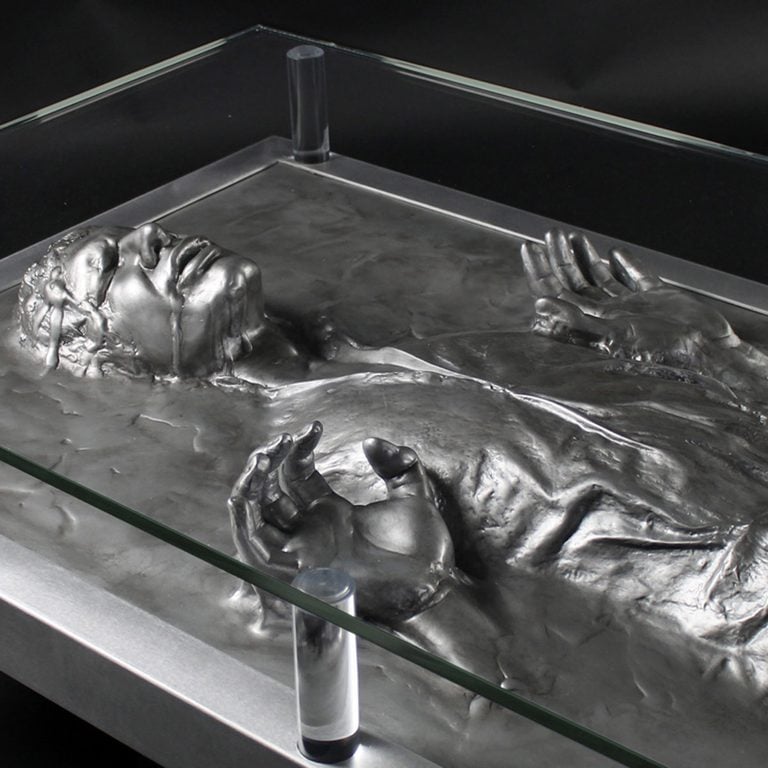 You can almost hear it screaming in pain being frozen in carbonite. All you have to do is just listen carefully. There's also this theory where it says that Indiana Jones is something Indi dreamt while encased in carbonite. That sounds cool!
Endor Bunker Themed Desk Concept
With such an Endor Bunker-inspired workstation, you can hold much more than the Endor Bunker could. If some of that merchandise is too much for you, it appears that you're not a huge Star Wars aficionado. Man, that's a bummer!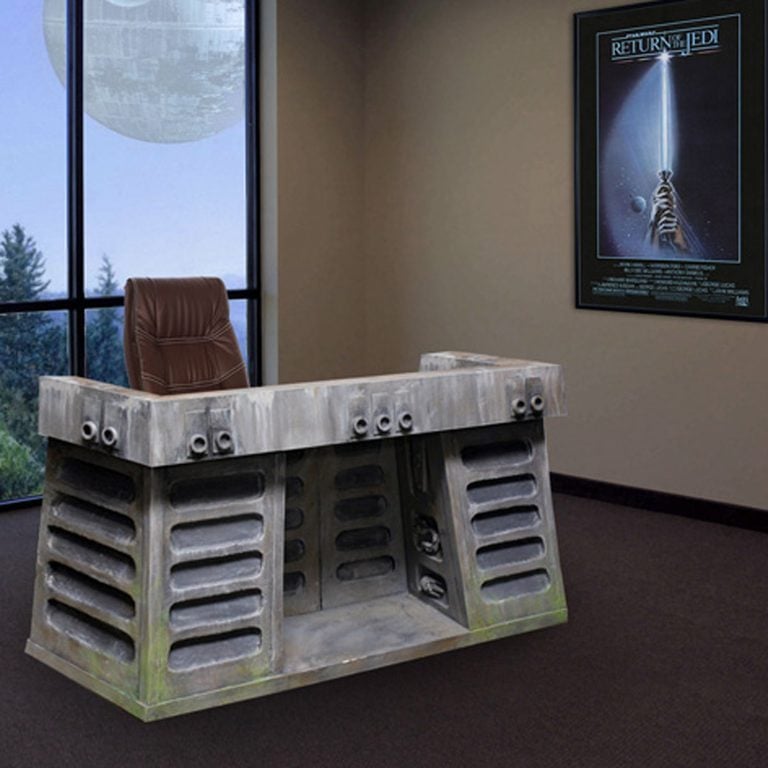 So, this would make a lovely workstation in a galaxy far, far away from the Star Wars universe. Can you even feel the pride of signing your important documents on this? Those who would visit your office won't be able to take their eyes off the desk.
Chewbacca Bowcaster Door Handle
Chewbacca's Bowcaster has proven useful on numerous occasions over the years, and that can indeed be yours. It's a fun way of displaying your enthusiasm without getting hysterical, and this is a fantastic justification to install this if you have a slack door handle.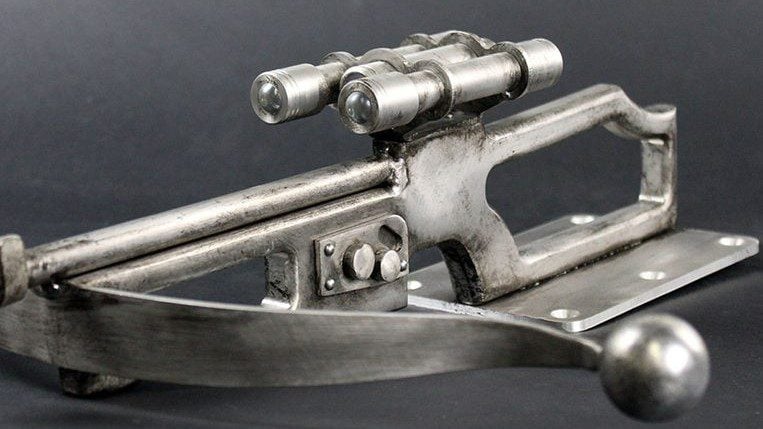 The Bowcaster, which was is Chewie's possession, was a true monster of a weapon. When Han first fired it during the events of The Force Awakens, he asked to borrow it from Chewie because even he felt the raw power it had.
Diamond Select Toys Star Wars: Boba Fett Neon Sign
This flickering fluorescent light will highlight a realm of opportunities if you really need something like that for your gaming room, such as this arcade-themed version, or just want something like a cool Boba Fett memorabilia for your home. It's the perfect addition.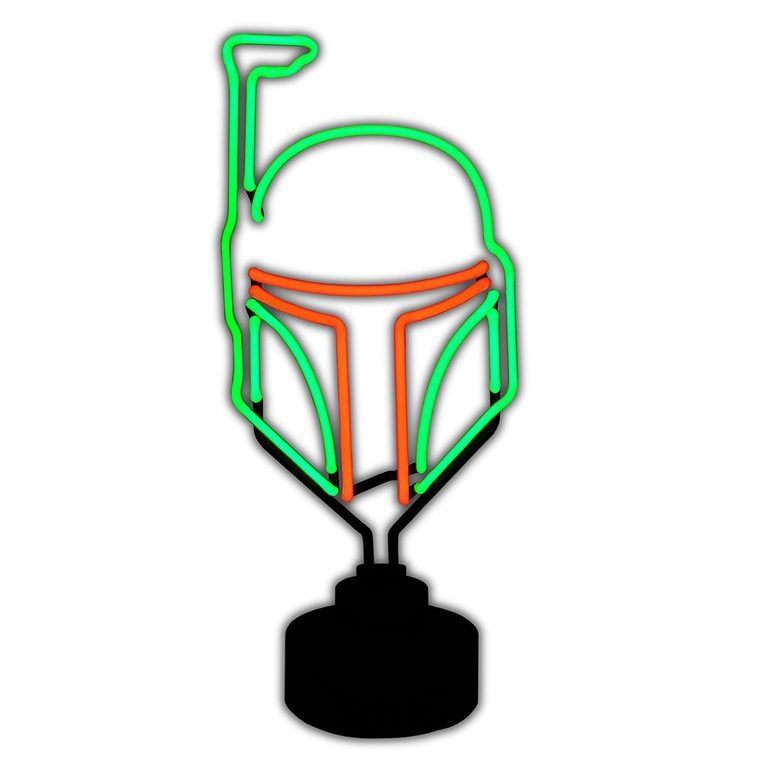 Can you imagine having memorabilia of the best and baddest bounty hunters in the entire galaxy in your possession? It is the kind of feeling that really escapes words. Anyway, you don't have to be a Star Wars fan to appreciate the aesthetic value of this.
Star Wars TIE Fighter Gray Desk
With such a TIE Fighter workstation, you can swoop all around the office in elegance. Seated around this dope workstation, you'll be able to get work done as quickly as possible while keeping additional items on your desk organized and in hands reach.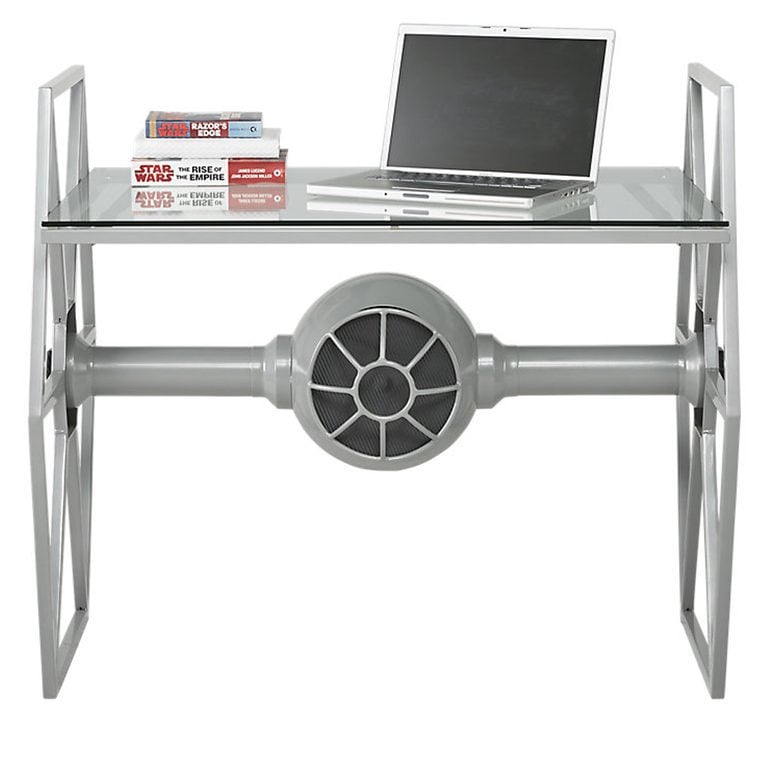 If you have watched the movies, you do have an idea as to how much of a threat a TIE fighter poses. Even the sound, like a Stuka, can give people cold sweats. In the hands of capable pilots, TIE fighters are extremely formidable weapons.
Star Wars Emperor Throne Armchair
If you're kind of feeling really villainous, perhaps this chair modeled after Emperor Palpatine's might entice you. It actually has the color scheme of black and purple, which is like a generic way of showing that a character is evil.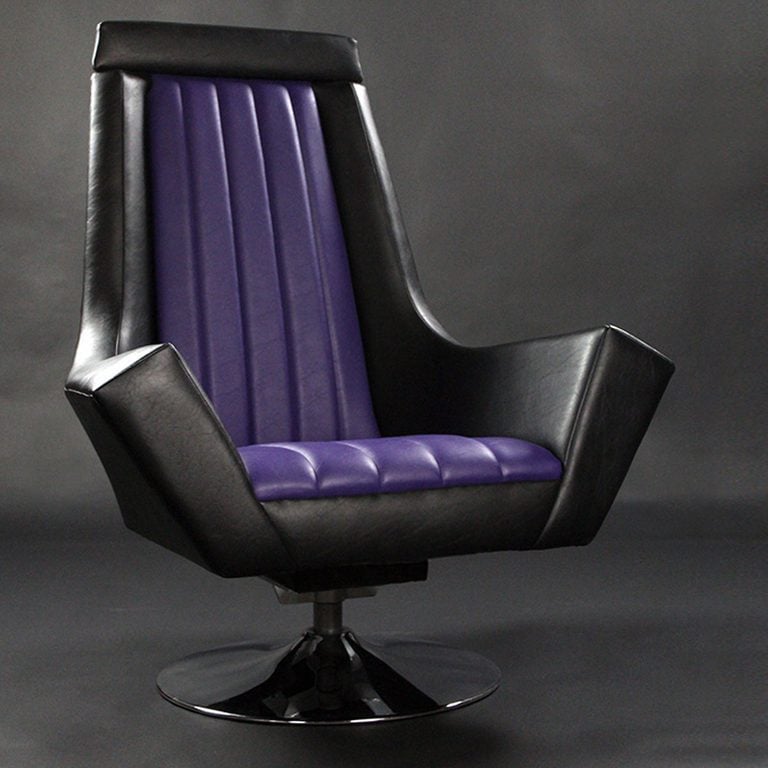 Remember Sleeping Beauty? Not the movie starring Angelina Jolie but the animated version. In the end, Maleficent turns herself into a dragon which is colored black and purple. The film was entertaining, but in our honest opinion, we liked the animated version more.
Han Solo Bookends
Han Solo erected numerous barriers during his existence, and a hundred books could be published concerning him. Alongside Solo, there is the Cantina, and this bookend creates a great atmosphere if you have some volumes which simply won't fit on the bookshelf.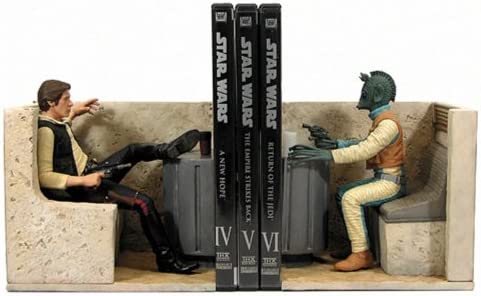 It might be best to consider making a knife block out of those. It's a well-known fact that it was Han Solo that fired the first shot at Greedo at the Cantina. But, Harrison Ford himself is quite cavalier about the famous scene.
Stars Wars Lightsaber Lamp
With just this fantastic light, you can drive the Dark Side out of the environment. Any stormtroopers will be fended off with lightsabers. If a struggle breaks out and a lightbulb is damaged, simply connect with the Force and solve the problem.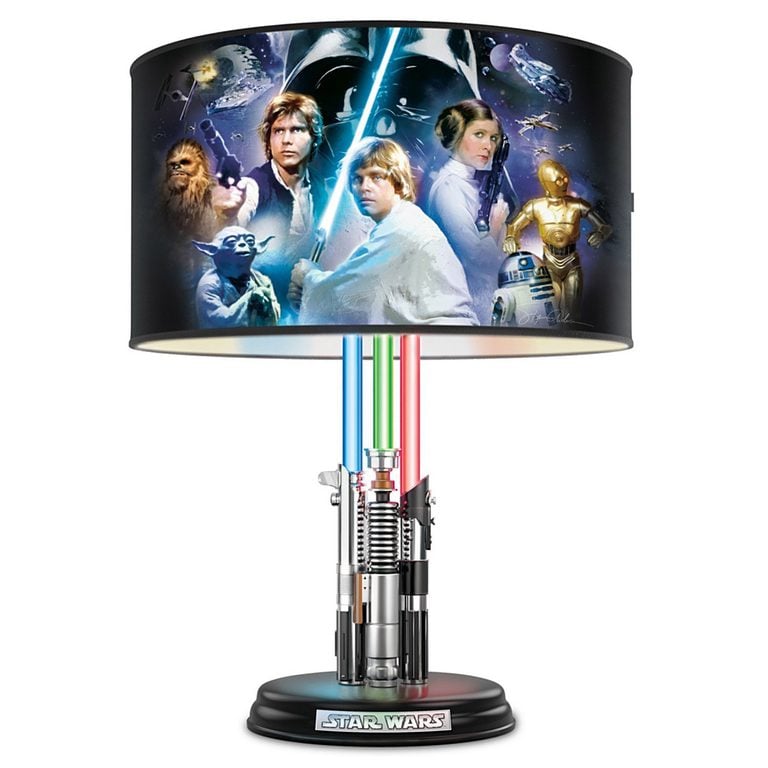 Come to think of it. It's incredible how they managed to make something simple as a lightsaber so popular. It is a powerful weapon, and the mechanism involves the use of Khyber Crystals. But, in essence, it's a sword at the end of the day.
Wampa Rug
A Wampa rug helps to confirm your allegiance to the fandom in a significant manner. It may not be a fur-lined rug (which is a good thing because it means that an animal's life was spared). But make sure the wampa rug is made from recyclable material.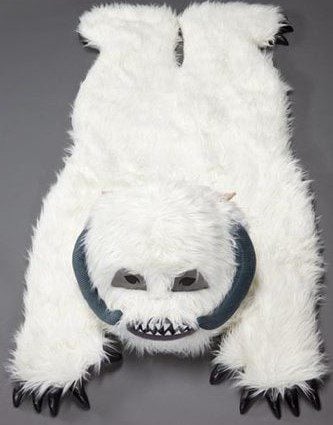 But it really is close. Additional interior decorating advice includes finding the ideal spot in the home for the rug. However, unless you're looking for a new home, you may wish to keep it and other belongings. Who would want to give away a rug as cute as this?
Yoda Coat Rack
Jedi Master Yoda receives a trendy redesign on this great coat rack. It looks like Yoda has found a new life in the music industry as a DJ. Or could it be that Yoda is just enjoying some sick tunes?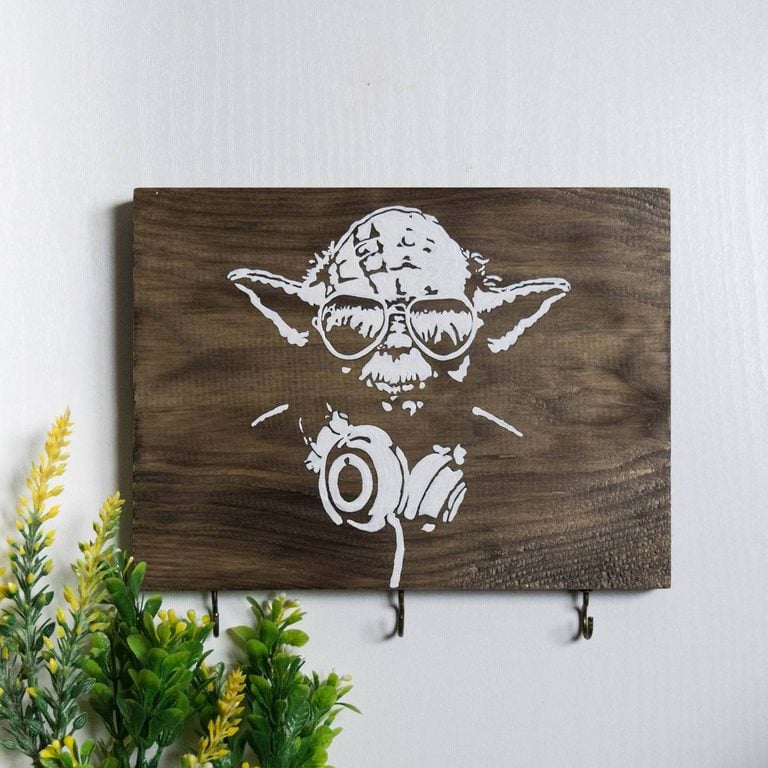 Which are from a galaxy far, far away? Anyway, fans of distressed wood and Star Wars will love this hanger, which has quite a nice aesthetic. Plus, what makes this even more amazing is the fact that this is entirely recyclable.
Death Star Lamp
You should put this Death Star lamp which appears as though it's erupting beside a Boba Fett fluorescent light. It will definitely be another fantastic addition to any man cave or she-shed. Okay, man cave we know about, but what is actually she-shed exactly?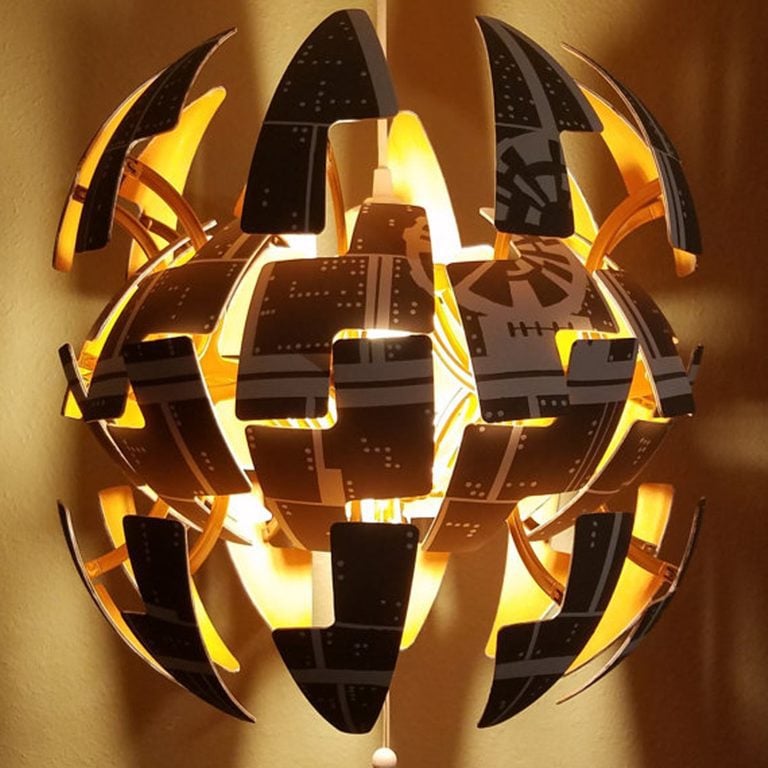 A she-shed would be what a lady would call her room of curiosities, aka man cave. Now, there's no need to be triggered over something so trivial as this. What's wrong with having a gender identity on an inanimate object?
Star Wars Key Holder
With just this cute Star Wars key holder, your keys won't be in a galaxy far, far away. Maintain your search focused on this world. Don't worry about the void where all keys, lost socks, and other materials just end up.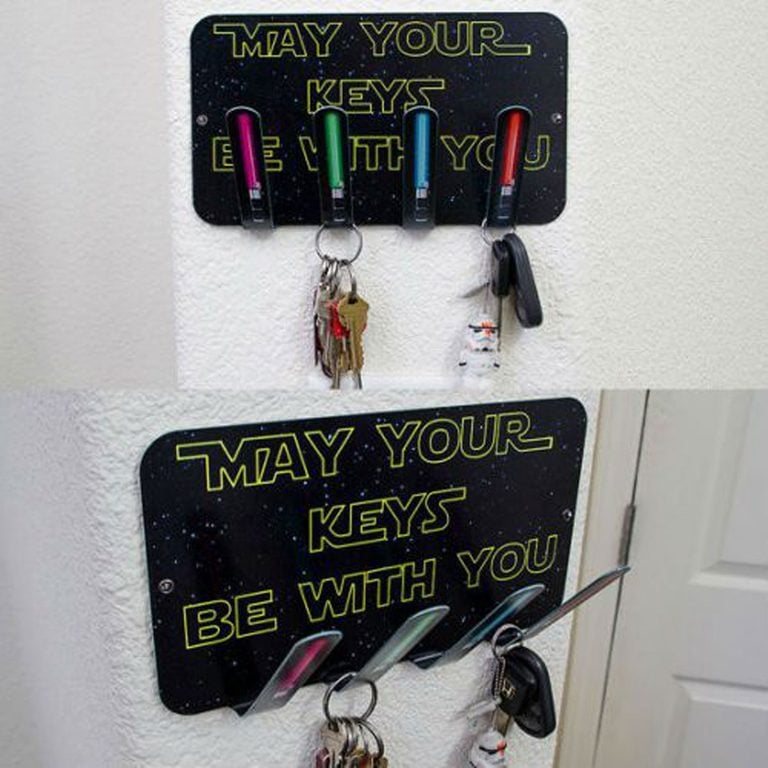 Things can't be ending up in the void if you have them organized like this. We have heard somewhere that a mess is a sign of intelligence. Well, so is an ordered workstation where you can find everything of yours without hassle.
R2D2 Table
Well, the only downside of having this gorgeous piece of furniture in your house is that it won't beep—beep as in not like an alarm. Beep as in the sound R2D2 makes as he is a droid. A fine one he is.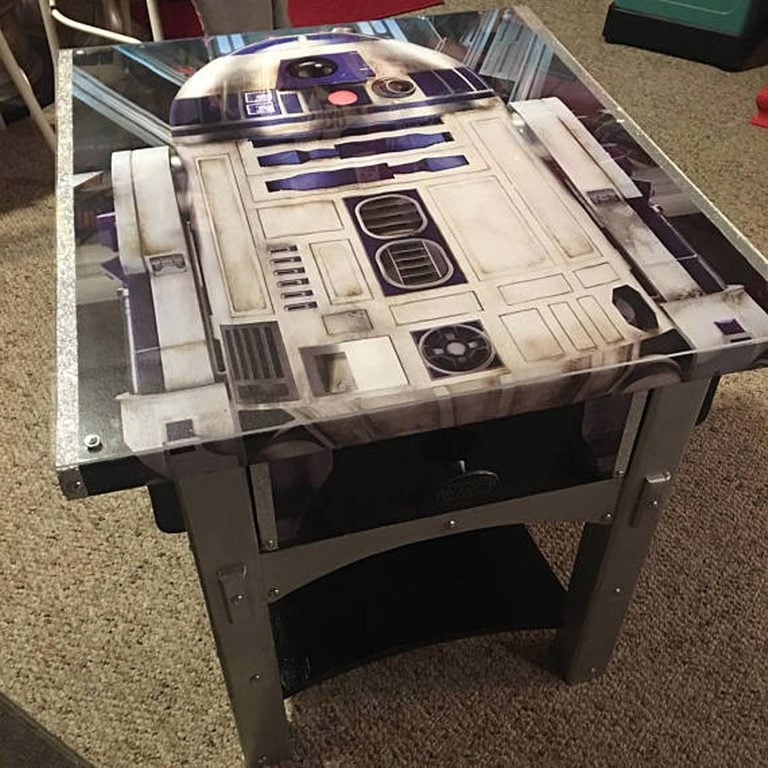 It's an essential part of the whole saga and one of Luke's most trusted confidants. This may not be the droid you are looking for. But this might be the desk you are searching for to keep all of your treasured memorabilia.
Millennium Falcon clock
But even though the Millennium Falcon could move at near-light-year speeds, this clock actually keeps time. The Millenium Falcon did complete the Kessel run under 12 parsecs, so this is not the kind of ship that should be taken lightly.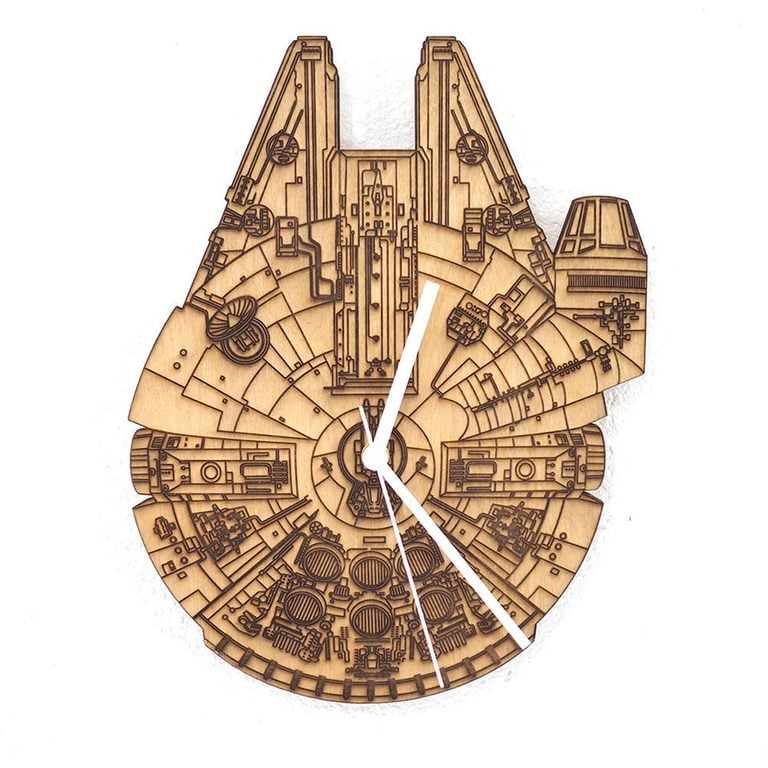 It is the real home of Chewie and Han Solo. When Han said to Chewie, "Chewie, we're home," that really started to get the waterworks going within us. The bond they have is on par with the capabilities of this amazing piece of technology.
Darth Vader showerhead
Obtain a Darth Vader showerhead if you're a fan of the Dark Side. The idea of water flowing from his eyes is rather appealing. Maintain the flow of water and embrace the dark side of the force. Yes! Let it flow through you.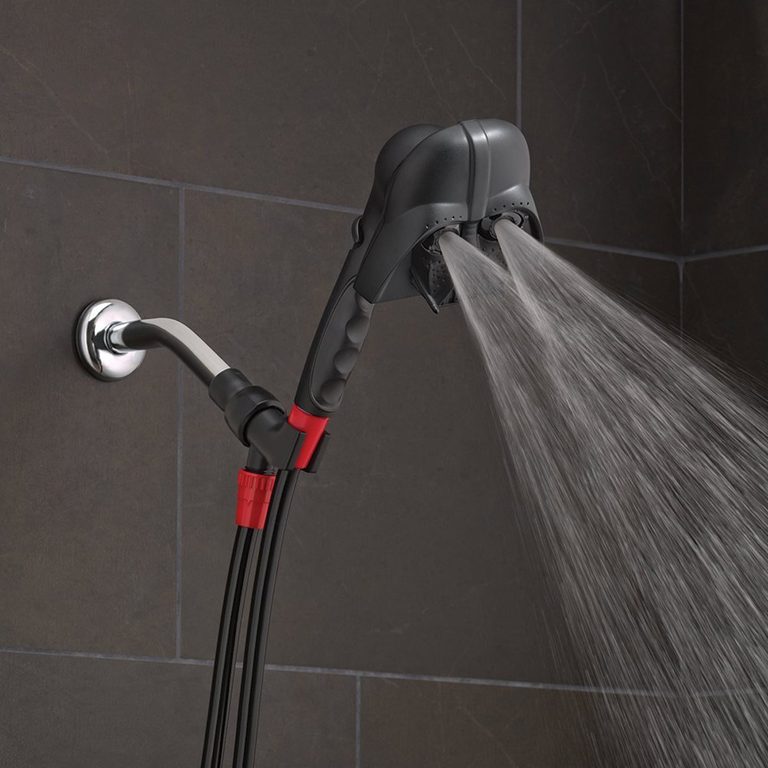 It would have been amazing if they figured out how to add a voice function to this as well. Whenever you open the shower, Darth Vader says in his deep voice, "So you have chosen the Dark Side. Very well. Scrub away."
R2D2 Wall Decal
Vinyl cut designs as well as text sometimes cause misunderstanding as to what is a decal or what is a sticker, but experts believe that all decals are stickers, although not all stickers are decals. A decal is a decorative sticker in a sense.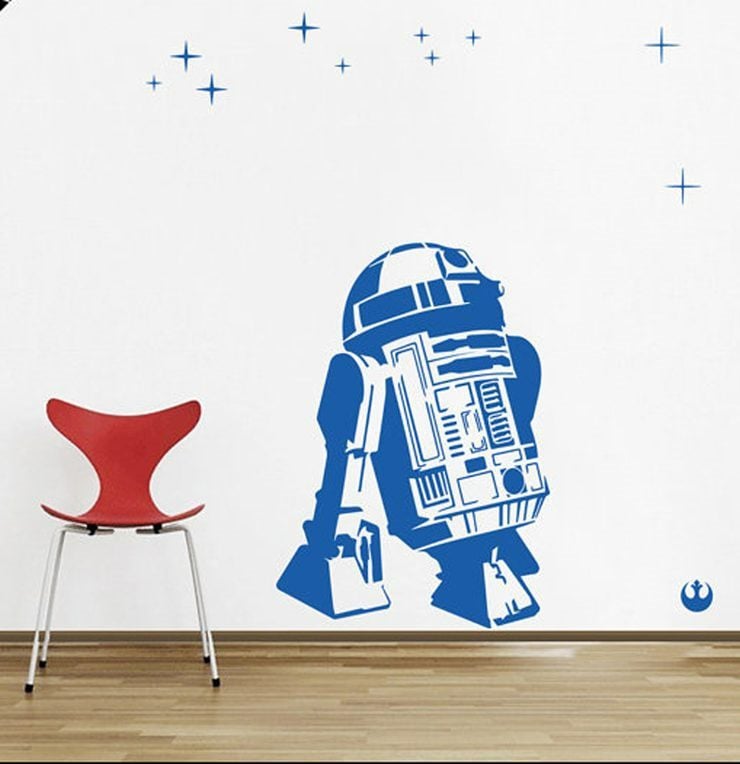 It is mostly utilized outside. Stickers can be applied to various substrates of various sizes, just like this R2D2 decal we have right here. It adds a certain flair and a panache to an otherwise bare wall.
Lightsaber Display
With such a holder, you may proudly display your lightsaber at your residence. It's constructed of stainless steel and painted steel, with red, blue, or white LED lights to choose from, which is another very eco-conscious option, in our opinion.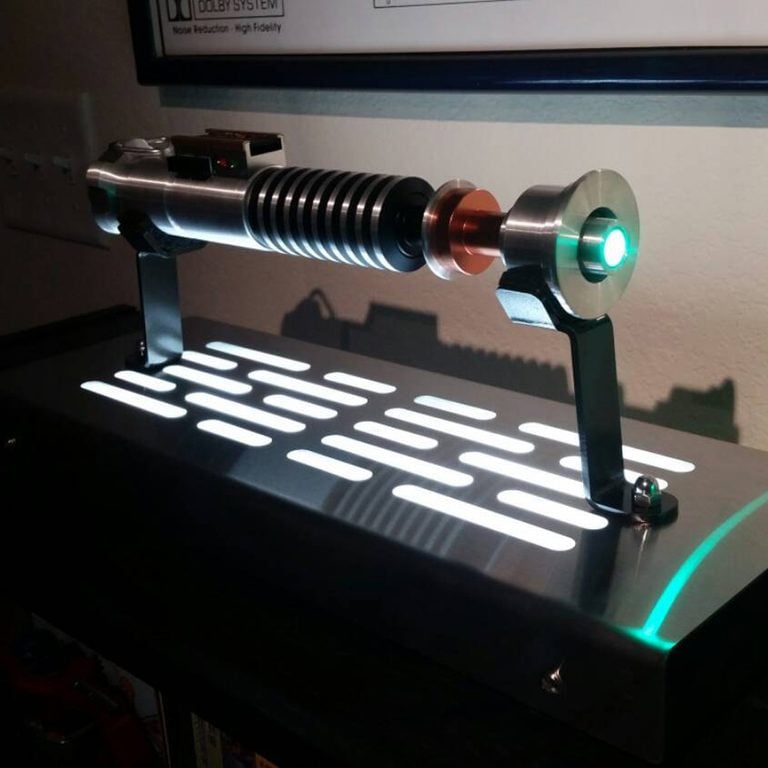 Old-fashioned incandescent light bulbs and the CFL (compact fluorescent lamp) are a thing of the old these days. Why, because they cannot compare with the energy efficiency of LED (light-emitting diode) bulbs. It's all that matters now; how much you can save.
R2D2 showerhead
R2-D2 was indeed an intelligent astromech droid who assisted Padmé Amidala, Anakin Skywalker, and Luke Skywalker in succession, protecting his owners and their allies from a variety of dangers. This goes to show that R2D2 was a true bro.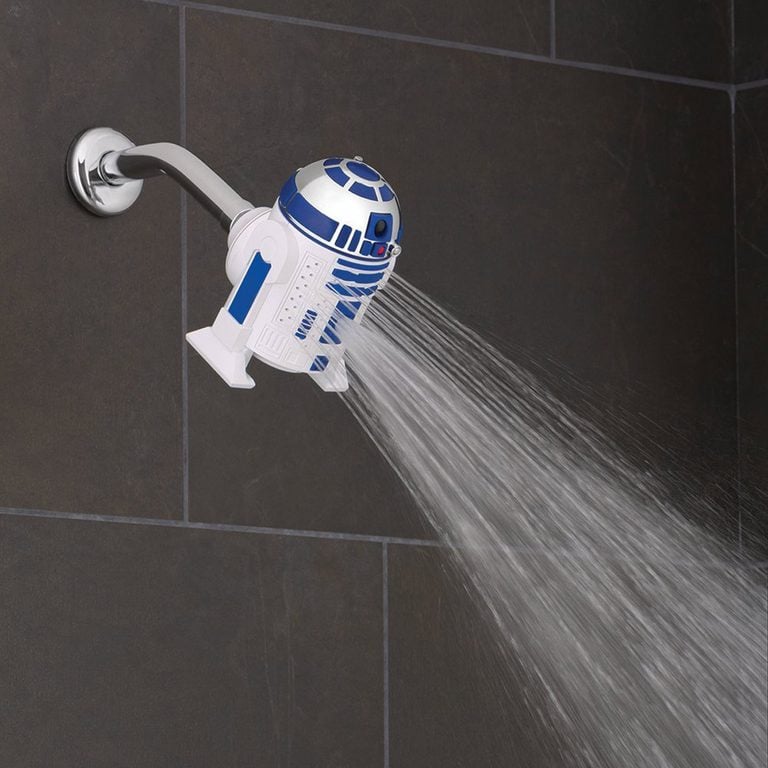 His greatest asset was his undying loyalty and somewhat level-headed nature compared with C3PO. With C3PO's headless chicken antics, the grounded reality of R2D2 goes along pretty well. That is what makes him an invaluable asset to the rebel alliance.
BB-8 Lamp
BB-8, a wary yet devoted astromech, assisted Poe Dameron on several Resistance operations, assisting him in keeping his X-wing in tip-top shape. The droid ran into the dunes with something like a key tip towards the whereabouts of Jedi Master Luke Skywalker.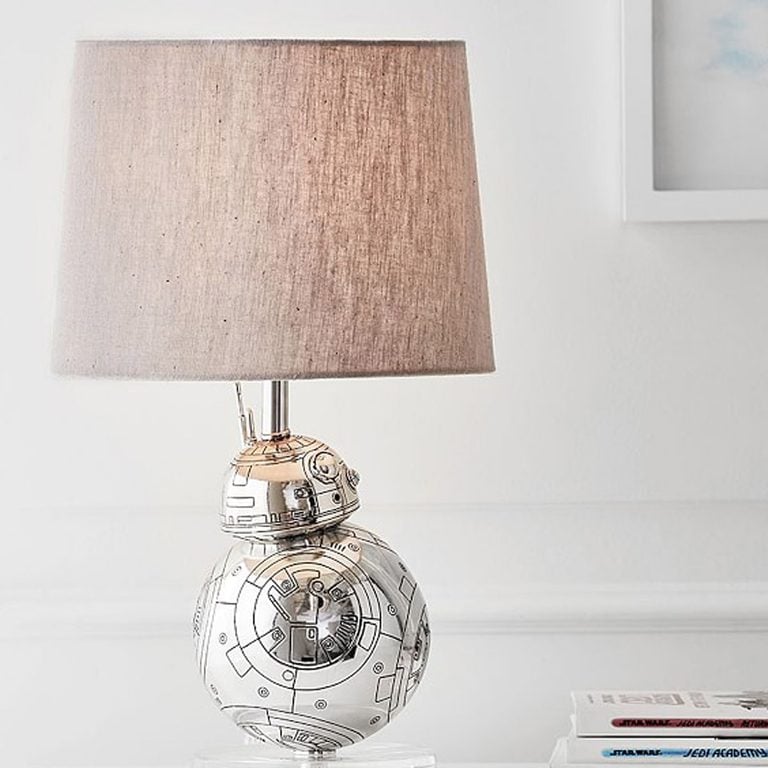 After Poe's expedition to Jakku failed with his arrest by the First Order, we think they tried to emulate the success of R2D2, and they did succeed up to a certain level. R2D2 will still remain as the OG.
TIE Fighter Posable Desk Lamp
The TIE fighter was always the Imperial fleet's unmistakable insignia. A single pilot pilots TIE fighters. They were deployed onboard Star Destroyers and major bases and then were developed incredibly quickly for dogfights against Rebel X-wings and other starfighters.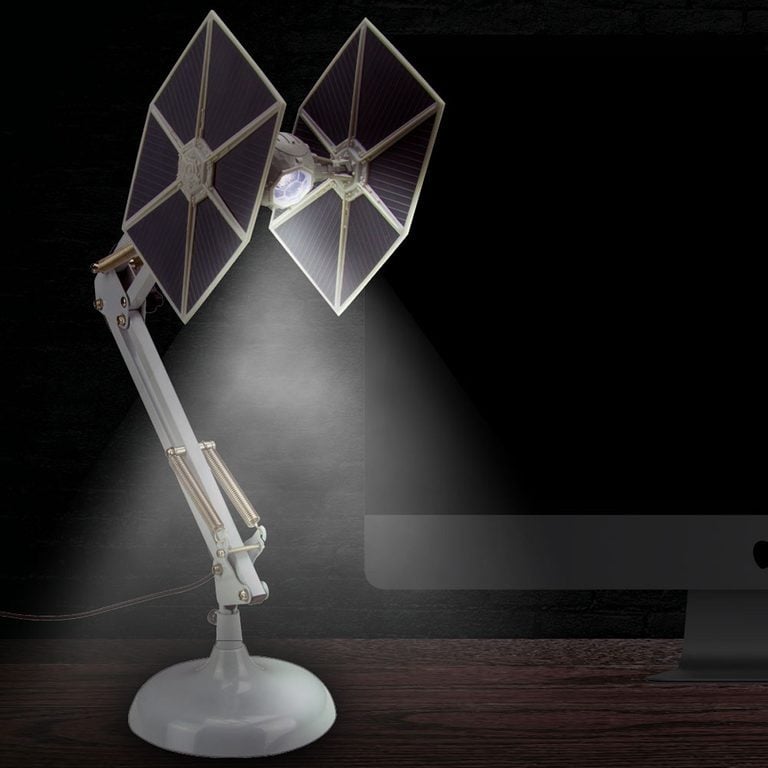 Subsequent TIE fighter versions, such as the knife-like TIE Interceptor as well as the TIE bomber, were inspired by the classic TIE fighter. All foes of the Empire would've been terrified primarily because of the terrible scream of a TIE's motors.
Star Wars Space Chase Sham
Make a bedroom feel like a Star Wars movie set using Star Wars furnishings such as this one. The bedspread and cushion coverings are adorned with X-wings and TIE Fighters. It actually feels like you're participating in an epic space battle.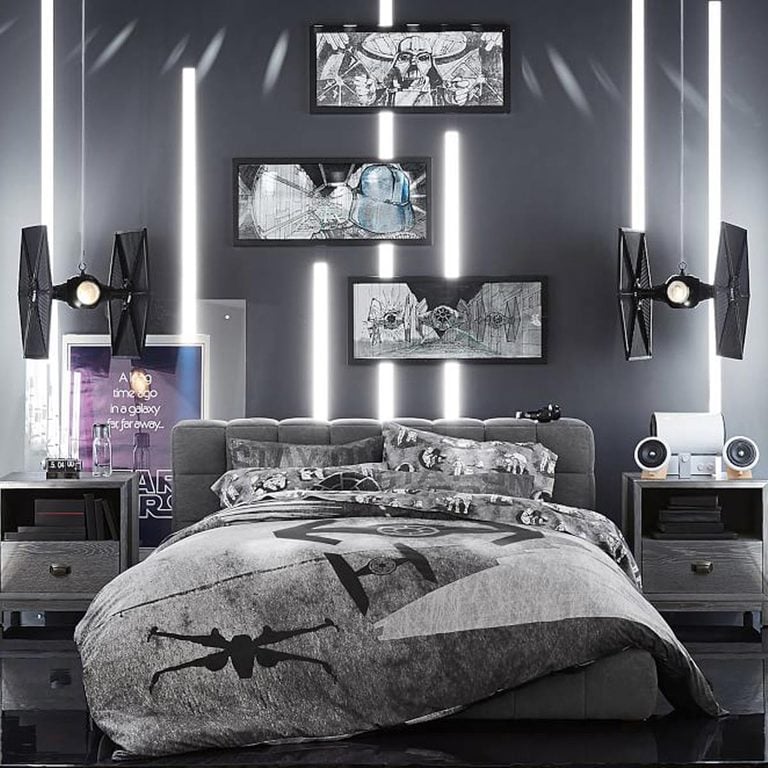 We remember the excitement of seeing the rebel alliance going up against the First Order's fleet in The Rise of Skywalker. Yeah, yeah, we agree with you on the fact that the movie left more questions than answers. But the battle was epic.
Star Wars Area Rug
With such an area rug, you can maintain a photograph of something like the original film poster for Episode IV: A New Hope on the ground you walk on every day. It's ideal for safeguarding both the ground and the galaxy. It looks very chic, too.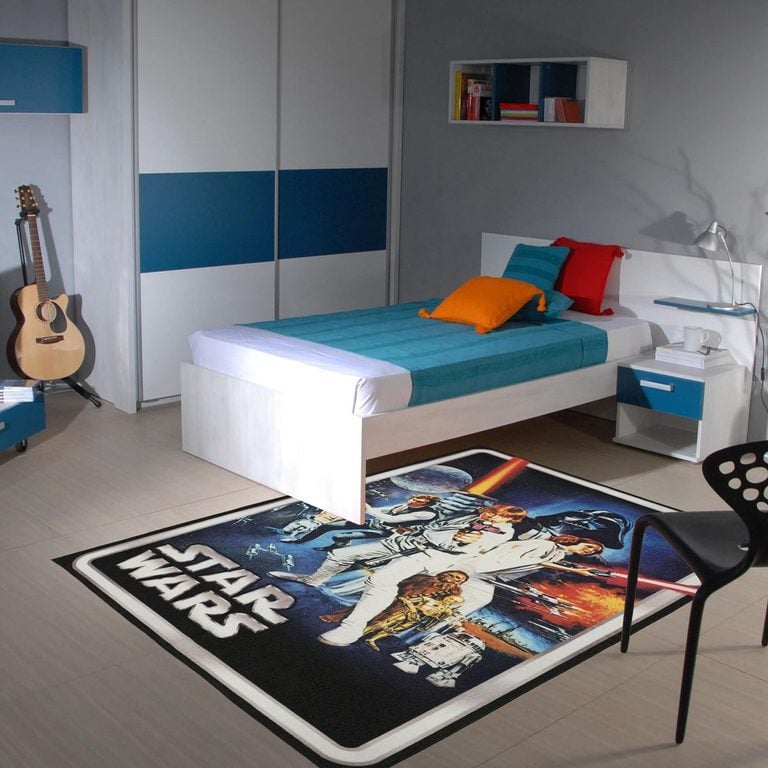 We still can't believe the frenzy Star Wars caused when it first came out four decades ago. There were people who went to see the movie dozens of times so that they could sketch the uniforms of the fighter pilots. That's what you call passion.
Droid Storage Containers
Such a fantastic droid container set will keep you well-stocked in the kitchen. A droid container can be used to store cutlery, food, or culinary ingredients. We think it is a missed opportunity that it doesn't beep when the lid is opened.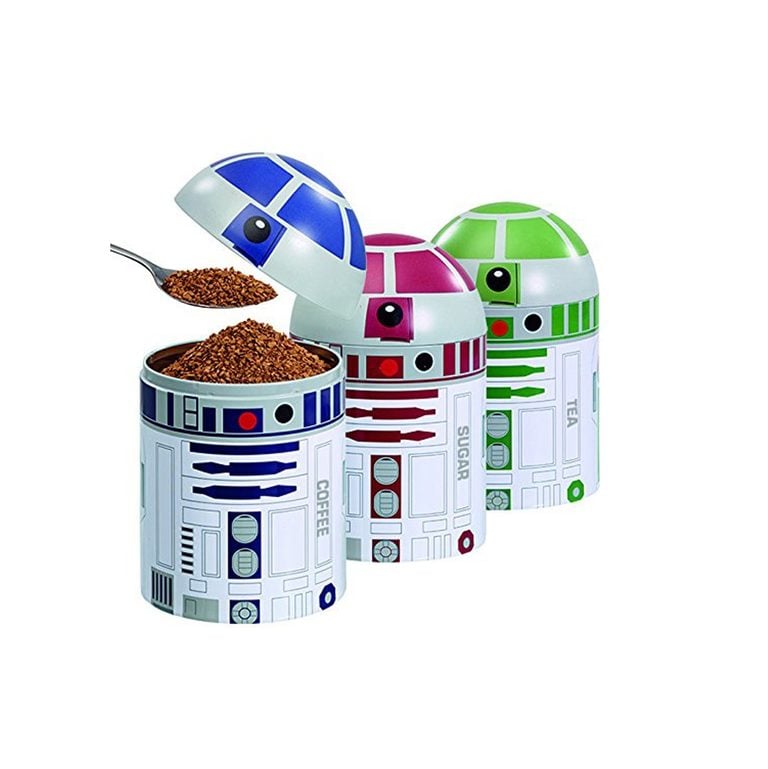 If you're wondering what "droid" means, it's a shortened version of "android," a word previously designated for machines that appear and behave like humans. Well, that certainly is the case when it comes to C3PO. Anakin really did a number on him.
Star Wars Cat Bed
Luke Skywalker's legendary landspeeder has been redesigned as nothing more than a cat bed. Your cat would love to see the extravagance. It will for sure boast about this to its other cat friends. "My hooman treats me fairly well, as you can see."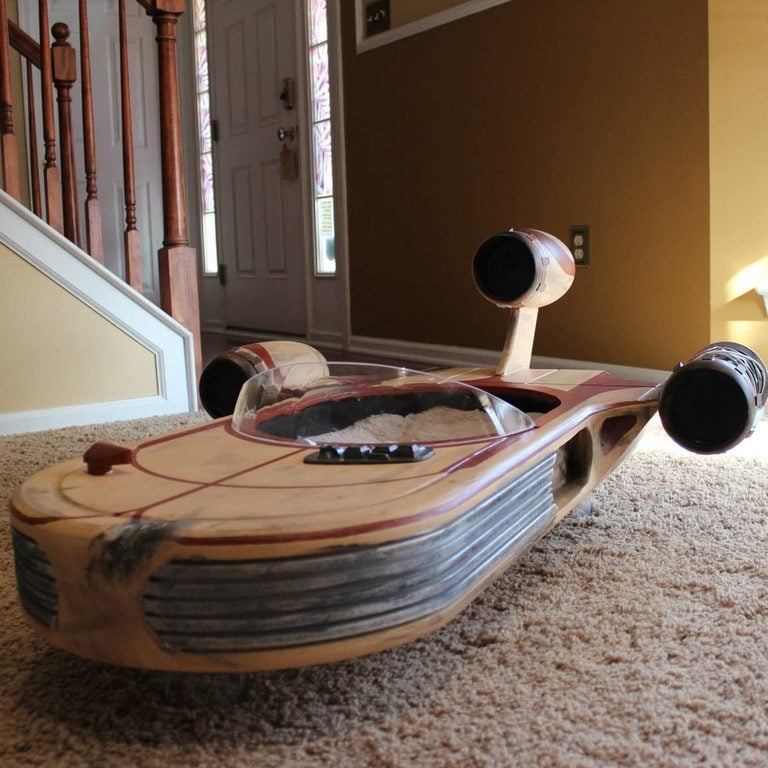 If you are a proud owner of a cat, you know that a happy cat equals a happy home. If your furry friend is not content with the luxuries that you provide for them, they will surely let you know that.
Star Wars Scenes from a Villa
Look out for different scenarios from the Star Wars series, such as Stormtroopers and BB-8, in this 12-bedroom, 13,000-square-foot home. It is for rent as a holiday villa, so if you want to rejoice in your love for Star Wars, this is the place for you.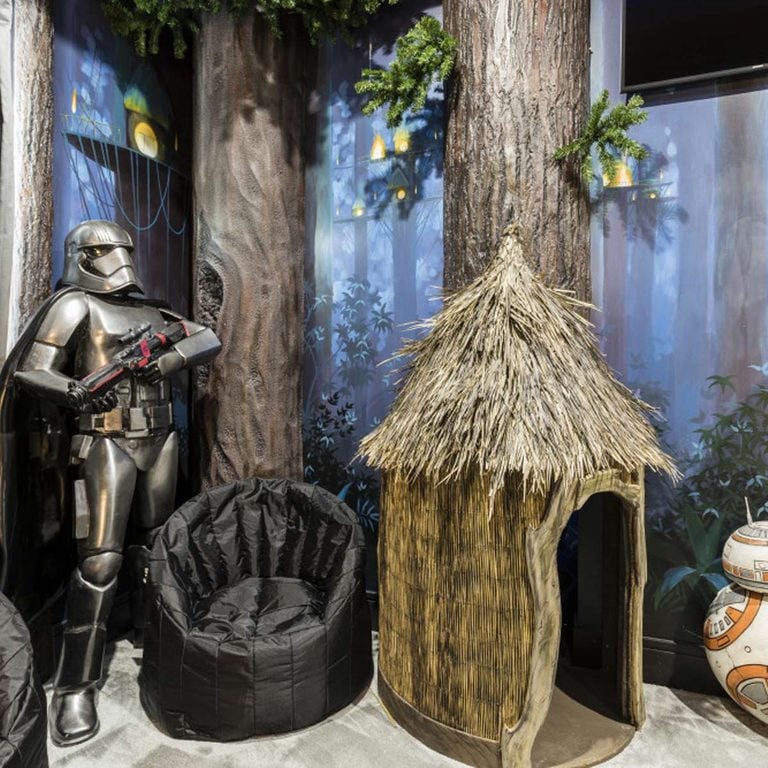 Just look at the Captain Phasma statue they have in there. It's so life-like that it is almost like Gwendoline Christie is inside that thing, ready to pounce on traitors and rebel scum without any mercy. We wish we had this luxury to ourselves.
Star Wars Curtains
Although it depends mostly on the fabric of your drapes, many of them seem to be easily cleanable. Look at the label to see if they're okay to throw in the washer, then wash the drapes with a mild detergent.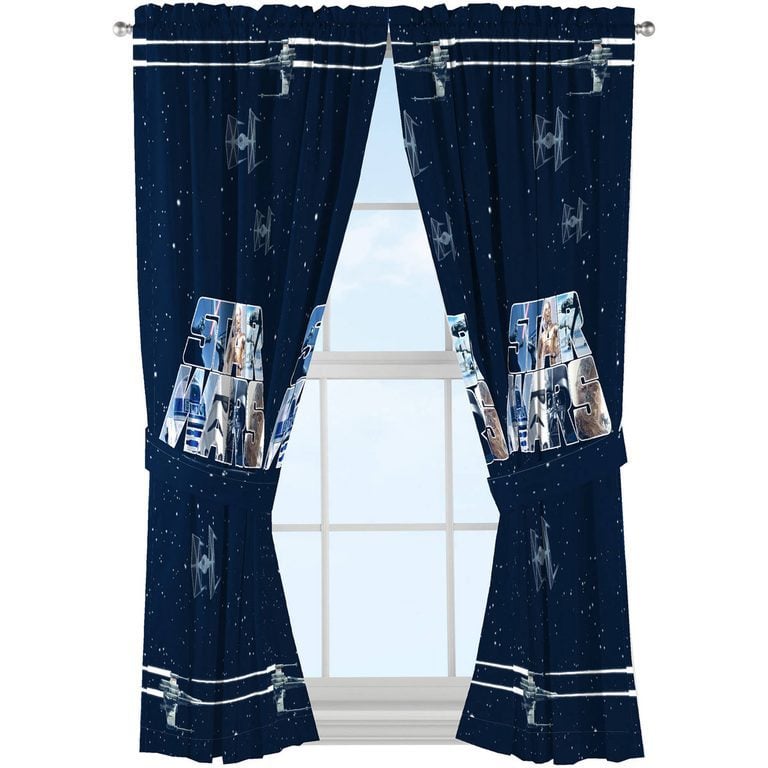 Use cold water and your regular detergents. If indeed the labeling specifies that they can be dried, just use the lowest setting available and try to do it as quickly as possible to prevent creases. You don't want to cause any damage to Star Wars-themed draperies.
Star Wars Portraits
In a trendy high-contrast style, you can have favorite figures from the Star Wars franchise on your walls at all times. These decals are simple to apply and remove without the need for screws, tape, or adhesives, making them great for dormitories and homes.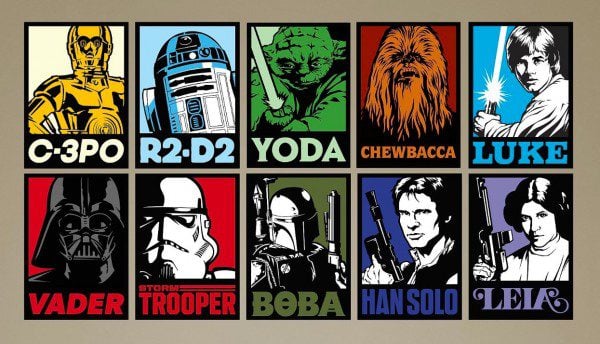 Who do we have here? We have Darth Vader, the two droids, Chewie, Yoda, Leia Organa, Luke Skywalker, Han Solo, and the baddest cat in the universe apart from Vader, Boba Fett. This sure is a nice addition to any living area.
Darth Vader Wall Light
This LED wall lamp would seem to be a great addition to any playroom or doorway, but it would also create a terrific personalized gift for any Star Wars lover. Darth Vader breaking through the walls is made possible by a ruptured decal.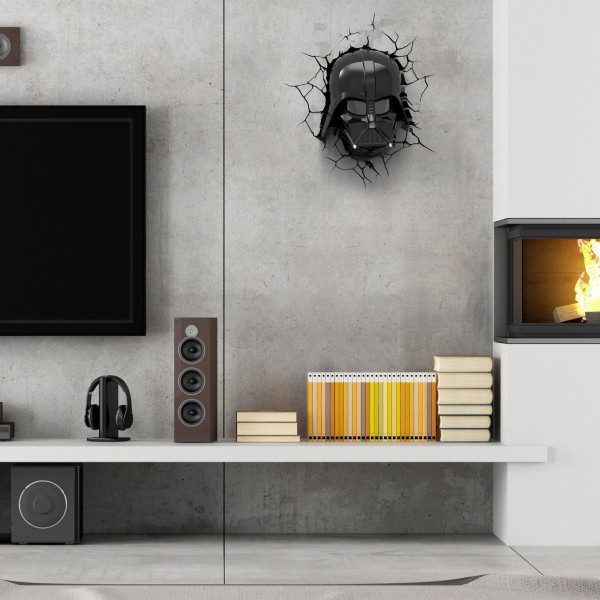 It creates a whole effect that just adds to the flamboyance which surrounds an archetypically evil guy like Darth Vader. All this is missing is the John Williams score. We know it's a pointless addition to a lamp, but it sounds super cool!