What A Wonderful World: Satellite Images Capture Stills Of A Changing World
By Sachin P October 4, 2022
---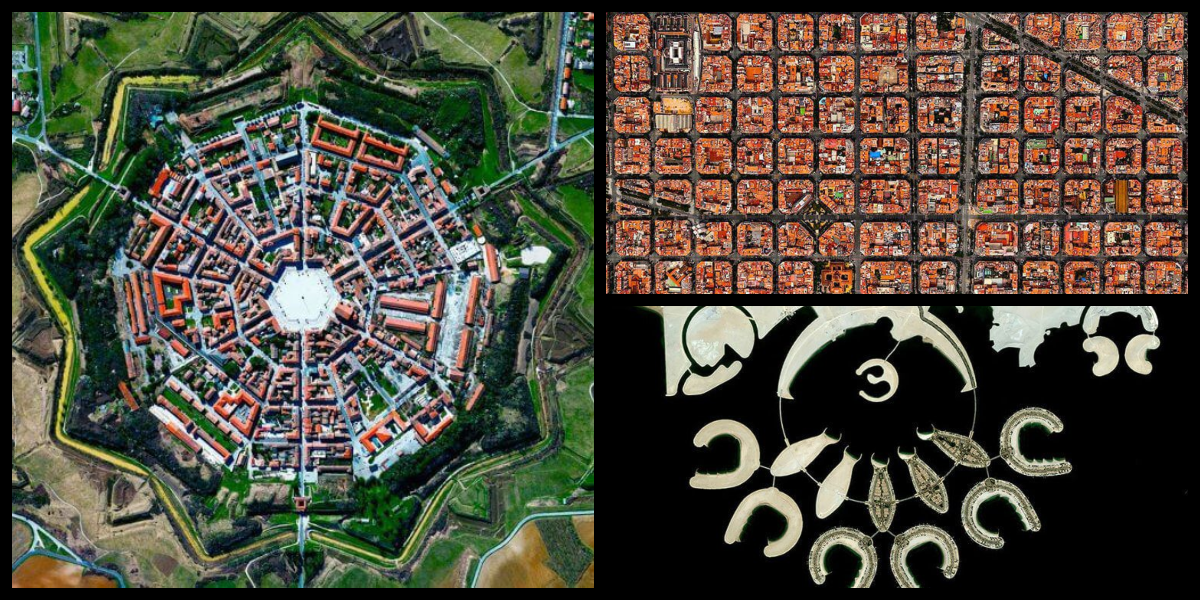 Perspective is something that should not be overlooked. We usually forget to pause and take in the beauty of the environment surrounding us as we go through our daily lives inside this place we consider home. The space mission is indeed something that would unquestionably change how an individual perceives the world.
All these satellite images that provide a fresh perspective on Earth from a great height will undoubtedly do the same. These images will serve as a reminder of how beautiful our world is, even from orbit, as well as how tremendously fortunate we are to enjoy it every single day. Also, it is a stark reminder as to why it is our duty to make sure this world survives for future generations.
All images in this article are courtesy of Benjamin Grant at over-view.com.
Vineyards – Huelva, Spain
Such an aerial photograph of all these vineyards looks like it could be an artwork by Van Gogh or another impressionist. This flowing verdant image is actually the outcome of a marriage between the grandeur of nature and artificial design.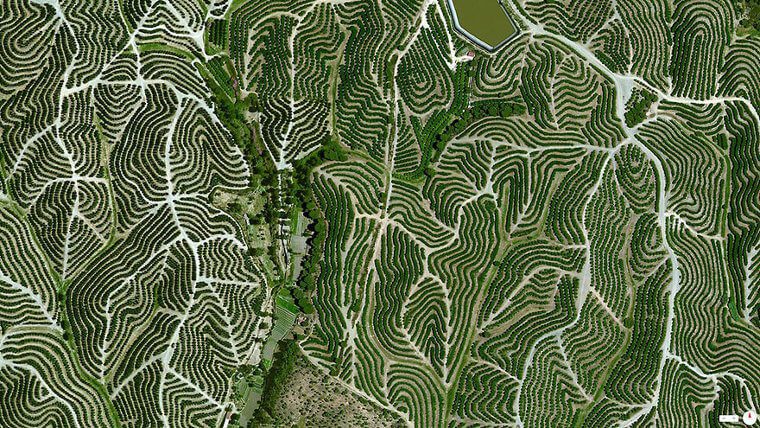 The environment is perfect for cultivating grapes for winemaking and is located in Huelva, Spain. The mean temperature is 64 degrees, which is ideal, as is the humidity level, which ranges from 60 to 80 percent. This image demonstrates how nature is a wonderful mosaic of untapped splendor.
Wildfires in Australia
Because of the dry, tinder-like climate in the region—high gusts, dry lightning, and ongoing heat—bushfires in Eastern Australia were deadly. As per NSW's Facebook page, 69 fires were active there. And the local summertime had only just started when these erupted.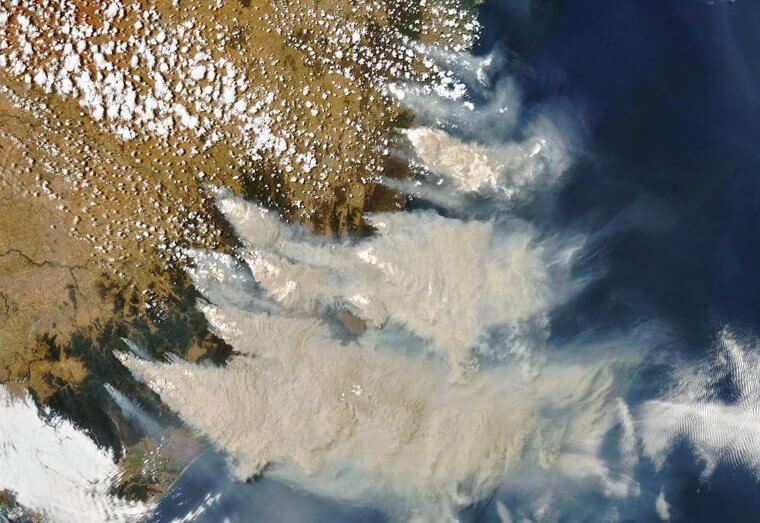 This picture of the wildfires and smoke spilling off of the edge of Australia and onto the southern Pacific Ocean was taken by NASA's Terra satellite. Until September 2019, there had been fires on over one million hectares (2.7 million acres).
Mecca, Saudi Arabia
This image shows Mecca in Saudi Arabia. This is among the holiest places on earth and the most sacred spot for Muslims who practice Islam. To visit this specific location is a dream for about a fourth of the planet's population. Just look at the satellite image!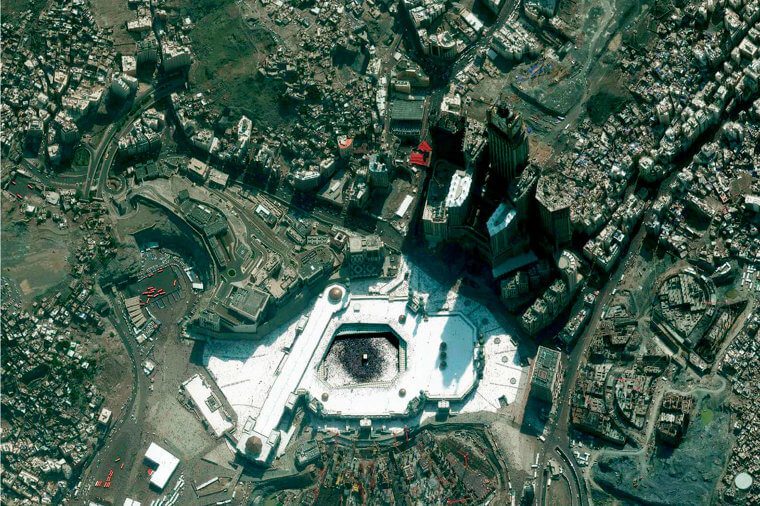 You can see just how crowded it is. The atmosphere of actual space is something we can only fathom. Back in the day, people used to divide their wealth among their families before taking the pilgrimage to Mecca, as it is so important to all Muslims.
Bora Bora, French Polynesia
Let's say you've already seen several breathtaking images of a towering volcano as well as a large lagoon with such a range of blue hues. Now that you're curious, where is Bora Bora? If you didn't actually know, the Society Islands encompasses Bora Bora.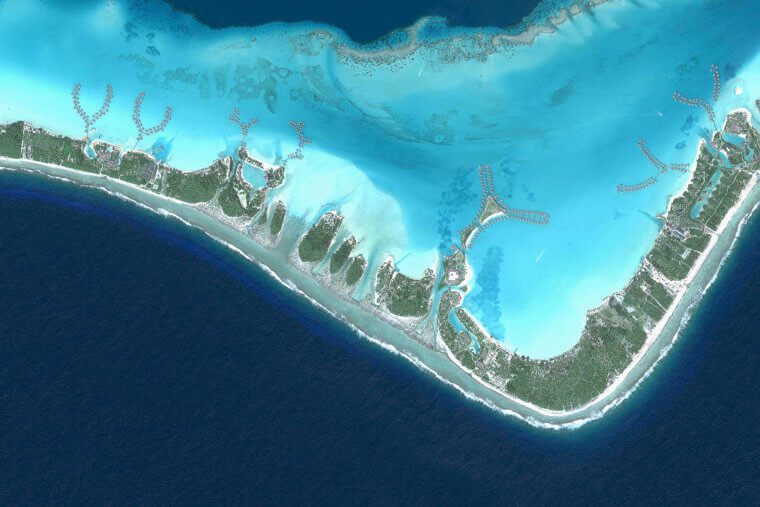 They are a series of islands in French Polynesia. If you need any further evidence why Bora Bora is a place everyone should visit, this picture more than suffices. We would give anything now in order to be swimming in those crystal clear waters!
Our Lady of Almudena Cemetery – Madrid, Spain
This image of Madrid's Our Lady of Almudena Cemetery was captured by a satellite. It makes sense that people would want their final destination to be stunning, serene, and unforgettable. This ambition is undoubtedly somewhat fulfilled by this large burial site.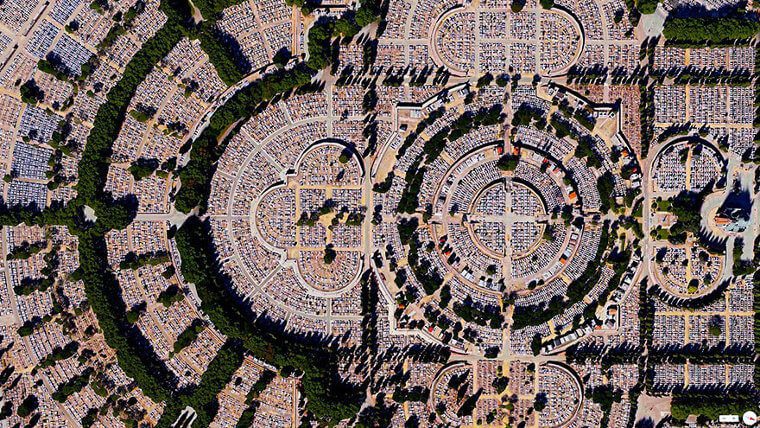 With an estimated five million burials, this cemetery is among the biggest in the entire globe. That's immense, but it's even more remarkable once you realize that this exceeds Madrid's total population. Now that is a fact that really boggles one's mind.
Angkor Wat, Cambodia
An architectural wonder, the Angkor Wat complex was built in the 12th century under the leadership of Angkor God-King Suryavarman II of the Angkor Kingdom. Even today, architects from all over the world honor the Khmer civilization for said design and arrangement of Angkor Wat.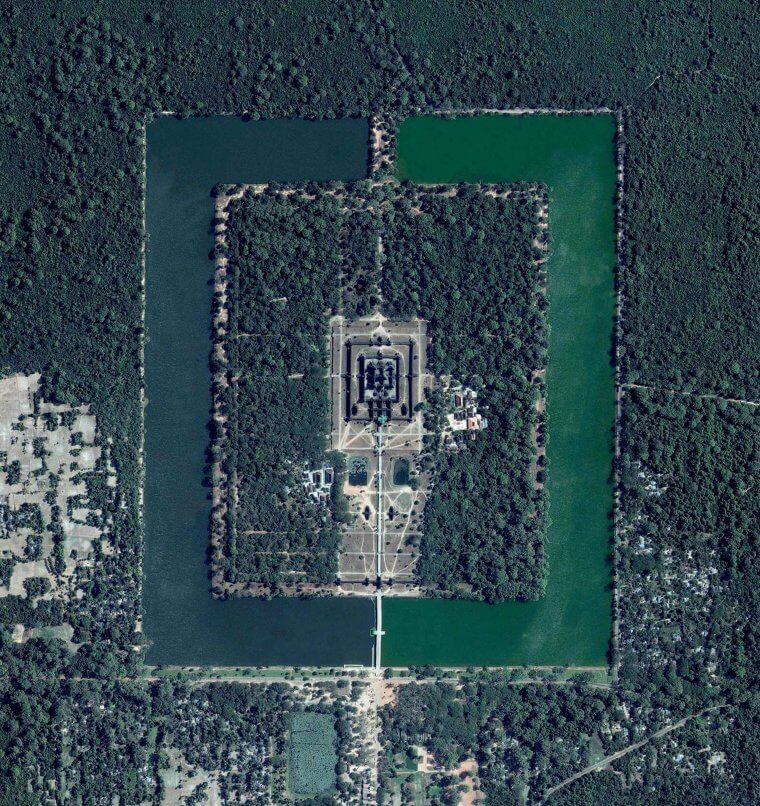 Whereas other regions of the world have made efforts to copy Angkor Wat's style and layout, they have not been as effective as Angkor Wat. This leads to the phrase, "can copy, can't equal," which is true to the last letter when concerning Angkor Wat.
St. Peter's Basilica, the Vatican
We don't picture cathedrals like this one when we speak of them. This satellite image of St. Peter's Basilica reveals the magnificence of these enormous structures from above. We begin to feel overwhelmed as we stand at the foundation of the ancient Egyptian obelisk in St. Peter's Square.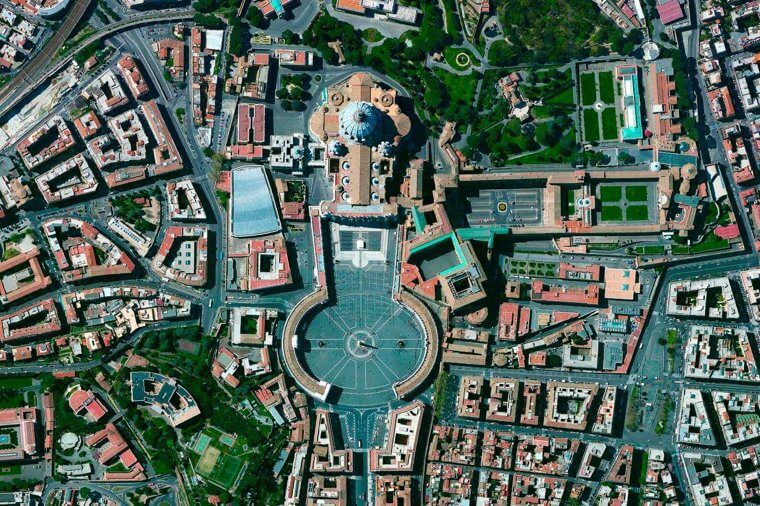 Even when you strain your neck to take in St. Peter's Basilica's magnificent facade and dome, the huge colonnade appears to surround you from all angles. This is one of the very few places where you feel like you're walking among giants.
Paris, France
The Arc de Triomphe, a recognizable structure in the heart of the renowned French "city of love," is the focal point of this image. One of the most recognizable and divisive urban designers in history, Baron Georges-Eugène Haussmann was a Parisian who razed his own city.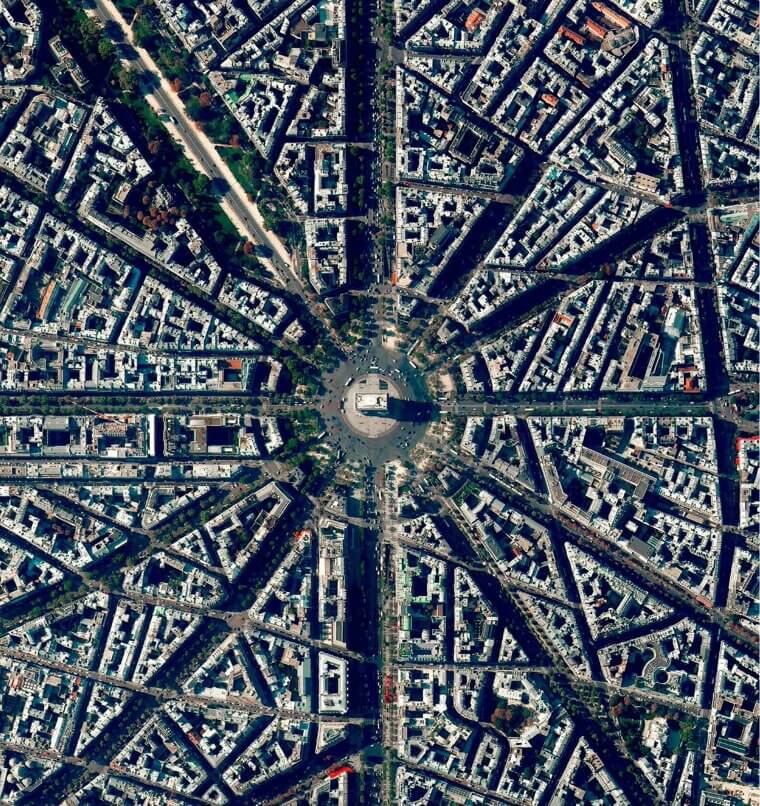 The majority of France is still split on whether the person who turned Paris into the "City of Light" was indeed a true master planner or something else 125 years after his passing. Still, the city looks pretty grand in this satellite image here.
Venice, Italy
One marvel of the world would be the Italian city of Venice, which was constructed on water. Gondolas are used to get around this floating city. That is something that must be seen for oneself, as words sometimes can't do justice!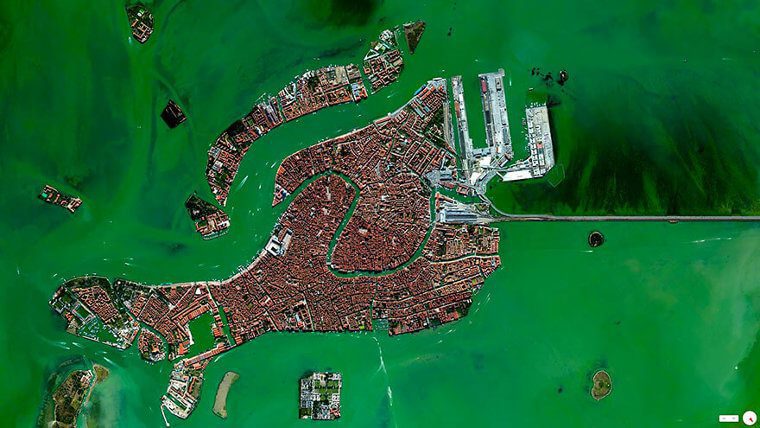 From above, it appears just as enchanting and almost unbelievable that a city could be constructed in this manner on the waters. This image, taken by a satellite in space, clearly demonstrates how magnificent it is and just how breathtaking it is to witness this architectural wonder.
Informal housing – Delhi, India
A third of India's urban population resides in slums, also known as informal housing. Families residing in these villages do so in transitional shelters with little to no exposure to sanitary and water supply necessities. Delhi features India's second-largest slum populace after Mumbai.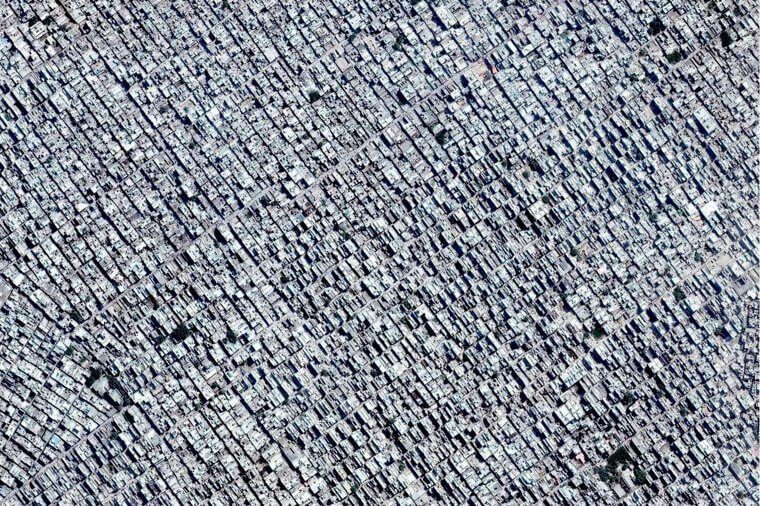 Almost two million people reside in the slum neighborhoods of New Delhi, the capital of India. Most of these individuals are either unemployed or doing daily jobs and cannot afford the most basic requirements of existence. The density seen here speaks volumes.
Central Pivot Irrigation Fields – Saudi Arabia
In this next image, you can see the irrigated fields they have in Saudi Arabia. It resembles something computerized, doesn't it? This time, it appears like a sequence of CDs that are all queued up. They are artificial and, apparently, quite large!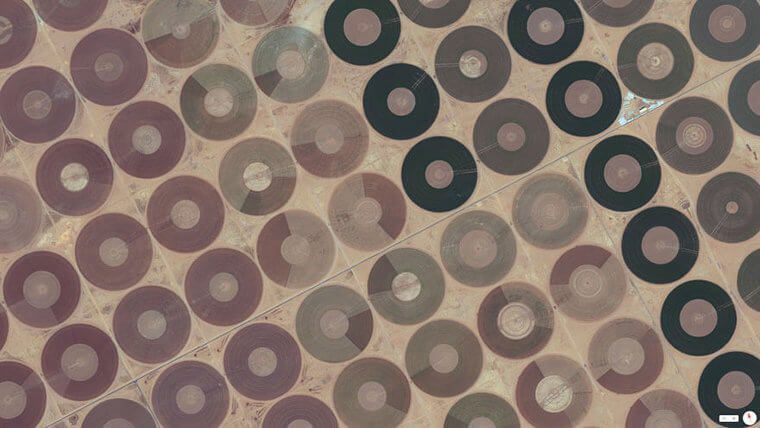 These occupy a sizable portion of the scenery, making it appear impossible for this to be a photograph of the planet as viewed from above. Even the colors appear surreal, yet that only serves to highlight how astounding satellite photographs can be.
Ferrari World – Abu Dhabi, United Arab Emirates
Yes, this image of Ferrari World in Abu Dhabi, United Arab Emirates, is genuine. This is only one example of the peculiar and distinctive ways that the Gulf Nations utilize their wealth. The park opened in 2010 and is the world's largest indoor amusement park.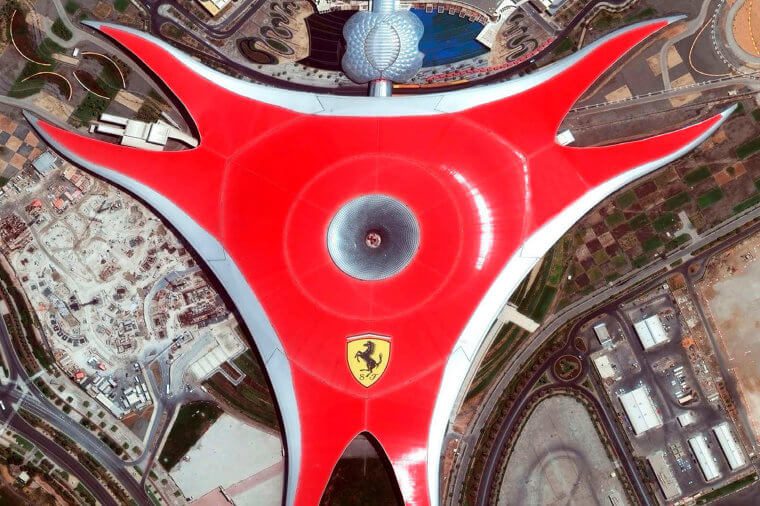 It is the only one of its size anywhere and is shielded by a massive 86,000 square meter roof that is topped with a massive Ferrari emblem. From above, we can see a stunning red complex with the Ferrari insignia. They sure know how to make a statement, alright!
Agricultural lands – Addis Ababa, Ethiopia
The state capital of Ethiopia, Addis Ababa, may be seen in this picture alongside its farming land. Amazingly, the housing districts are so small compared to the vast farm fields that encircle them. There are some lovely earth tones of green, brown, and beige.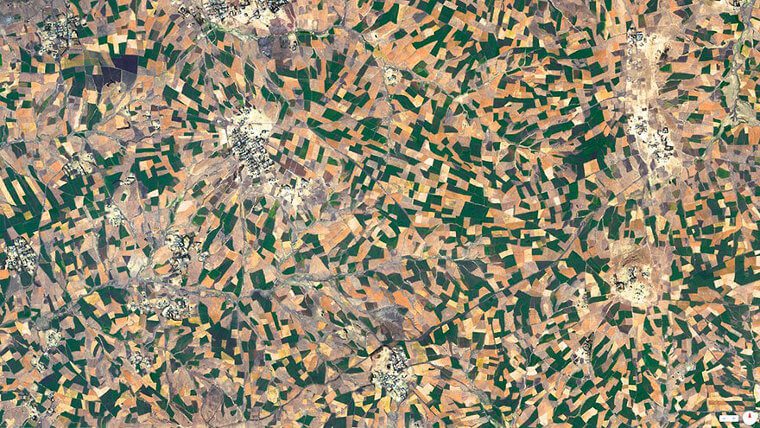 All these combine to create a motif of wealth in the natural environment. It's similar to an artwork that you find difficult to turn away from because the longer you look at it, the more you notice the details and your desire to see it grows stronger.
Palace of Versailles – Paris, France
Among the most alluring and lovely locations in Paris would be the Palace of Versailles. The grounds that surround it are similarly magnificent. Louis XIV constructed the Palace of Versailles, which served as the French kings' primary residence of choice for a long time.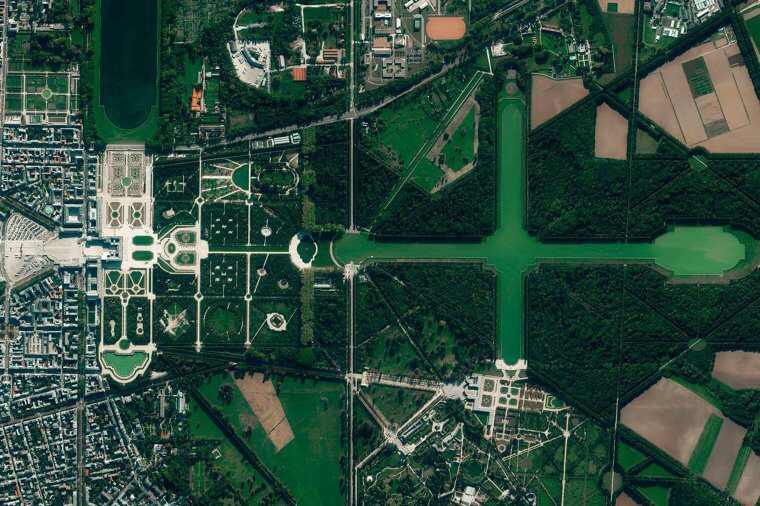 Also, it was the country's administrative center for more than a century. This aerial shot captures the garden with all of its splendor and flawless perfection. Glancing at this picture is perhaps the most pleasing thing after becoming able to see Paris in person.
Kansas, USA
This is an image of Edson, Kansas, seen from space. This picture is unique because of the way the various land areas are arranged in squares and circles. When an image can't fully load, it seems glitchy. You know, kind of pixelated?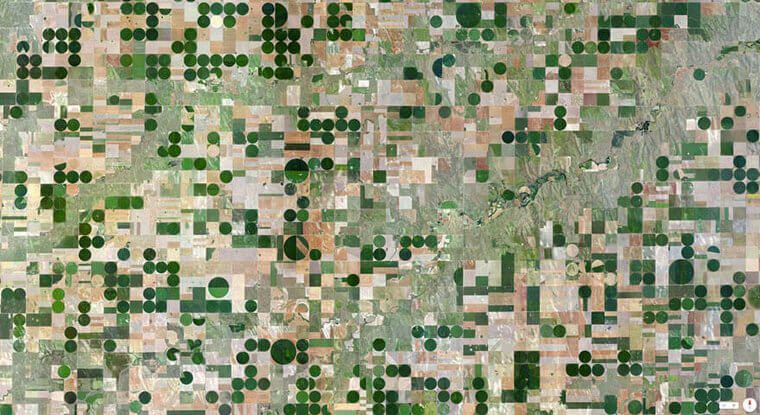 It looks just like a TV or computer monitor (which is a similarity that we are all too familiar with and dread). The unique manner in which the area has been utilized actually paints an image of the land. Quite amazing to behold, isn't it?
Golden Gate Bridge – California, USA
An iconic building, the Golden Gate Bridge links Marin County, California, with the city of San Francisco. The Golden Gate, a confined strait wherein San Francisco Bay frees up to the Pacific Ocean, is just about two miles long. Work started in 1933.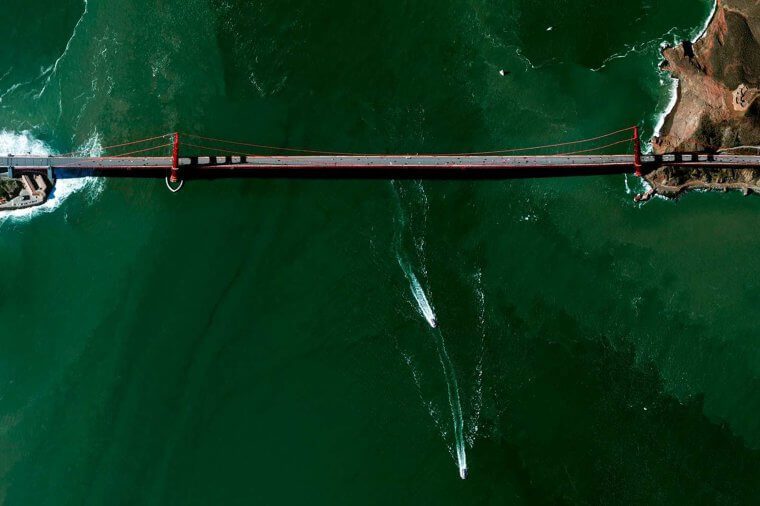 Then, the dream of linking San Francisco to its northern neighbors became an actuality. This image shows the bridge from above, as well as the juxtaposition between the orange as well as the deep green waters below, which is breathtaking.
Texas, USA
Housing structures in Texas are visible in this satellite image, appearing as orderly as certain military installations. The picture's soft hues blend flawlessly together while simultaneously conveying a menacing mood. Kind of like those cities that we see in science fiction movies.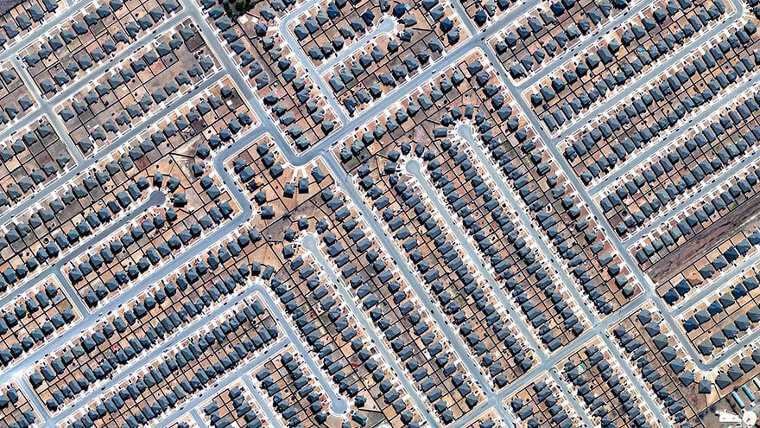 It is interesting how an image that merely depicts how people are living can come to appear so arresting and, in a sense, menacing. This refers to the impact that people could have on the natural world—they can turn it into a mosaic of structures.
Palmanova, Italy
It's a pity that the sole method one can view this Italian village from our vantage point is via a satellite image – because it has such a lovely shape. Having said that, the town's interior is undoubtedly just as lovely.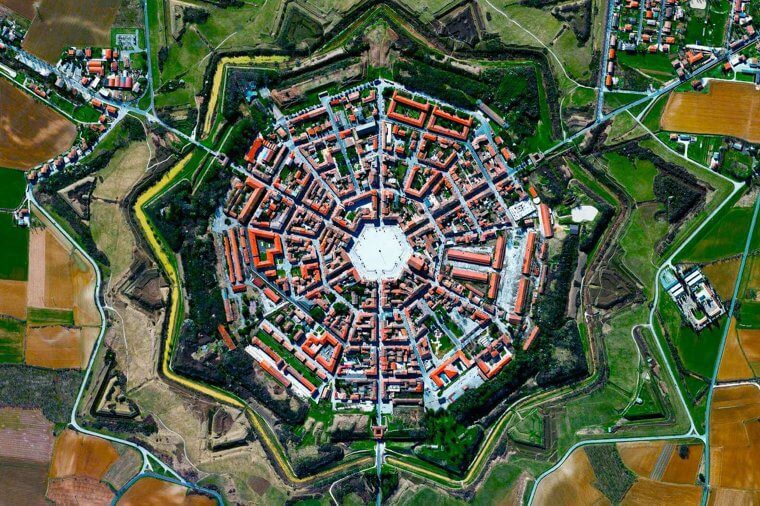 This is given all of the red roofs and accompanying vegetation on the structures. There are a few locales that genuinely appear to have come out straight from a fairy tale. Just look at the overall shape! It reminds us of a spider web in a sense.
El Dorado National Forest – California, USA
This image demonstrates once more how civilization is affecting pristine, verdant wilderness. The white areas represent where people put down the trees for their personal purposes. This is a satellite image of the El Dorado National Forest in Georgetown, California.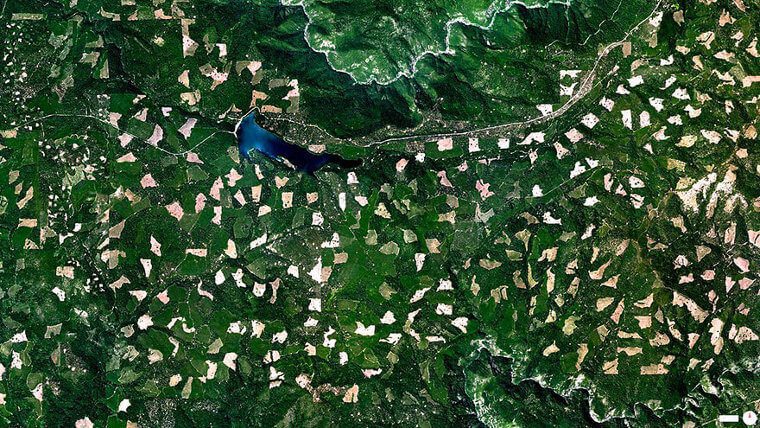 This exemplifies how regrettable the devastation of nature is. We anticipate that these pictures won't be as common as a crazy quilt of devastation sometime in the future. We can hope, or we can raise awareness and try to curb this destruction before it is too late.
Hoover Dam – Nevada, USA
Humans constructed dams to restrict the flow of water where it is needed. One of the best instances of this type of structure is the Hoover Dam in Nevada. The dam provides residential water supply, hydroelectric electricity, irrigation, and flood and silt management.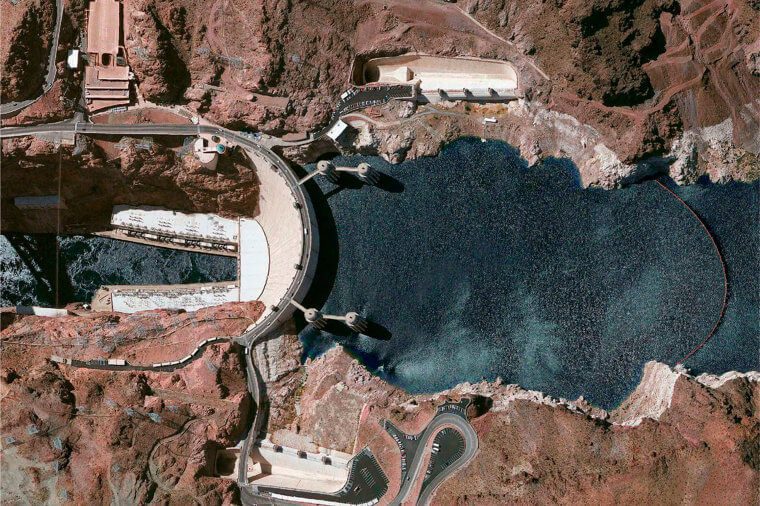 Welcoming almost seven million tourists a year, nearly one million of them take excursions inside the dam. It's interesting how this dam became a tourist attraction. The U.S. Department of the Interior's Bureau of Reclamation is the owner and manager of the dam, power plant, and reservoir.
Puente de Vallecas – Madrid, Spain
It's understandable why Spain and Europe generally own an image for being vivid, colorful, and brimming with life. After all, the structures themselves are painted in color! The incredibly joyful image depicts a mosaic of vibrant square forms in Madrid's Puente de Vallecas.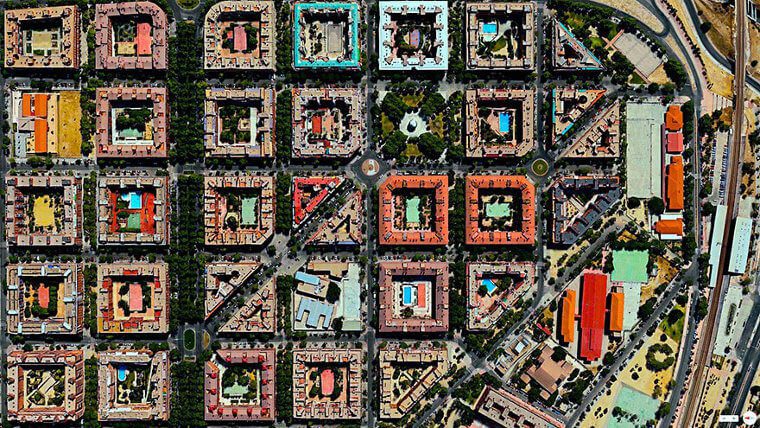 This brings an additional zest and energy to everyday life. One among Spain's 21 districts, Puente de Vallecas is depicted in this image along with part of its complex residential sections and a park that looks fantastic from a satellite perspective.
Florida, USA
This Florida landscaping park's design demonstrates how orderly and exacting people can be when interacting with the environment. The outlines are like a chart with all the various green hues. This Florida agricultural work is lush and lovely, and it is a magnificent sight!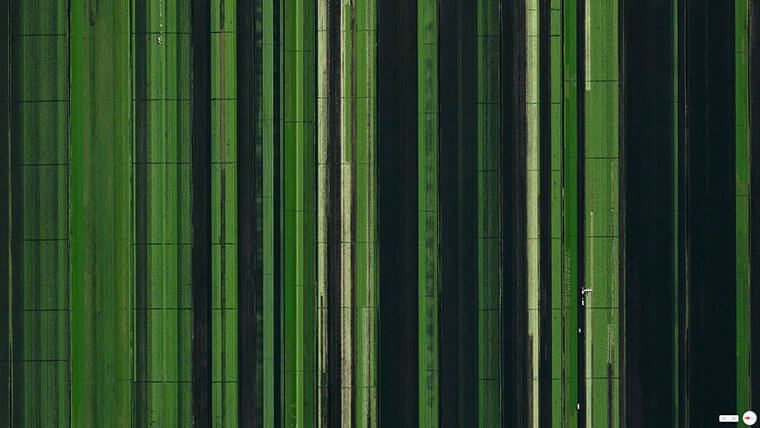 It is a pleasure to observe from above! A stunning scene that looks like it was meant to be drawn is created by how the colors mingle with one another and their flowing lines. It kind of reminds us of the Matrix, in a way.
New Bullards Bar Reservoir – California, USA
This satellite image of California's New Bullards Bar Reservoir seems like a watercolor painting from an old master. Particularly with the boulders that blend into the woods, the arrangement of the water adjacent to the ground organically enhances one another brilliantly.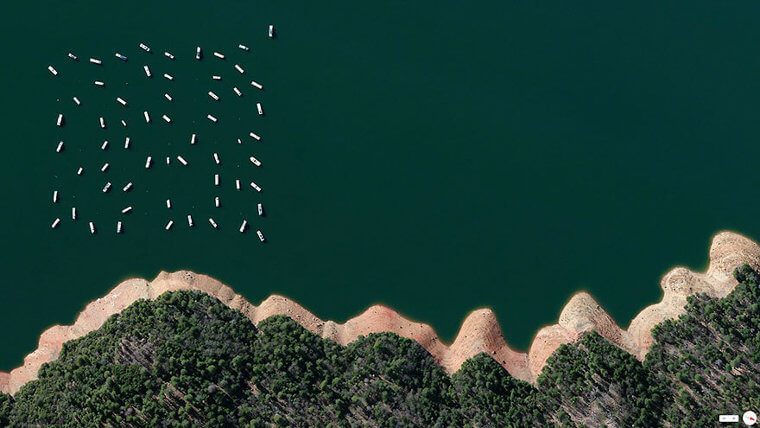 The sailboats in this photograph are placed on a lake in the Tahoe region of California, giving the impression that they are toy boats. There is evidence that only satellite photos can capture the kind of image we're staring at.
Terraced paddies – Yunnan, China
Raising crops (especially rice) on terraces in mountainous terrain is a frequent practice. When effective irrigation is adopted, this practice aids in distributing moisture across all of the crops. This is what has been happening here for close to one and a half millennia.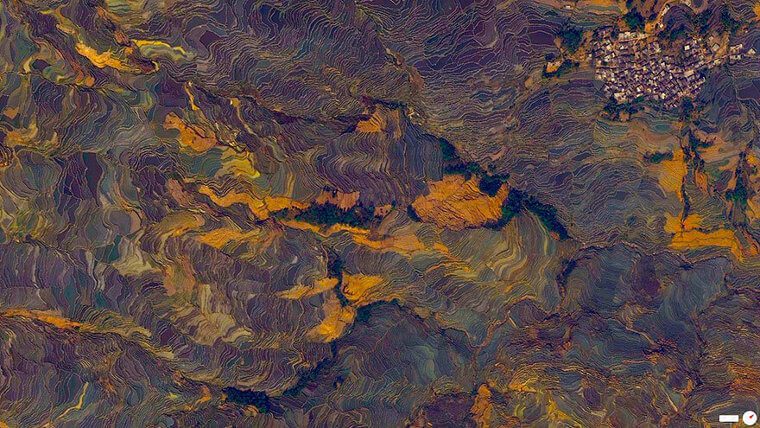 These terraced paddies are found in Yuanyang County, China. The whole thing creates a stunning picture that resembles an oil painting. The Hani people of Yuanyang County collaborated for 1300 years to cultivate these magnificent fields on the slope, which are visible in this shot.
Venture Out RV Resort – Arizona, USA
The RV resort "Venture Out" is located in Arizona. It is a location where individuals who have a love for trailers can spend a few days vacationing whenever they see fit. Numerous events take place at this sizable property in the Arizona desert.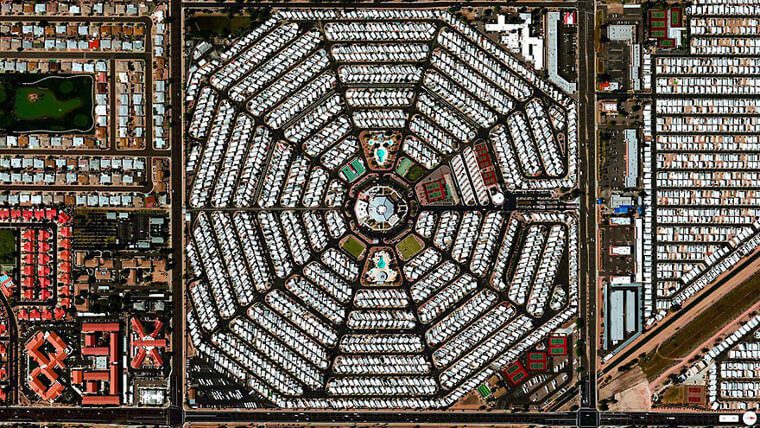 The structure makes it easy for visitors to navigate while also giving a great aerial view of the perfectly symmetrical encampment. This is excellent park promotion and it's a joy to witness the same place from a completely different angle. Awesome!
Brøndy Haveby eco-community – Denmark
Denmark's Brøndy Haveby eco-community looks just as lovely and enchanting as it truly is. It is an incredibly distinctive eco-community featuring ringed house structures built inside a horticultural framework. The neighborhood shares common beliefs and aspirations and is eco-friendly. Sounds absolutely lovely.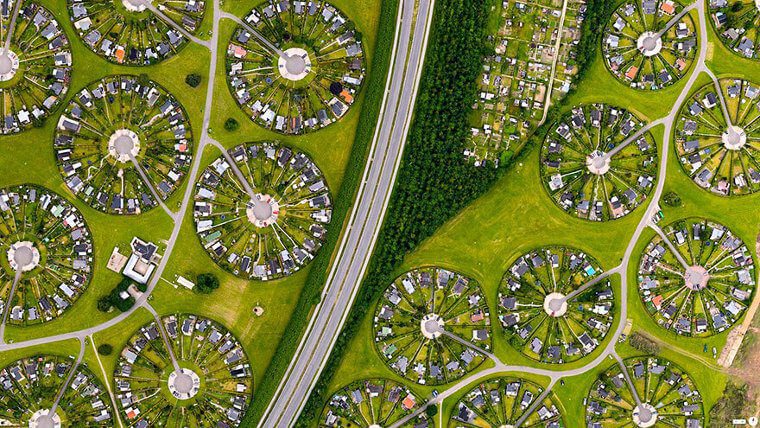 The assumption that perhaps the rings would serve as the main architectural element of the city when it was planned in 1964 is still valid today, as this image from space demonstrates. This garden city seems really futuristic. Kind of thing you would expect in a Sci-Fi novel, right?!
Desert Shores Community – Nevada, USA
Once viewed from orbit, the Desert Shores Community in Las Vegas, Nevada, is a breathtaking sight. The finished product appears flawlessly adjusted even if the residential lines' boundaries appear chaotic and disorganized. It looks like a LEGO project, in a way.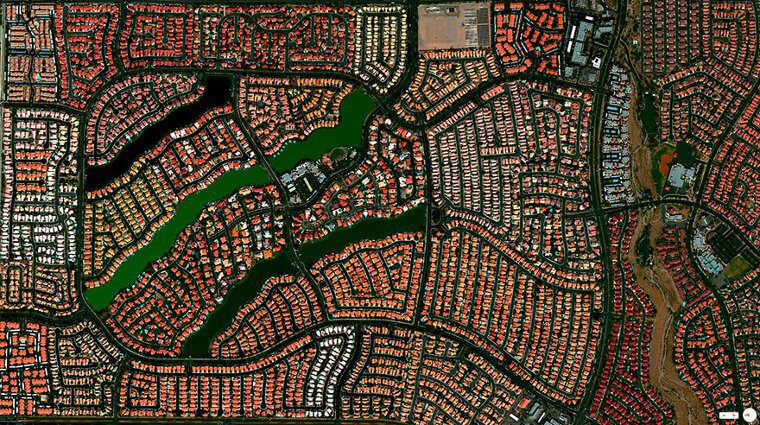 It appears as though an artist selected the reddish-brown hues to produce an artwork because they complement one another so exquisitely. In reality, it's a genuine neighborhood with lovely private pools and a pleasant environment. In the end, that's what everyone wants it to be.
Madrid, Spain
Quite aptly nicknamed "Spaghetti Junction," this intersection is situated in Madrid's southeast region. We'll be frank: trying to drive through this intersection feels like the stuff of nightmares. Like, make a wrong turn, and there will be no turning around.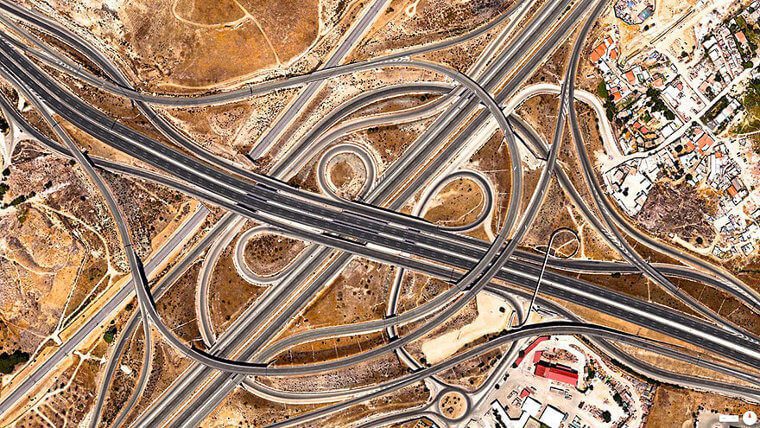 The intersection of the A-3 and M-50 motorways is when the insanity starts. We'll be truthful: the crossroads doesn't appear any less intimidating in the satellite image. It's hard not to think of anything from a gloomy, cyberpunk future when you see the terrain.
Glastonbury Festival – Somerset, UK
The Glastonbury Festival, which occurs at Worthy Farm in Somerset, is a sizable gathering of individuals who get together to enjoy art and music. For a weekend getaway, almost 200,000 fans congregate to camp out and see their favorite international celebrities live.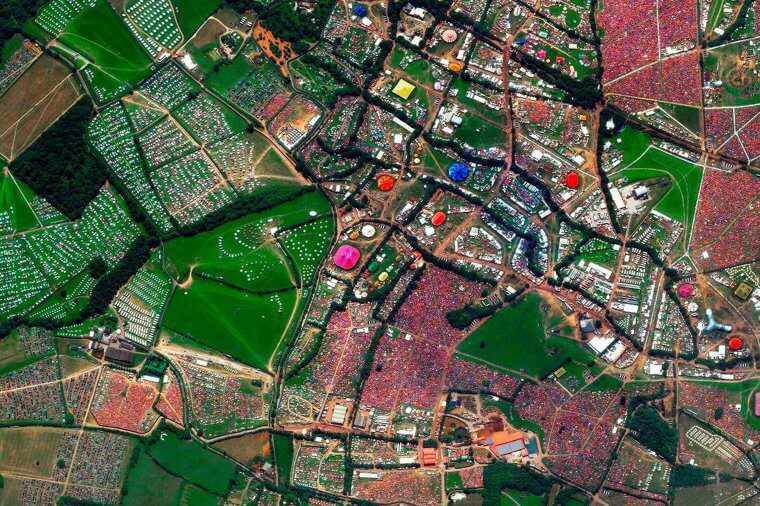 The power of humanity to create an incredible party is shown by the fact that this environment is only briefly set up, resulting in all of the lighting plus constructions being set up and taken down within a matter of months.
Florida, USA
This image depicts Biscayne Bay's deep blue, gorgeous-hued waters, which feature two floating islands. As you can probably tell, these islands located at Miami Beach are artificial. It's not hard to guess why these homes are in such high demand. It's incredibly expensive to get a house here!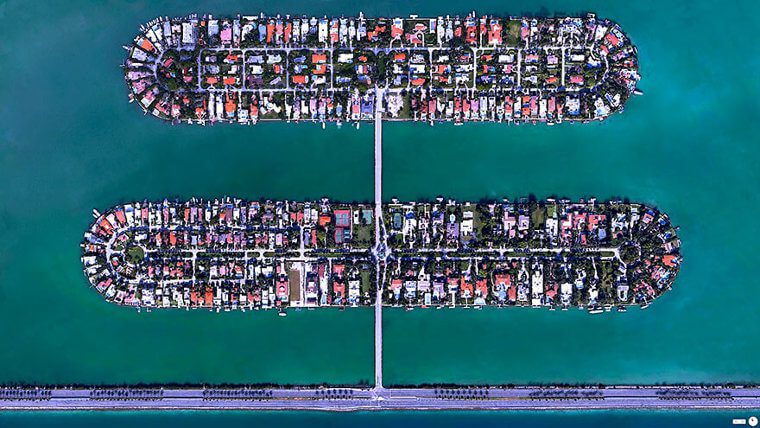 It's because so many individuals desire to live here. There is only one way to get to both islands—the MacArthur Causeway—so these islands are among the first sites to be evacuated in the event of a hurricane. Quite the ingenious bit of planning has gone into this, we see.
The Great Wall – China
The Great Wall of China appears to be a single fine line throughout this satellite image when compared to Northern China's dark-colored hills. A number of the fortifications were constructed as far back as the 7th century BC. Yeah, it's that old.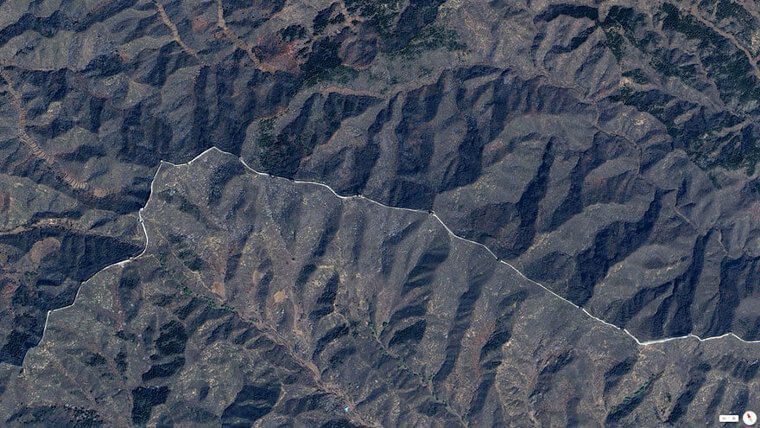 Construction continued into later dynasties, such as the Ming, as a means for the ancient Chinese Emperors to preserve and maintain the traditional borders of the North of China. This place continues to be one of the world's seven wonders to this day.
Boca Raton – Florida, USA
Amusement parks, golf courses, and beaches may all be discovered in the southern Floridian city of Boca Raton. From this satellite photo, we can see that this environmental diversity is pretty evident. Judging by all those colors, we can even tell where one can find the parks, the golf courses, and the beaches.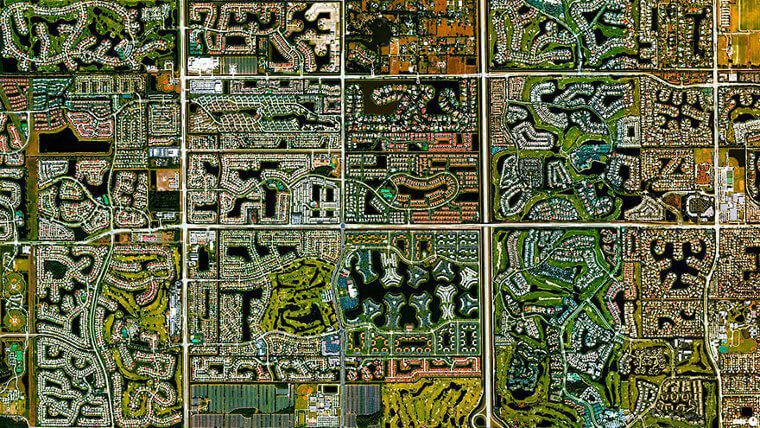 The relevance is from all the numerous lights as well as textures that are visible in the image. Even from the air, it's enjoyable to observe this place. Over 100,000 tennis enthusiasts live in Boca Raton, which also has a sizable lifestyle center, entertainment complex, and an indoor mall.
Central Park – New York, USA
One of the most widely known and recognizable landscapes on the entire planet is Central Park, which is located in Manhattan, New York. This satellite image demonstrates the marked contrast between the park's vegetation and waterways as well as the grey structures.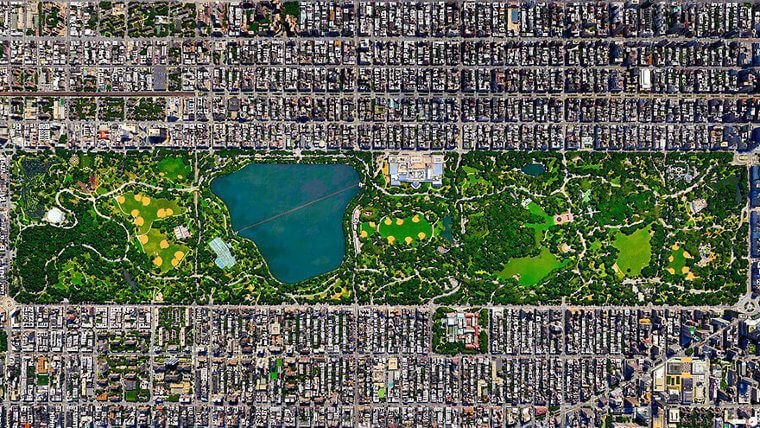 All of which compose the remainder of the congested "Big Apple." It may be difficult to appreciate how nicely the outlines clash with each other to create the beautiful frame that makes up the park until you view it from this perspective.
Elizabeth Marine Terminal – New Jersy, USA
In this picture, we can see the Elizabeth Marine Terminal in Port Newark. In New Jersey, USA, there are columns upon columns of cars waiting to get on a ferry or boat. Being one of the automobiles in the line may feel overpowering and startling.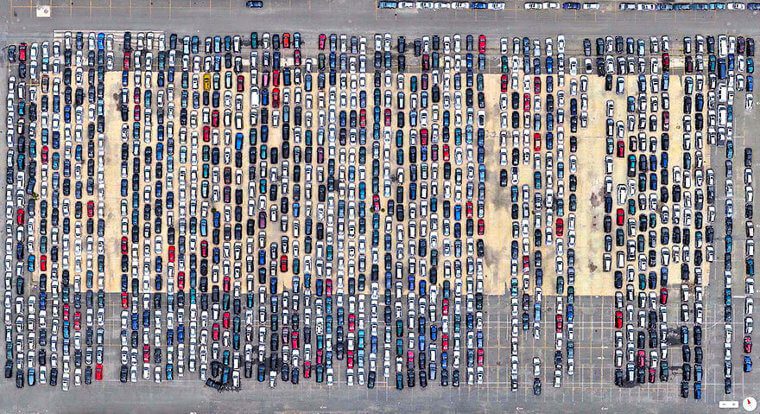 But viewing the satellite picture from above is just as shocking. The fact that the cars resemble toys truly puts everything in perspective and may even prompt further inquiries. Which direction are these vehicles headed? Who is occupying each seat in the vehicles?
309th Aerospace Maintenance and Regeneration Group – Arizona, USA
This would be the Tuscon, Arizona-based 309th Aerospace Maintenance and Regeneration Group. But it is real, absolutely. It's incredible to see how the planes are all arranged in rows, grouped, and pointed in the same general direction. This is conformity at its finest.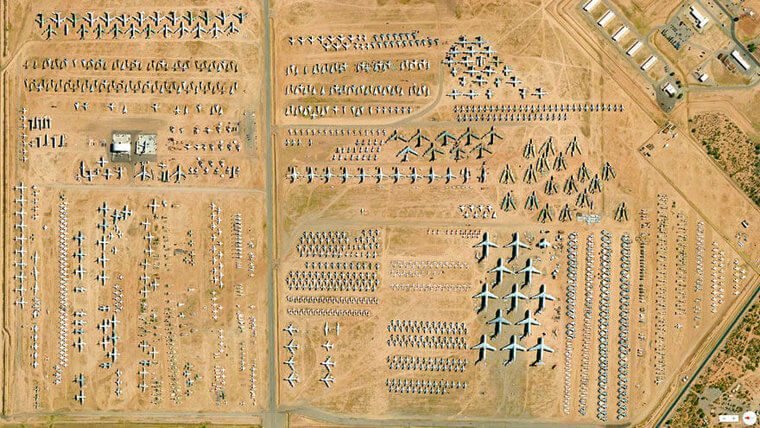 It's challenging to forget the image of the colorful crafts set against the red sand of the Arizona desert. This aerial picture has the appearance of having been created by an airplane-obsessed youngster. It really looks like a toy collection when you come to think of it.
Amazon Rainforest – Para, Brazil
We are aware of how regrettable the destruction of the rainforest is. One of the world's largest rainforests is the Amazon, but sadly, as people are using the woods for other purposes, their numbers are steadily decreasing. This specific image depicts the damage.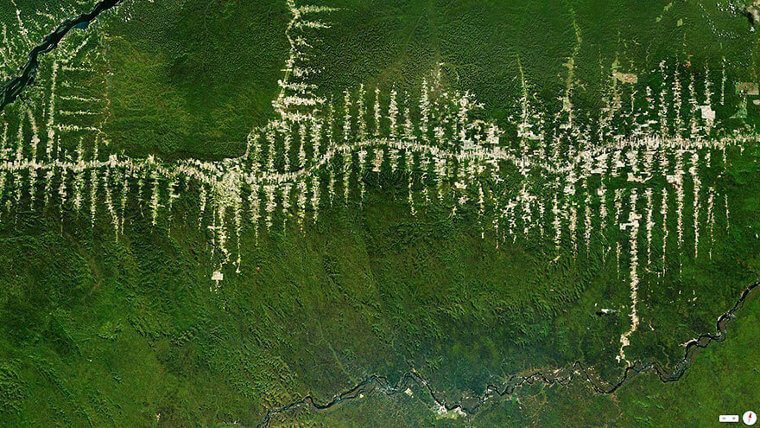 It is occurring in Para, Brazil. This line in the center of the image represents the principal roadway from which the clearcutting activities are emanating. It's disappointing to see the greens replaced with white. Plus, this is a rallying call to save the planet's lungs!
Barcelona, Spain
Northeastern Spain is home to the charming seaside city of Barcelona. Today, it is a thriving, exciting cosmopolitan center filled with vitality. In reality, the city dates from the classical era. The structures are perfectly symmetrical and aligned, which pleases the eyes!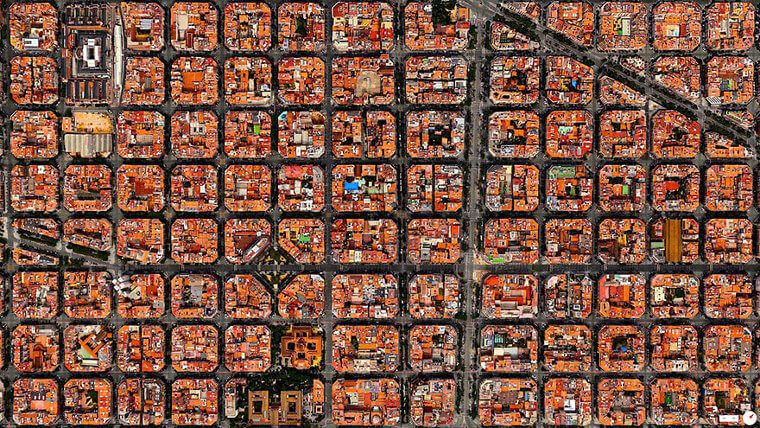 This gives the impression that the buildings look more like miniatures than actual residences. The aerial view of Barcelona is immensely pleasing to look at and makes one appreciate the marvel of human innovation because everything is so precisely matched.
Durrat Al Bahrain – Bahrain
The Durrat Al Bahrain is currently halfway under development, as seen in this satellite image. This project's construction ultimately cost more than $6 billion and was initially scheduled to be finished by 2015. The goal was to construct 15 artificial islands.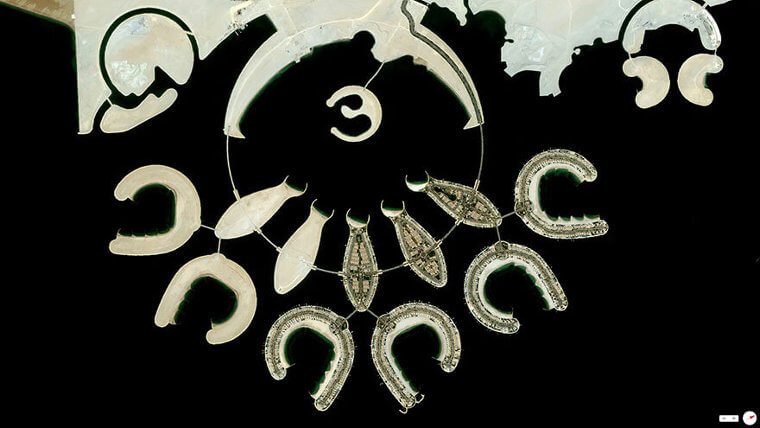 All of which would be visually stunning from all angles, including from the ground. As you can see, the islands appear gorgeous and distinctive from above, and they nearly resemble clay sculptures. It kind of reminds us of the United Arab Emirates's Palm Jumeirah.
Fort Bourtange – Groningen, Netherlands
This Dutch village of Bourtange, Vlagtwedde, is a magnificent illustration of brilliant architecture. The Netherlands' Bourtange is a little community with just 430 residents. It was created as part of the notorious William I of Orange's strategy to consolidate his control and dominance.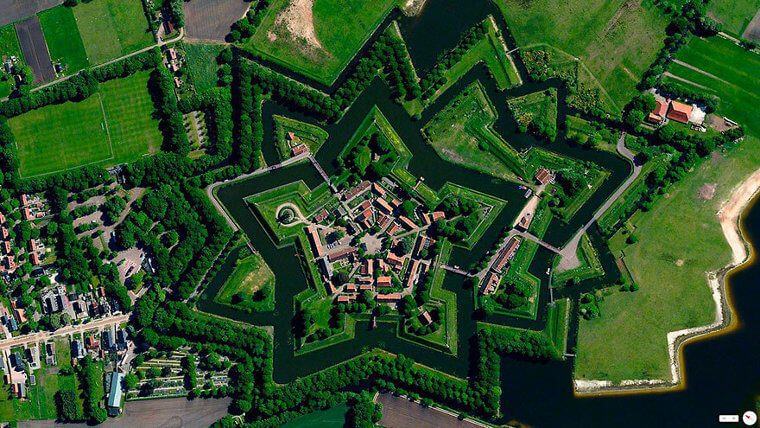 His plans were based on the sole route connecting Germany and Groningen. This was constructed in 1593 during the Eighty Years' War. The settlement was brought back to its previous splendor in 1960. It is now firmly established as an outdoor museum.
Plasticultures – Almeria, Spain
This photograph of artificial greenhouses was photographed in Almeria, Spain. Yet it might just as easily have been taken from a massive space outpost on Mars. Actually, this image of the earth was shot from space instead of the other way around.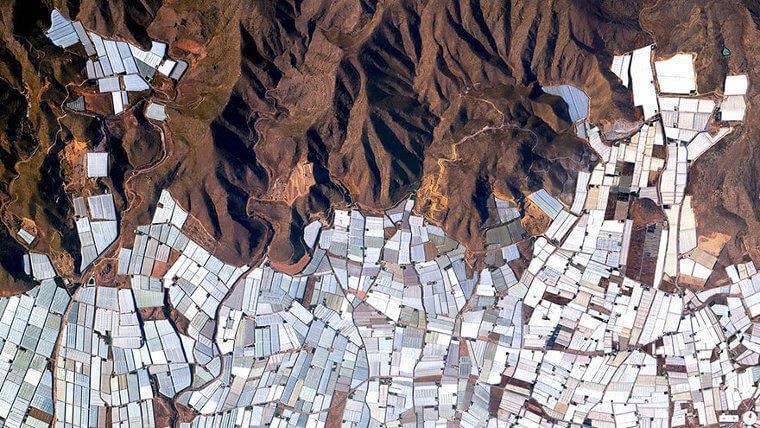 This is a greenhouse complex that is situated in Spain. Plasticulture is the use of plastics in agriculture, such as when it's necessary to grow plants indoors. Nearly 20,000 hectares of greenhouses are housed in this enormous project and helping grow the agriculture industry in the country.