40 Unflattering Images Of Stars Showing Their Imperfect, Clumsy, Human Side
By Jhoana C December 1, 2022
---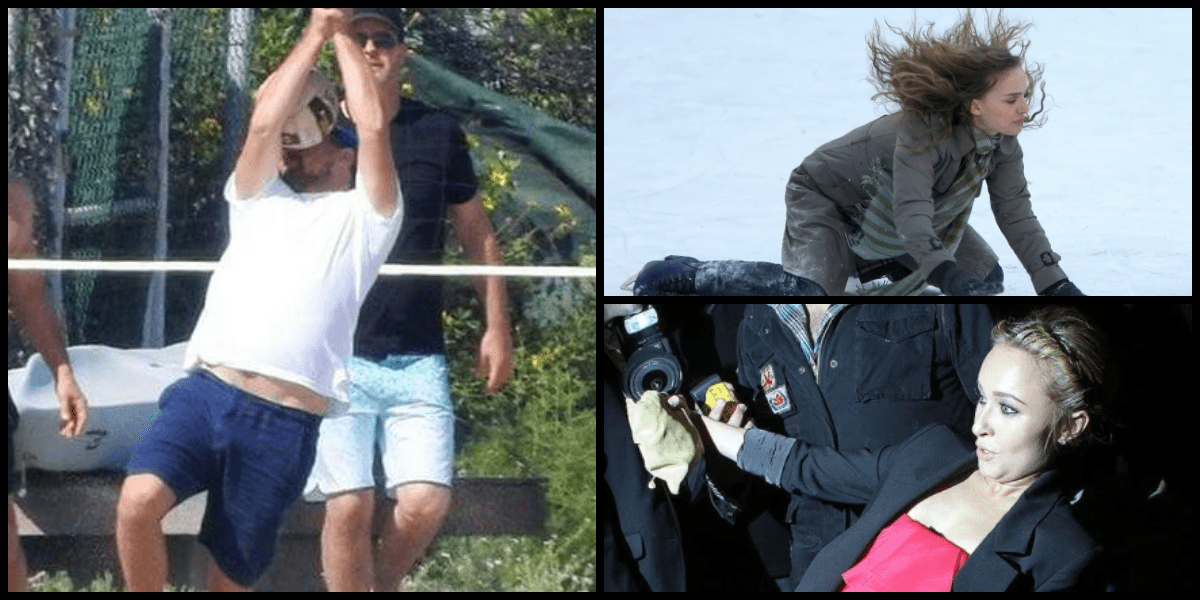 This article was originally published on
WhyThese
Even though Hollywood stars have been elevated to the status of gods, they are still human and they still have moments that they would rather keep out of the public eye. However, doing such a thing is an uphill battle especially, if you have cameras following you 24/7.
It's alright for them to have their pictures taken on their good days, when the wind is blowing their hair just right and the sunlight highlights their best features, but we're certain they would rather not have their photos taken when they stumble and fall. No one wants their unflattering photos circulating all over the Internet, but it can't be helped. And that is exactly the point of this article. So scroll down for pictures Hollywood stars that they'd rather keep buried forever.
#1 Even Britney isn't immune from bad hair days
We often see celebrities looking spotless and immaculately put together. They always seem to look their best every minute, unlike us mere mortals who look like we have just emerged from a cave after hibernating for a year — disheveled clothes and all.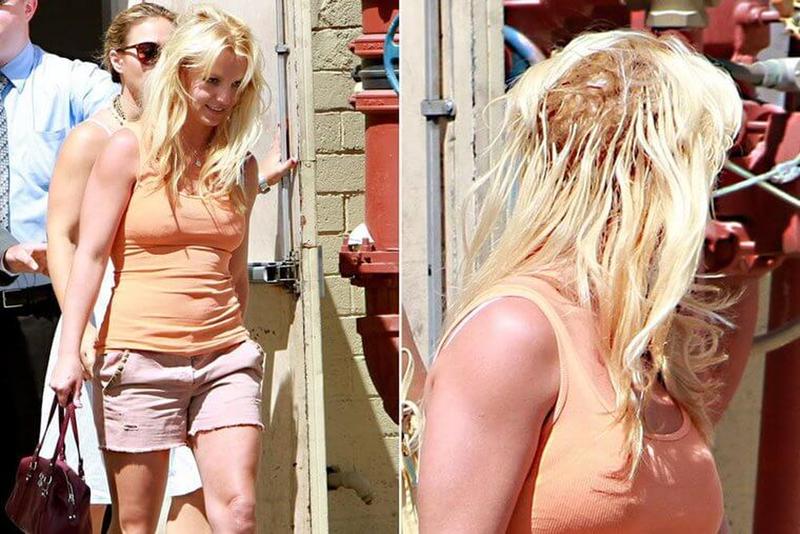 This photo disproves the thought that celebrities can never look bad because here is Britney Spears herself having a bad hair day. Glory of glories, she's just like us after all. Although we feel bad for what she's been through in her conservatorship, we can't help but rejoice that her hair isn't perfect after all.
#2 Bella Hadid's misadventure on the stairs
One-third of the famous Hadid siblings, all of whom are models, Bella Hadid did her best to step out of her older sister's shadow and establish herself in the modeling world. She's always gorgeous, sexy, and dare we say, perfect?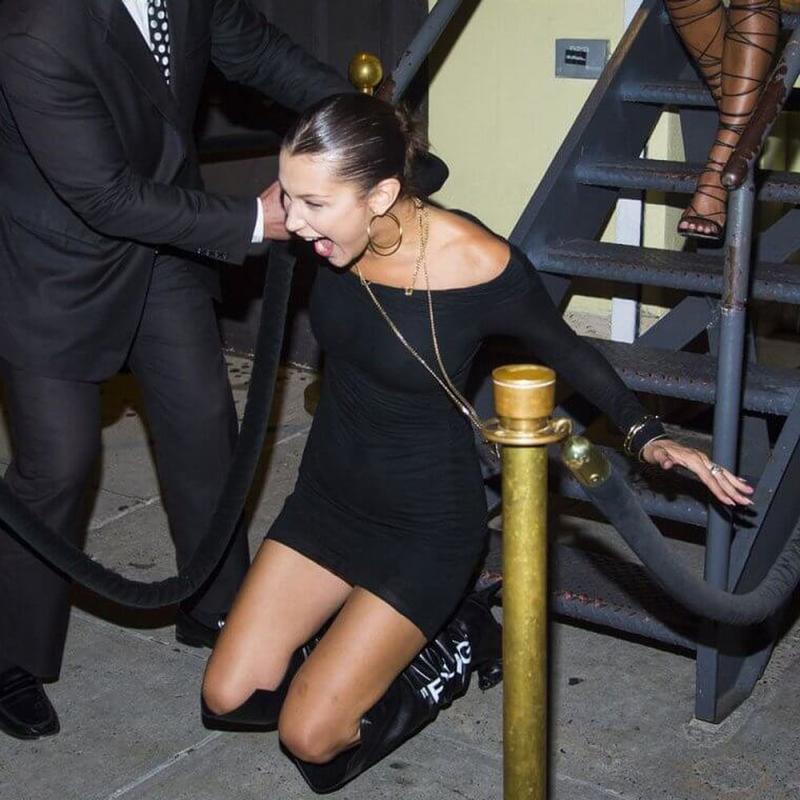 However, she's prone to accidents, whether on the red carpet or backstage. Here you see her taking quite the fall down the stairs. We bet it must have hurt and we already foresee the bruises on her legs. Time to cover them up!
#3 Michael B. Jordan isn't always so smooth
Michael B. Jordan wasn't always the top-billed actor, but his career has soared over the years. It took a little over a decade since his first TV/film appearance to earn a name for himself. His career has had some ups and downs — we're looking at you, Fantastic Four — and so has he.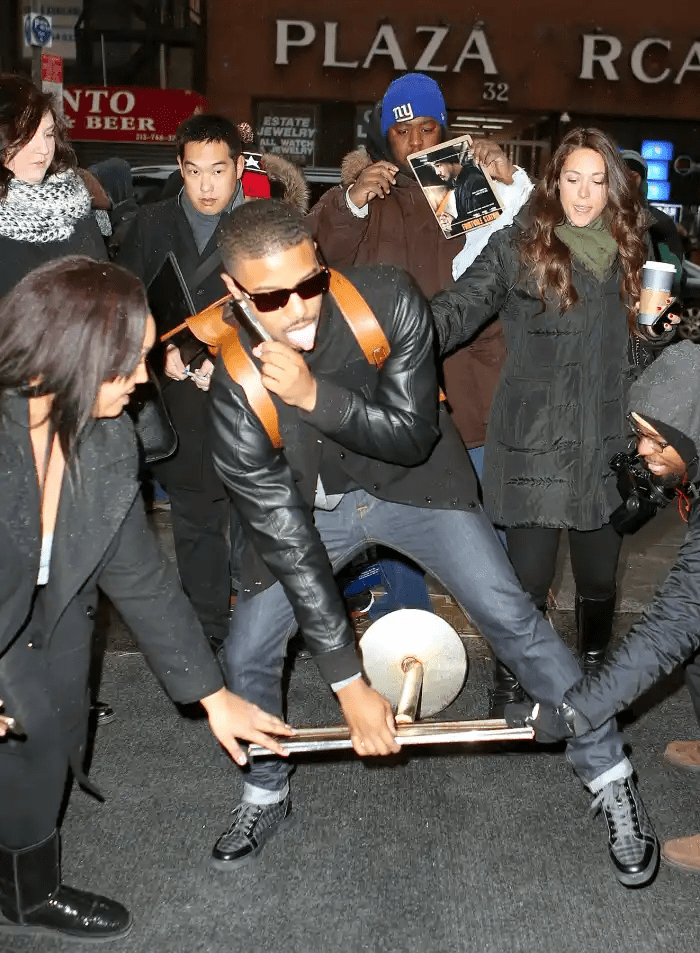 But, like his career, he can catch himself and stay on his feet. While strolling down the streets of LA, the Black Panther co-star missed a sign and tumbled right over it. But, being smooth and classy, he caught himself and the sign!
#4 When Nicole Richie lost her balance
The daughter of legendary singer, Lionel Richie, and reality TV star, Nicole Richie used to spend her time in all kinds of shenanigans with her best friend Paris Hilton. But when she got married and became a mom, her partying days were over.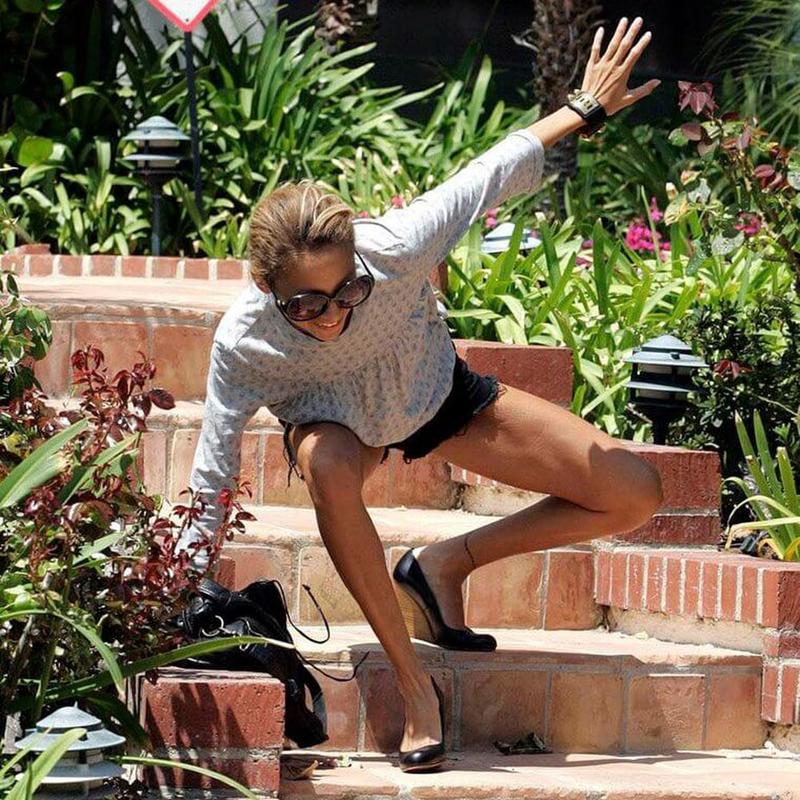 But we couldn't forget the many times she fell flat on her face. Look at her in the photo losing her balance. Though, to look on the bright side, she looks a lot like cartoon characters about to strike villains with karate chops.
#5 Natalie Portman needs wrist guards
Starting off her acting career at 12 years old, Natalie Portman learned from a young age what it meant to be in the spotlight. Even though the Star Wars prequels were mediocre at best, she was the classiest actress in the cast.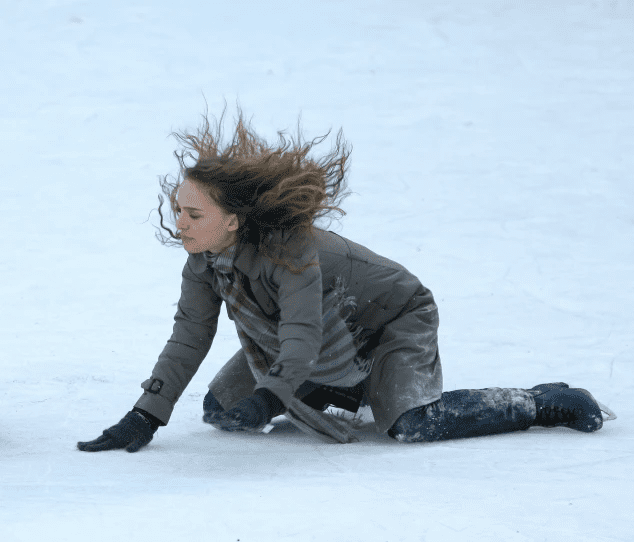 Though the award-winning actress was destined to be on the big screen, it seems like ice skating is one talent she hasn't mastered. Good thing Black Swan was about ballet, because if it was ice dancing, she might not have received such positive reviews.
#6 Leonardo should avoid volleyball at all costs
Leonardo DiCaprio was meant to be a star and a heartthrob, but never a volleyball player. Just look at his form in the photo below. He'll never win games with that kind of stance; all he's going to get is a barrage of balls hitting his pretty face.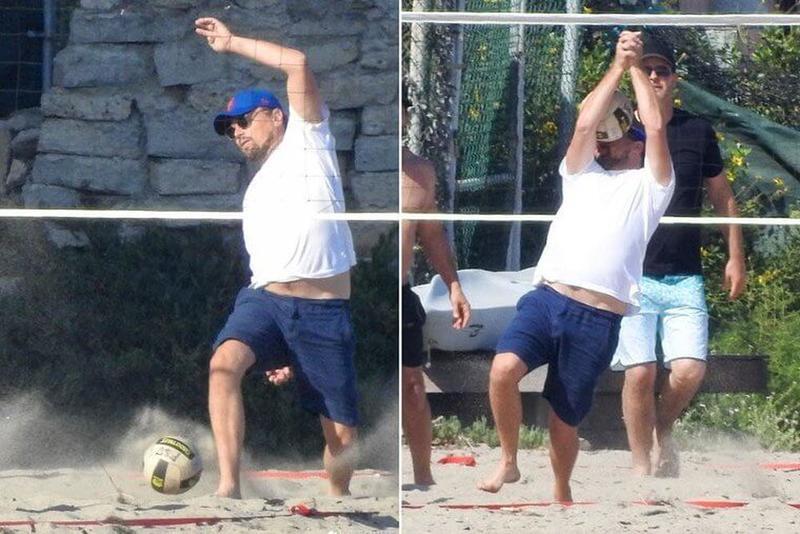 Maybe he should try his hand at other sports because clearly he's not cut out to be a volleyball player. Fortunately, he's got immense acting talent and various accolades to make up for his shortcomings in sports. We still love you, Leonardo.
#7 Lindsay Lohan's shenanigans
There was once a time when Lindsay Lohan was the darling of Hollywood and the media. She had box-office movies one right after another. Who could forget Mean Girls, The Parent Trap, Herbie: Fully Loaded, Just My Luck, and Freaky Friday?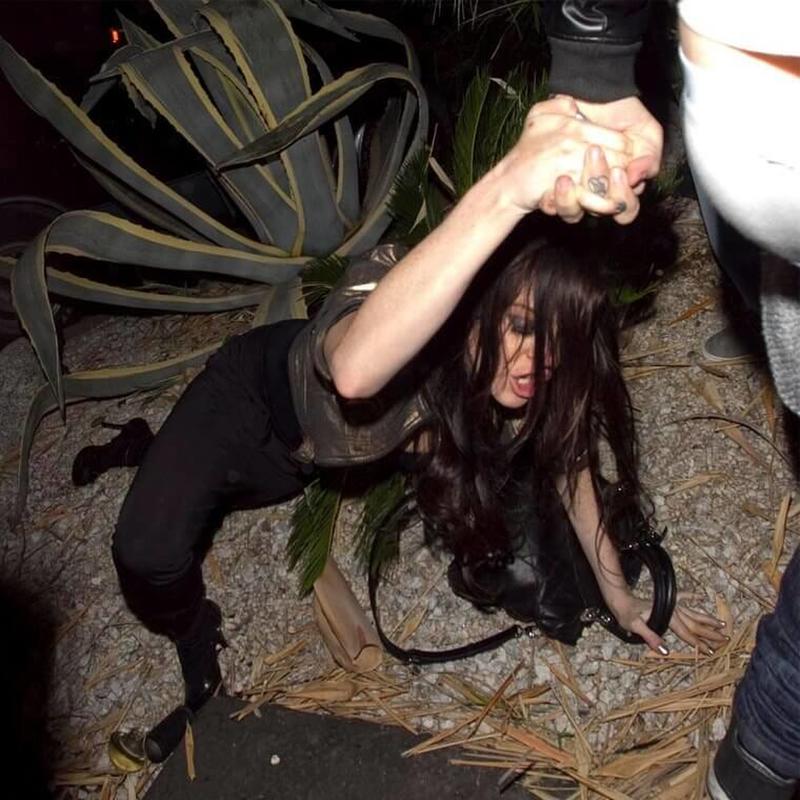 However, her problems started eclipsing her career. She was reported to always be late on set, drink excessively, and party without any thought. This unflattering photo captured her in a moment of drunken stupor that she didn't know how to walk properly anymore. Thankfully, nowadays she's in a much better place in her personal life.
#8 Jessica Simpson wore the wrong shoes
From becoming a singer during her teenage years to her disastrous marriage to boyband member Nick Lachey and now building her fashion empire, Jessica Simpson has been through a lot. Yet, she has emerged victorious despite what cards life has dealt her.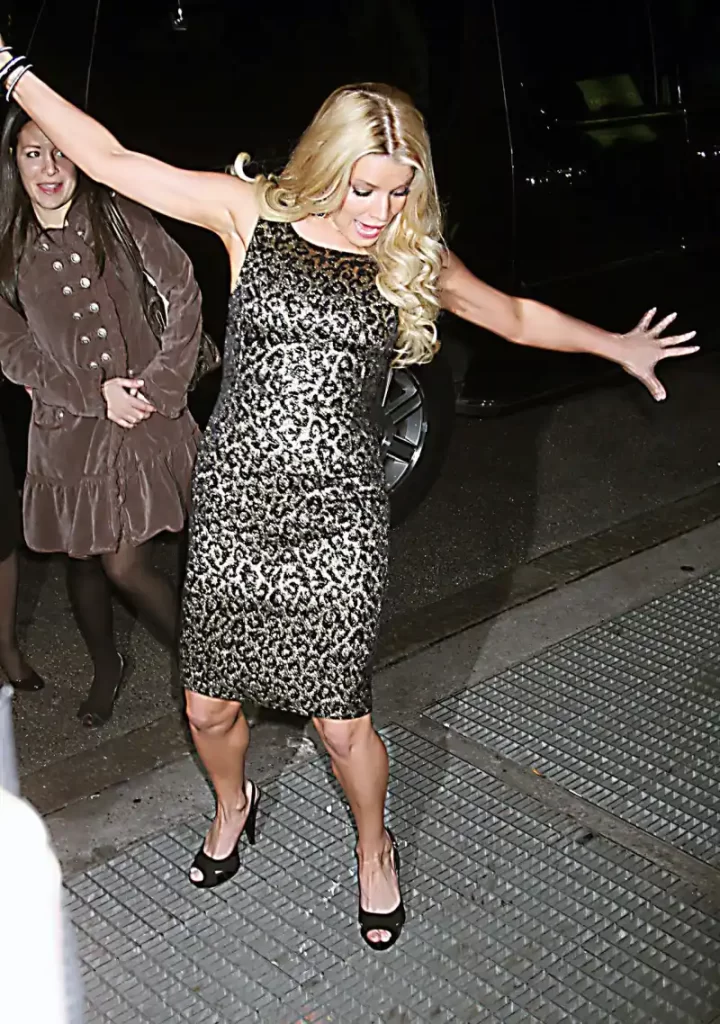 However, no one can forget her balancing issues during her husband's birthday celebration. Or maybe it's because of her heels that she's finding it difficult to get a footing. Either way, she has to be careful or she could end up breaking a bone.
#9 Even models falter
Cara Delevingne came from a prominent English family, and even before she hit the runways, she already had everything she could ask for and more. Still, she wanted to make a name for herself, so she left school in 2009.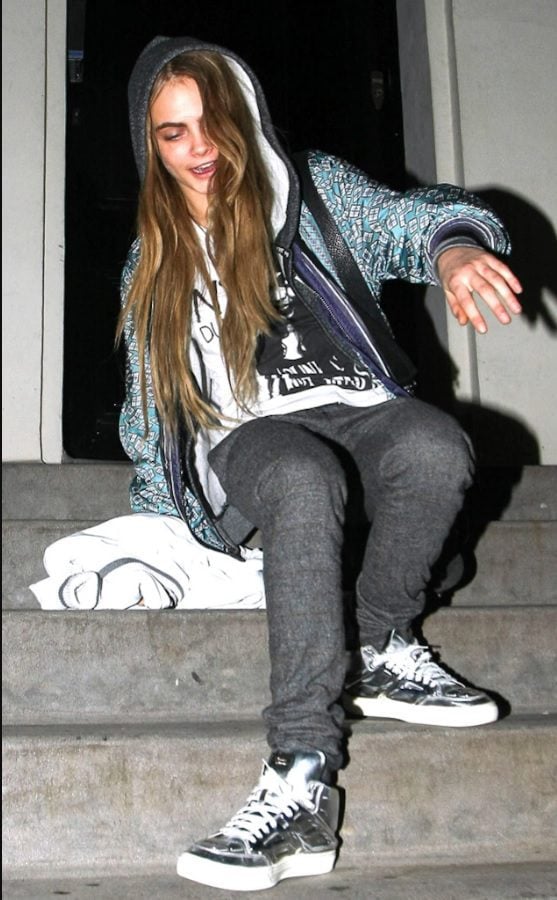 She won the Model of the Year Award in 2012 and the rest, as they say, is history. Even though she's living a seemingly perfect life, she still falters like the rest of us. She still falls down the stairs in front of the cameras.
#10 Blac Chyna ought to have worn better-fitting shorts
We're not sure if she got famous for having been the ex of Rob Kardashian or for having been Nicki Minaj's double in her "Monster" video, but one thing is for sure — Blac Chyna is here to stay. With her popularity and exposure, you'd think she would know and dressed comfortably.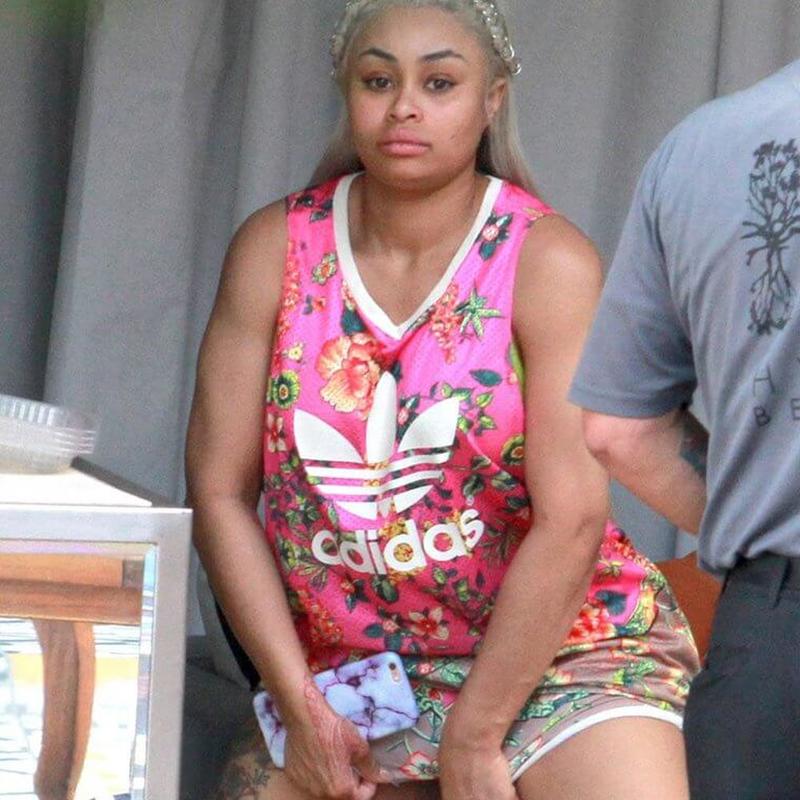 But it seems that she's one of the victims of the dress as tight as you can crew. Even if it means you're stuck having to pull your shorts incessantly for fear that you'd end up exposing more than you intend to.
#11 Vince Vaugh couldn't get enough of gelato
A producer, actor, comedian, screenwriter, and one of Jennifer Anniston's ex-boyfriends, Vince Vaughn has been in the industry long enough and has tackled meaty roles. But it seems that people often forget to attach one more title to his name — the king of ice creams.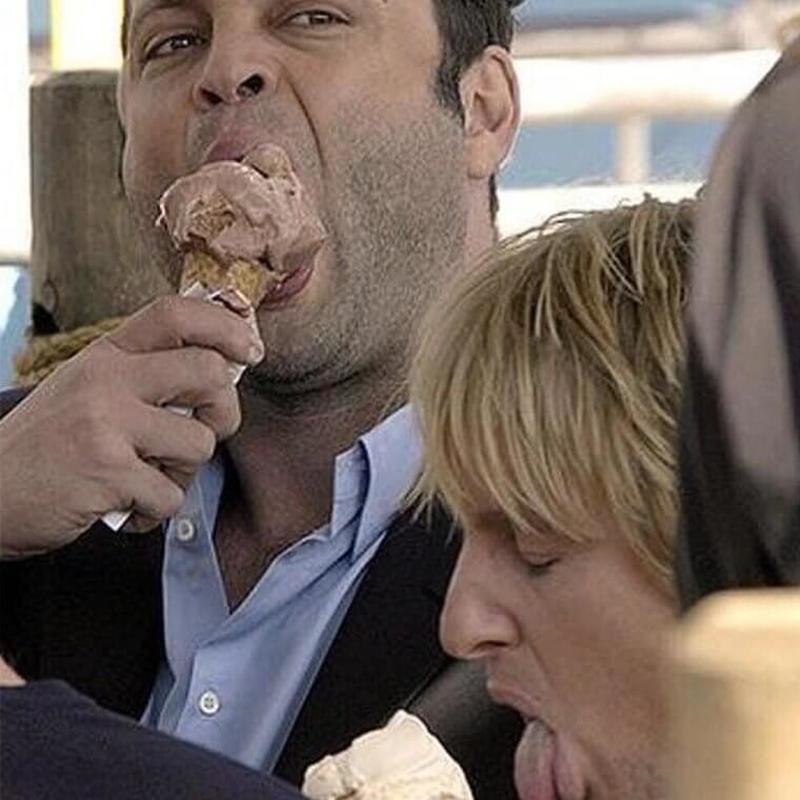 Look at him devouring that cone. Either he was too excited to get his share of ice cream or he was famished. Owen Wilson is also getting ready to lick that thing off the face of the earth, too. We know ice cream is irresistible; it's our favorite go-to food whenever we are down.
#12 Steven Tyler and his popcorn
Best known as the frontman of the band Aerosmith, Steven Tyler has admitted to having done everything and anything a sensible rock star would do. Partying until the early hours of the morning, consuming drugs, and enjoying the attention of groupies.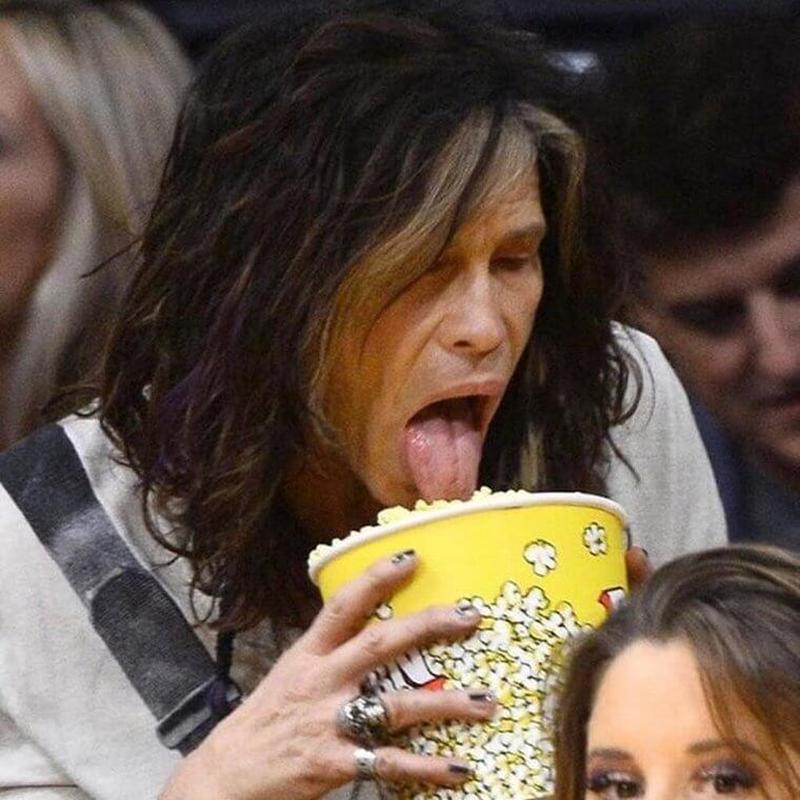 But we have never seen this side of him — someone who can't get it together enough to eat his popcorn. But Steve, that's not how you eat popcorn. You're supposed to pick them up and put them in your mouth, not lick them! Maybe he was just a little confused.
#13 We're curious what happened to Patricia Arquette's pants
Being the recipient of numerous acting accolades does not make you immune from having your pants sag all the way down to the middle of your butt. This is a difficult truth that Patricia Arquette had to find out while being snapped by the paparazzi.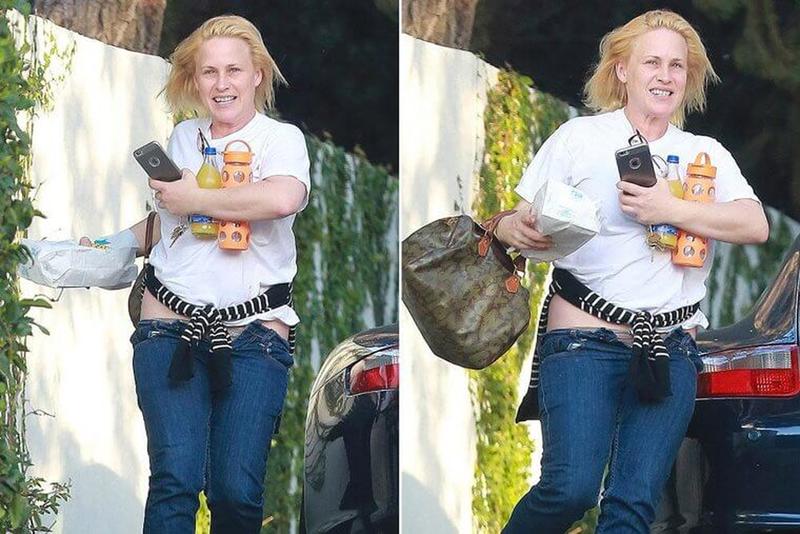 It's possible that she didn't notice her pants going all the way down because she was preoccupied with making sure that her phone, bag, drinks, and food didn't fall while she was on her way to her car. She should remember to button up her pants next time.
#14 Peaches Geldorf and her accident with the baby
A successful model and a TV host in her early twenties, Peaches Geldorf managed to achieve what only few have during their young adulthood. Thanks in part to being the daughter of musician Bob Geldorf, she got her foot through the door of many studios and design houses.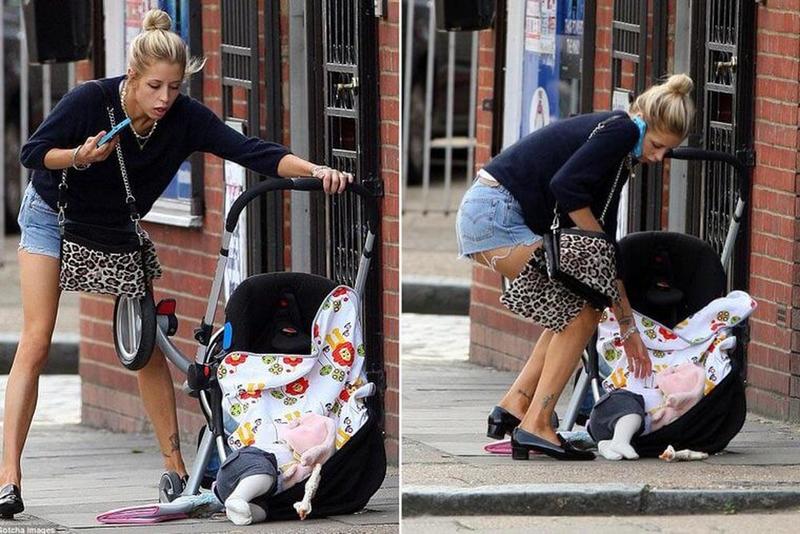 But here you see her having a hard time talking on the phone and making sure her baby is safe in the stroller. Fortunately, it wasn't a long fall. But it should teach all of us a lesson about multitasking. Or, rather, when not to attempt to do so.
#15 Salma Hayek trips on the stairs
A hot Latina with a body and acting chops to die for, Salma Hayek can count herself very lucky as she also happens to be the wife of one of the richest men in the world. Not that she's not rich and powerful, to begin with.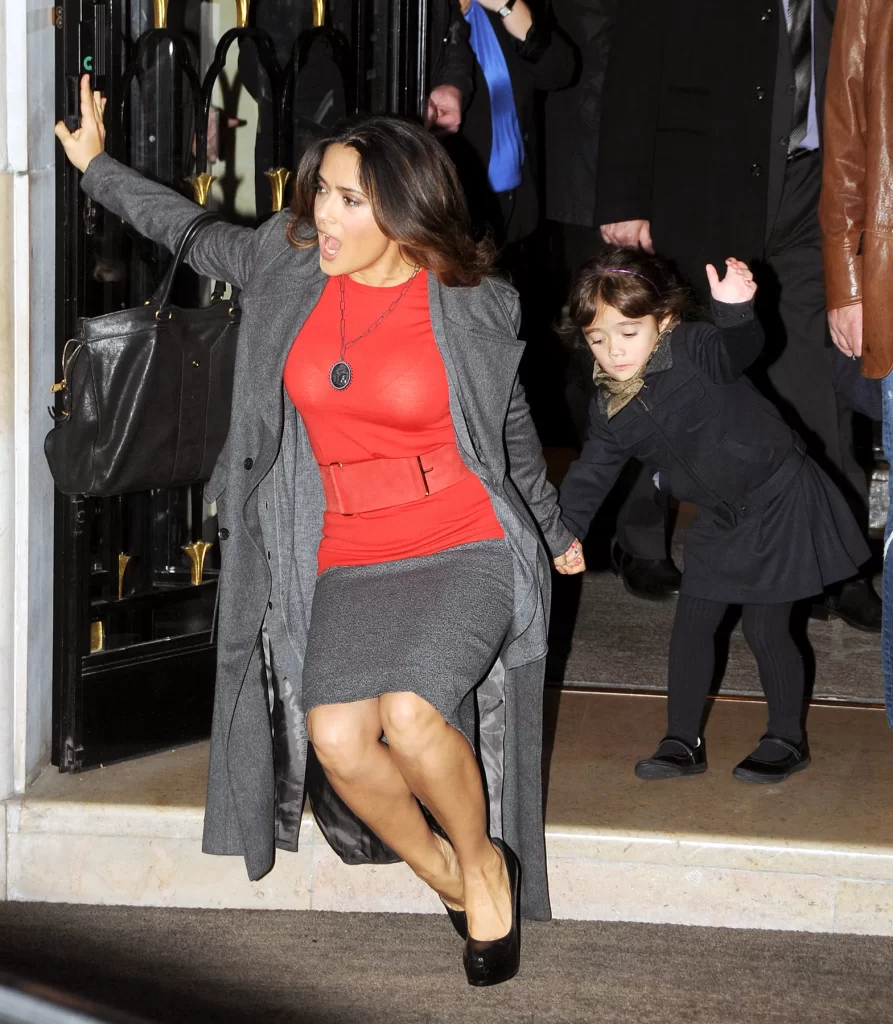 Here you see her tripping on the stairs and dragging her little daughter, Valentina, with her. Luckily, no one got hurt and Salma was able to grab the door hinge for support. We really have to be careful with high heels and slippery stairs. They're not a good combination.
#16 Alicia Alden and her dress' zipper
Known for her roles in Enemy Within, Baywatch, and Blowback, Alicia Arden is not a stranger to wearing gowns on red carpets and events, as well as looking good when going out because for sure the paparazzi will be taking a photo of her.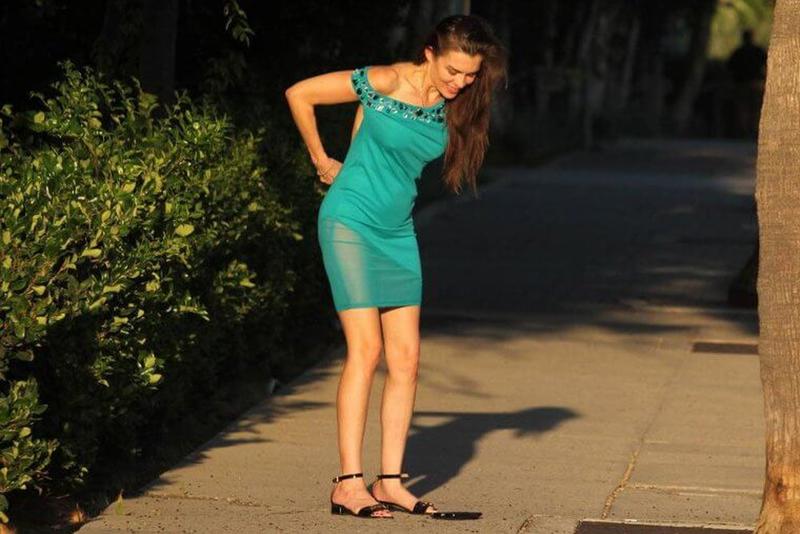 However, she still had some wardrobe problems in this photo. You see her struggling with the zipper of her blue dress. We can only hope she managed to fix it in time. How else will she be able to move if her dress was hanging open because of a faulty zipper?
#17 Jessica Alba's Marilyn Monroe moment
Marilyn Monroe was one of the most fantasized about and most recognizable women in the world in the '50s and '60s, during her heyday. Actors, athletes, and even a certain president were all linked to her. She was so beautiful she could make a potato sack look sexy.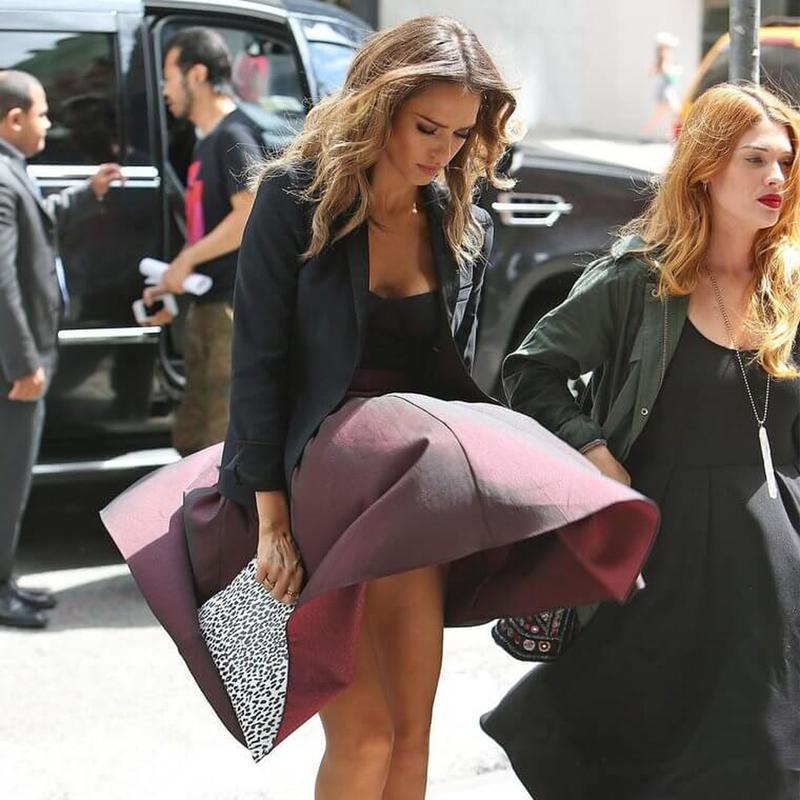 From one bombshell to another, Jessica Alba was also the IT girl during the 2000s. And, as if channeling Marilyn in her famous pose, here she is inadvertently showing people underwear because of the strong winds in the streets. Who did it better? Nothing beats the original, we think.
#18 Madonna can't get enough pizza
Madonna Louise Ciccone, better known by her mononym Madonna, is one of the most successful singers of all time. She is provocative, mind-bending, and not afraid to push the envelope, and has become an icon to many of today's young singers.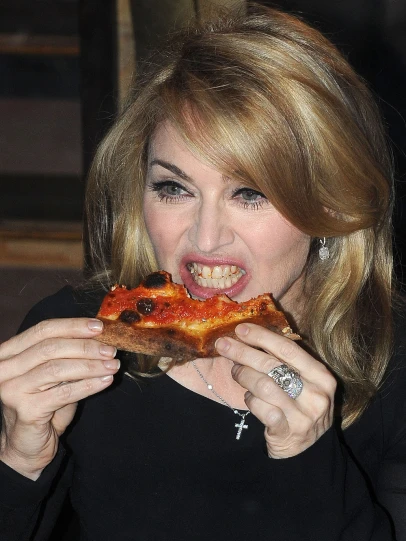 But here she is caught by the paparazzi in the midst of eating a pizza, and let's just say, this picture isn't her best. Anyway, what's the point and joy of eating if you constantly have to worry about how you look? Go on and get that pizza, Madonna.
#19 Adam Sandler was caught with his fly open
A man of comedy with a string of funny movies under his belt, Adam Sandler might be forever remembered for his roles in The Waterboy or Happy Gilmore. Some people think his hilarious while others think he's corny; there's still an ongoing debate.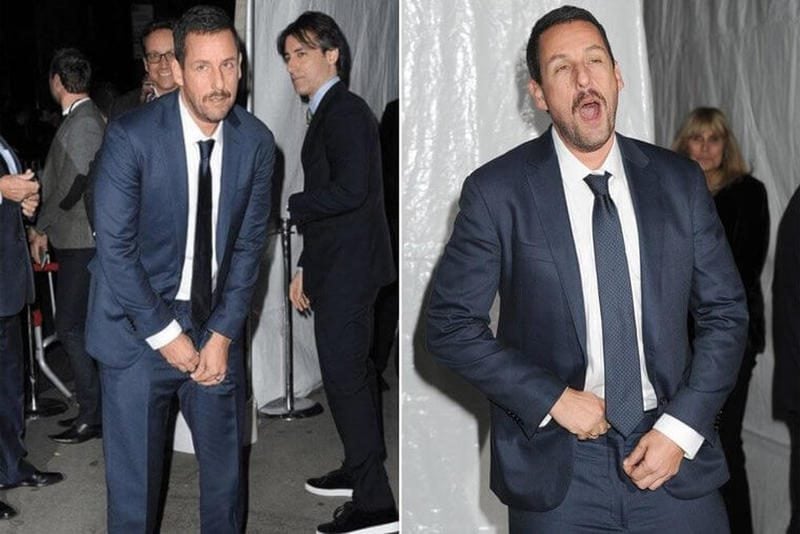 No matter which group you belong to, you would want to end up caught with your fly open like Adam in this photo. Thankfully, someone pointed it out and he was able to remedy the situation in time. Nobody needs to be walking through life with their fly open.
#20 Fergie couldn't hold it in any longer
Being Fergalicious comes with a lot of demands but it also means being one of the best female singers ever. No one can question Fergie's dedication to her craft, from her humble beginnings as part of the girl group Wild Orchid to hitting it big with the Black Eyed Peas.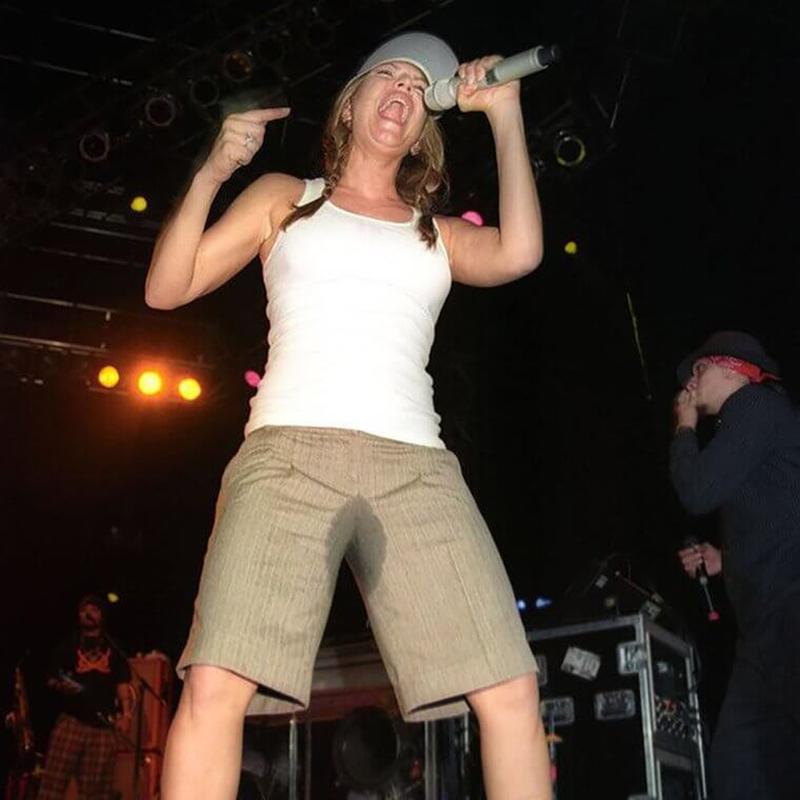 In fact, she's so dedicated that she's been photographed wetting herself during one of her livelier performances and there you have proof of that. We wonder what the audience thought and did the stage start to smell. To be fair, it might very well be sweat.
#21 Mariah's awkward trip down the stairs
Mariah is a diva who is known for her love of heels. Come to think of it, we haven't seen her in flats. Ever. Anyway, just as a diva would, she was wearing her show-stopping dress and heels when she got into a frightening and awkward trip down the stairs.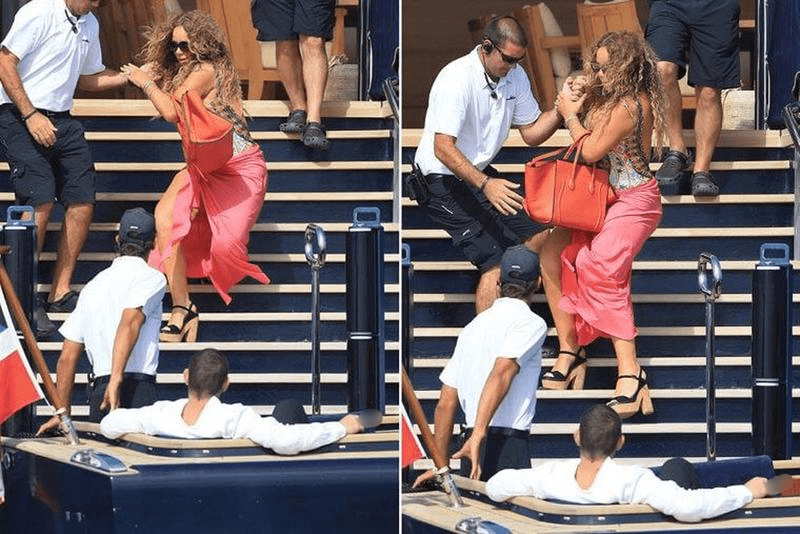 Luckily, someone was able to grab her on time and prevent an accident. Well, what do you expect when you wear heels? There's always that inherent danger of tripping, breaking your ankle, falling flat on your face, and/or the paparazzi taking your photo.
#22 Taylor's not so happy new year
A singer who skyrocketed during her teen years singing about young love, Taylor Swift has come a long way since her first number one song, and she has grown up so much. She is no longer the awkward teenager but a grown woman whose love life people can't stop talking about.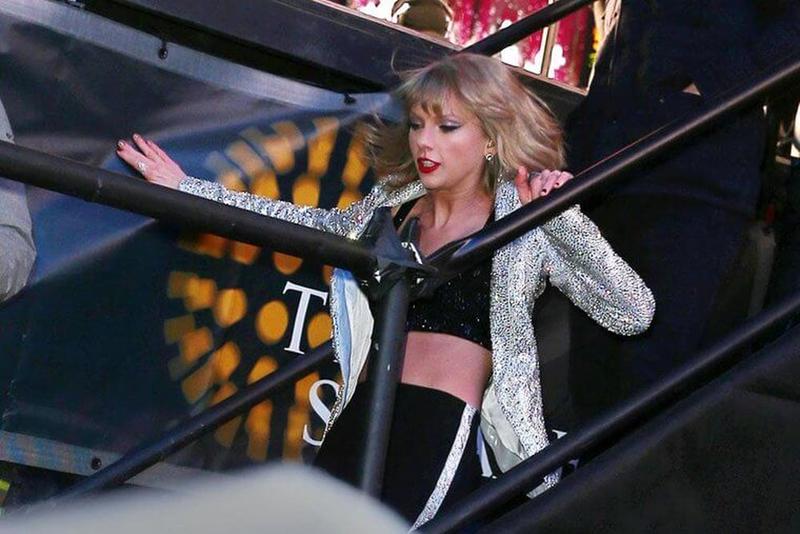 With all the success and accolades she's been reaping, she still has a bad day or two. For example, that day she had an accident backstage during one of her new year performances. She should make sure that she puts "walking carefully" on her new year's resolutions list.
#23 Ashley Benson and her heels
In more than a few of the photos on this list, the culprit has been high heels. Well, you can add another one to that because here is Ashley Benson having a not-so-good day because of her footwear. But how can you avoid heels when they are part and parcel of being a celebrity?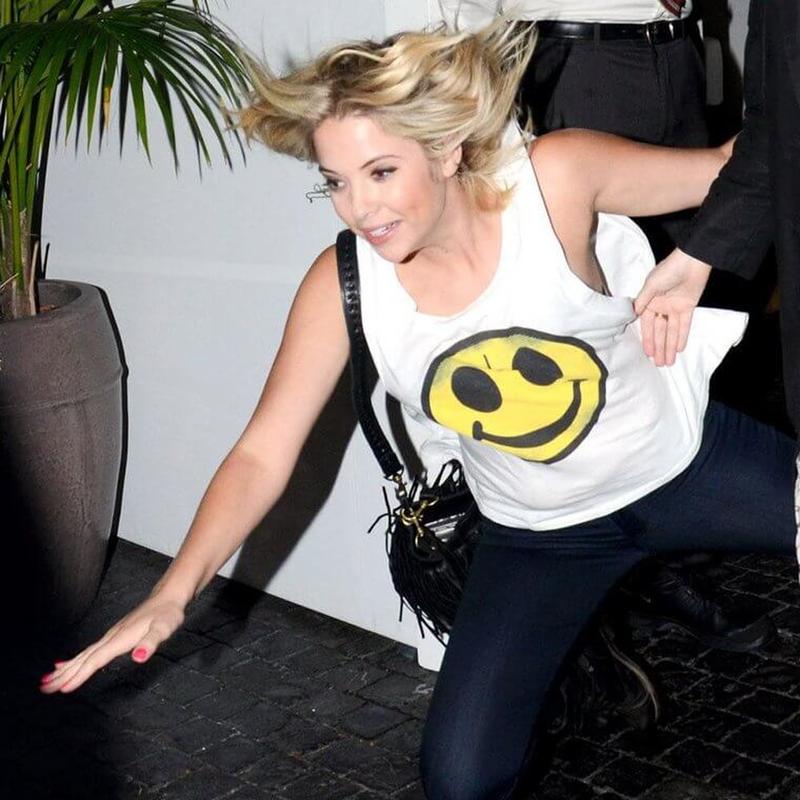 You also have to look impeccable and you can't be caught dead wearing one of those ugly flats. Forget about comfort. When it comes to being a celebrity, you can watch your feet bleed, but as long as the shoes look good, it doesn't matter.
#24 What happened to Scarlett Johansson?
You might be asking the same question we are, so we'll help you out with an answer. Unlike the other celebrities you see on this list falling down, Scarlett fell down intentionally. Why would someone do this deliberately, you ask?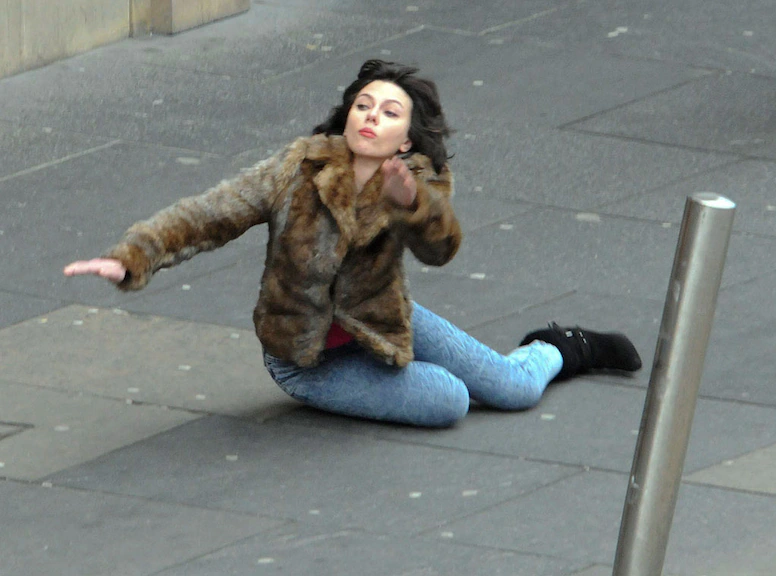 It turns out she was acting for a movie when this shot was taken. She was filming the movie Under the Skin in Scotland and the scene required her to fall. At least she had a good reason to fall and she was being paid generously for it.
#25 Jessica Simpson maintains a straight face
The Texan blonde has been giving us hit after hit with her music. Like many well-known figures, she started young, so she has had plenty of time over the years to perfect her image and learn that the paparazzi are always watching.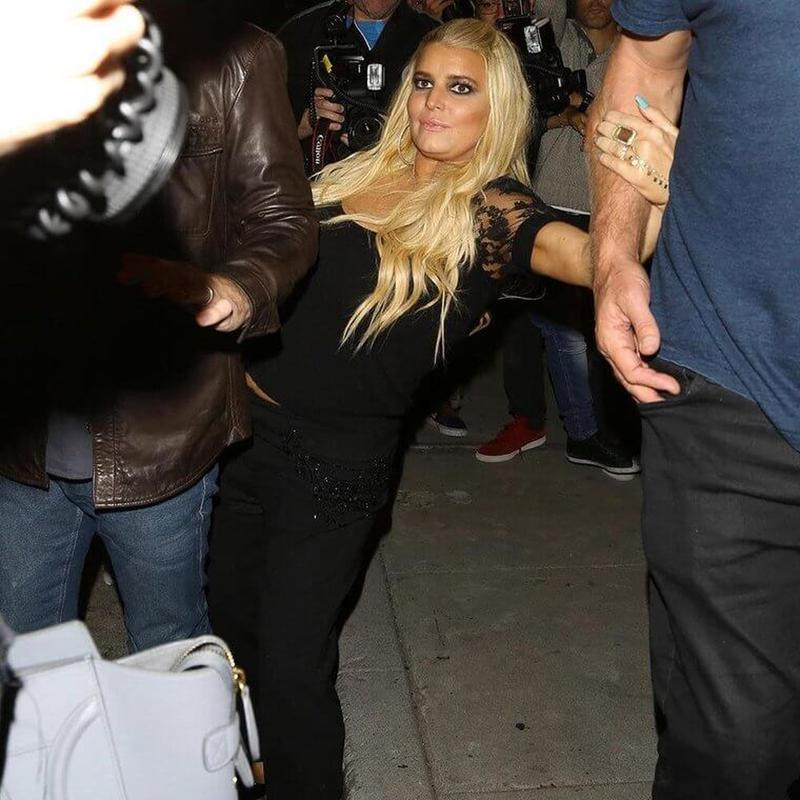 After a night out celebrating her husband's birthday, Simpson lost her footing and was almost down for the count. Luckily, her quick reflexes saved her and the nearby arms of her friends were the perfect handhold. Still, she gave nothing away until she was upright away.
#26 Shawn Mendes wiped out
As gorgeous a man and as great a singer as he is, Shawn Mendes still has to deal with non-ideal situations such as that time he fell down a mountain during a hike. That might be embarrassing but all we could see were his muscles.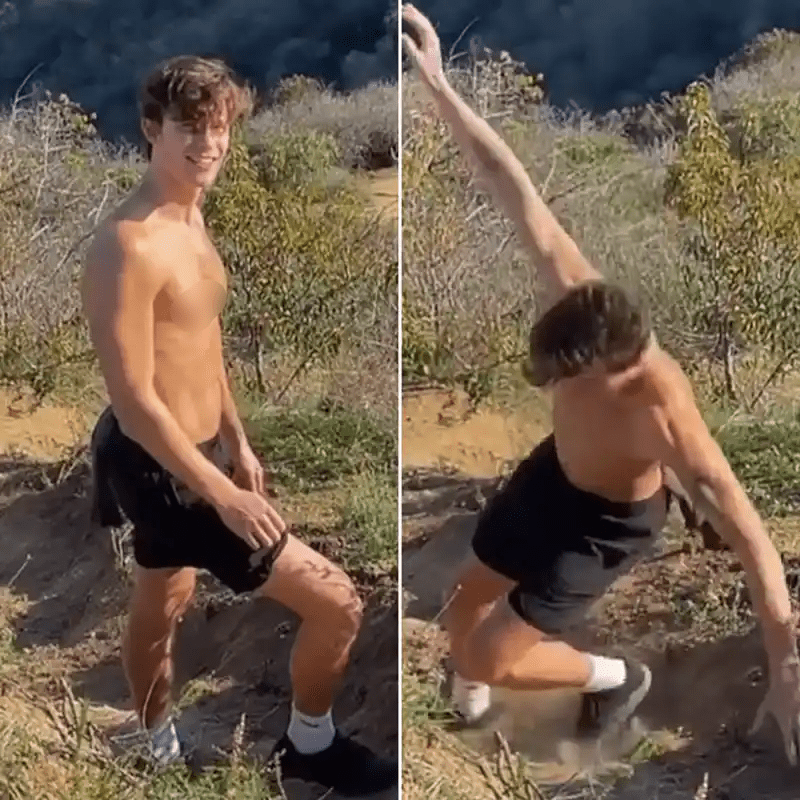 Don't worry Shawn, you're still a fine specimen to us, even if you fall down that mountain twenty times. Seriously though, he's got to be more careful because a lot of hearts are going to be broken if he has an accident.
#27 Robin Thicke's awkward photo
There was once a time when Robin Thicke and Paula Patton were as thick as thieves. The high school sweethearts ended up marrying each other, however, it all turned south after this photo was uploaded where Thicke can be seen with his hands on the woman's derriere.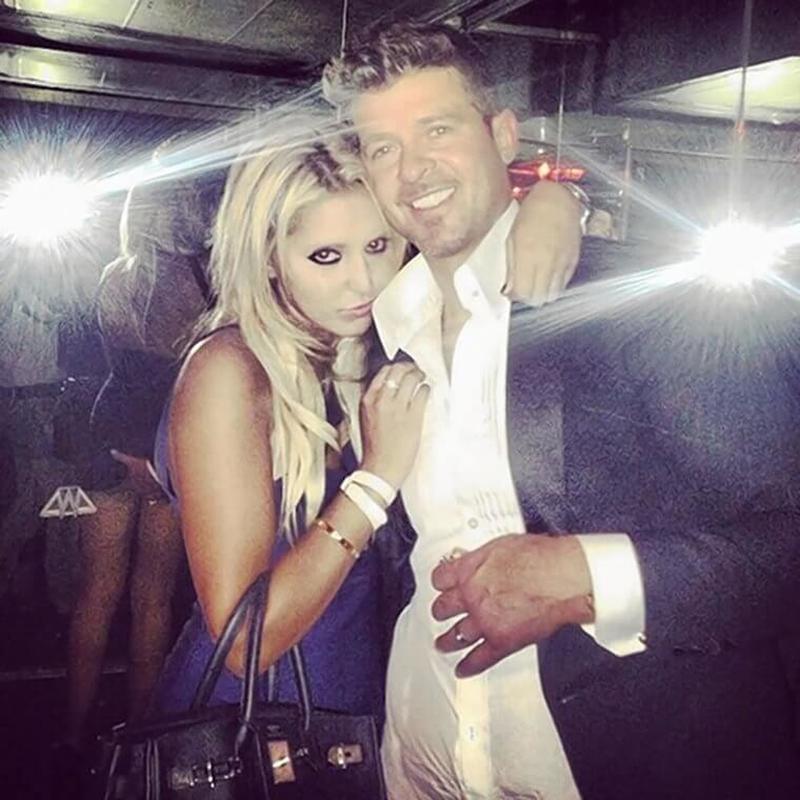 Say what you want, but that isn't a picture of a fan with her favorite singer. There was clearly something else to it. We can only imagine the expression on Paula Patton's face when she saw this photo. We don't know what got into Robin's head.
#28 Paris and her party lifestyle
Before she finally settled down with Carter Reum, Paris was a social butterfly and she was present at the most happening parties and was engaged to some of the most eligible men. Let's just say that her social life was interesting.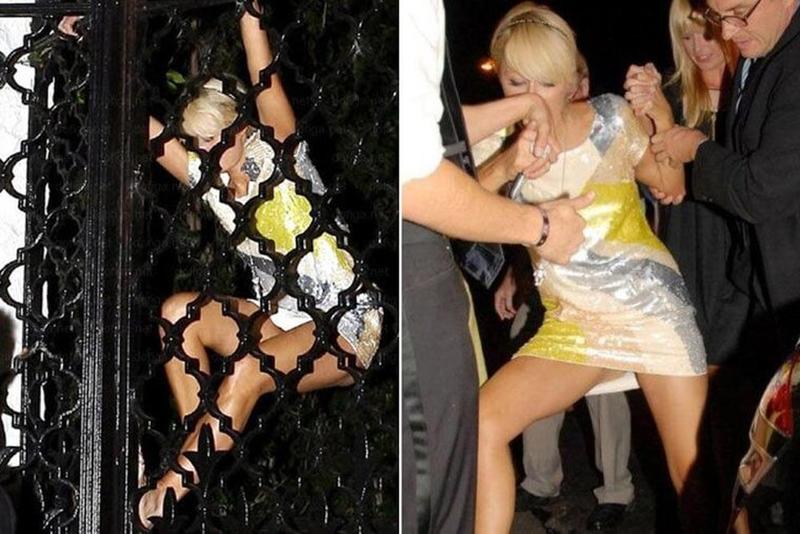 If she wants to, Paris can always look back to her previous lifestyle, thanks to the photos immortalized on the Internet. Here you can see her so obviously drunk that she can't even seem to stand up properly by herself. We're sure she's happy she's past this stage of her life.
#29 Pete falling on his butt
Although they are not as active now as they were before, Fall Out Boy will be in people's minds and memories thanks to their hit songs like "Dance, Dance" and "Thanks fr the Mmrs." They got a spot on the Big Hero 6 soundtrack, so they're not out for the count yet.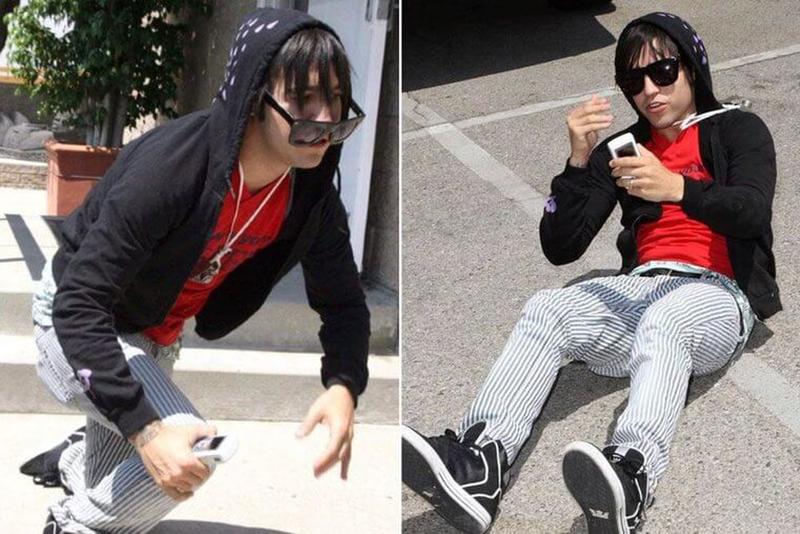 True to the name of his band, here you see him being wiped out and falling on his butt. He was probably very busy with his phone that he wasn't looking where he was walking. Folks, pay attention when you're on the street or on the road. Don't be like Pete.
#30 Hayden Panettiere's stellar reflexes
Hayden has had many iconic roles over her almost thirty-year-long career. In 2005, she co-starred in Ice Princess, a film about, well, ice skaters. So, you'd think that she'd have plenty of grace and composure. After all, you need good balance to be a pro skater.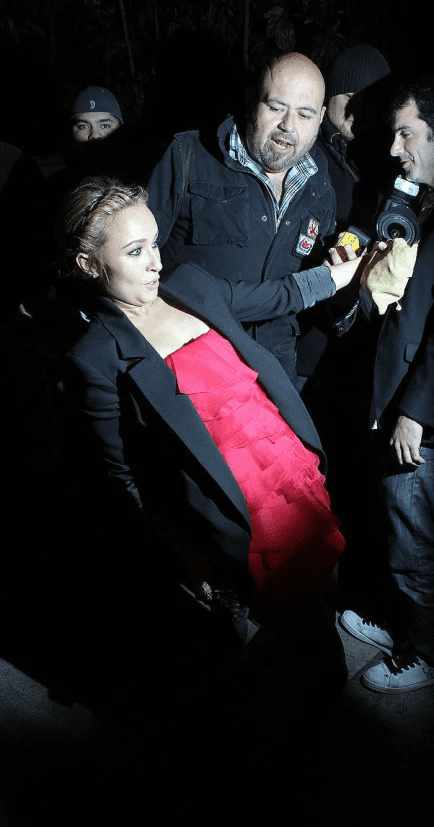 This picture was snapped years after the film was released, so maybe she lost her touch. Still, despite her clumsy tumble, Hayden Panettiere caught herself. We give her extra credit for seemingly maintaining a good attitude during an awkward moment.
#31 Now, it's Pamela's turn to have a bad hair day
Pamela Anderson was the hottest woman on the planet back in the '90s. It was as if the world stopped every time she ran in slow-mo on the beach in her red swimsuit, on her way to rescue some poor unfortunate soul in the water.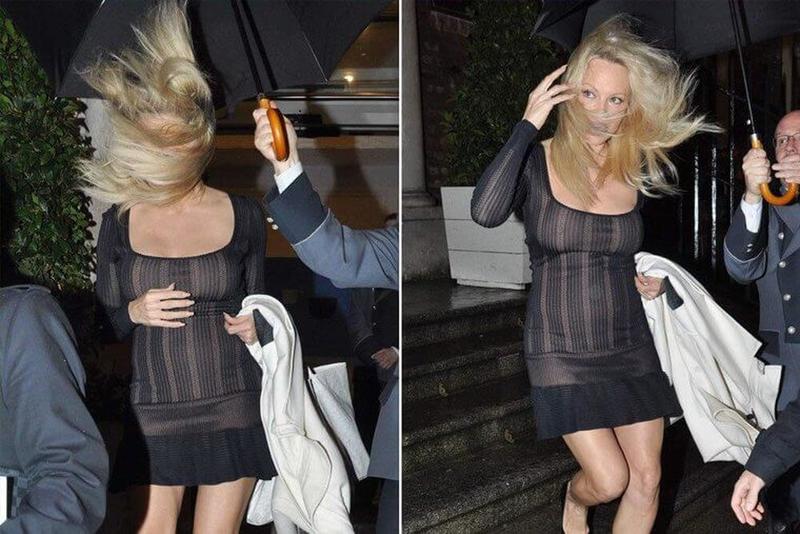 It's been years since she left Baywatch, but she still remains every inch the looker and we're sure men still find her irresistible to this day. Here's Pamela having a bad hair day while leaving her hotel in Dublin. It's okay Pam, you're still gorgeous.
#32 Tala on her knees
The sister of Amal Alamuddin, George Clooney's wife, Tala Alamuddin found herself suddenly becoming an interest of the paparazzi after Amal started dating and eventually married George. Just like her sister, she has beauty and brains. In fact, she should have known better than to dress in heels.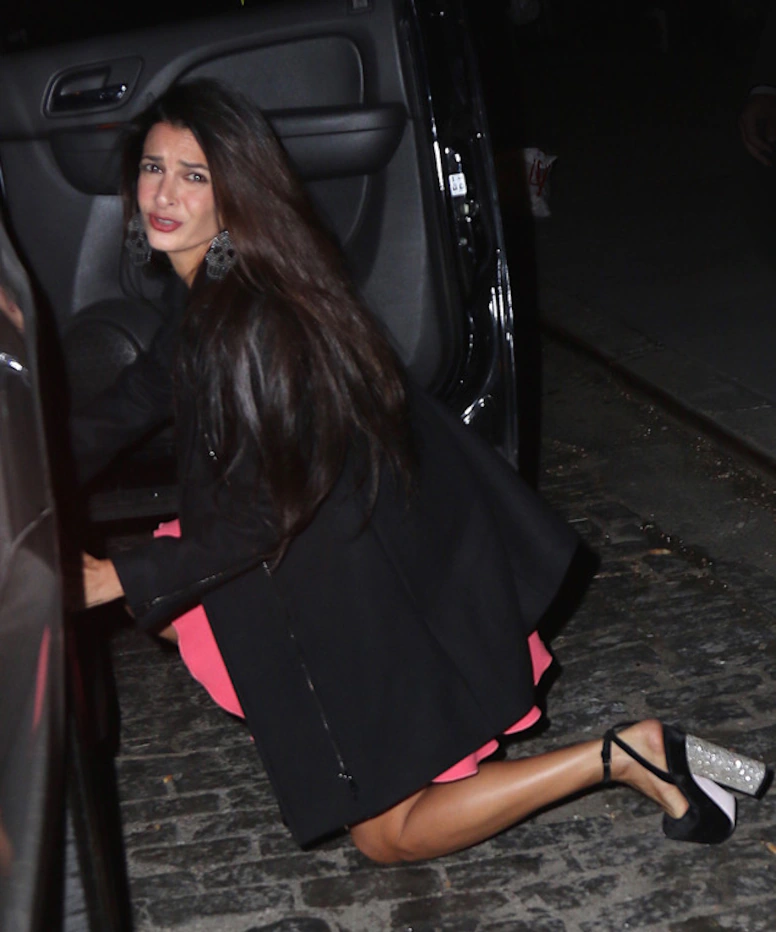 The heels may have perfectly matched her oufit, but was it worth it? They're likely what caused this tumble in New York City. Well, what can you expect when you wear heels on cobblestone streets? Heels are very treacherous, as we've discovered.
#33 Lady Gaga's less graceful moment
Lady Gaga is synonymous with empowerment, strength, and independence. However, that doesn't mean that she doesn't need assistance occasionally, especially if she just happens to slip and fall on the pavement. We can't imagine what she was feeling at this very moment when the paparazzi was taking her photo.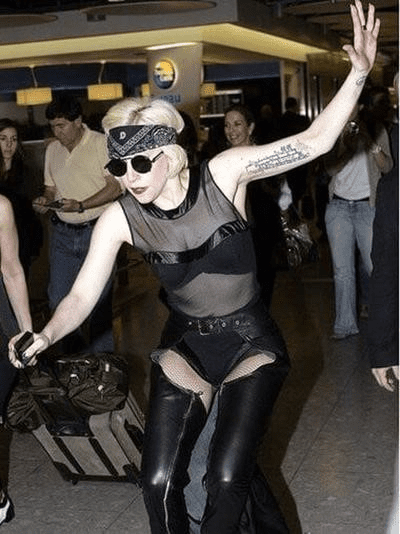 She must have felt embarrassed, because, who wouldn't? But that's okay Lady Gaga; we all trip and fall sometimes. What's important is we stand up, dust ourselves off, and go on with our lives. We're sure plenty of people can relate to this.
#34 Khloe and her undies
As part of the Kardashian family reality TV, by now Khloe and the rest of the brood should already be used to people looking at their lives through a microscope. They are constantly being watched and people are always talking about them.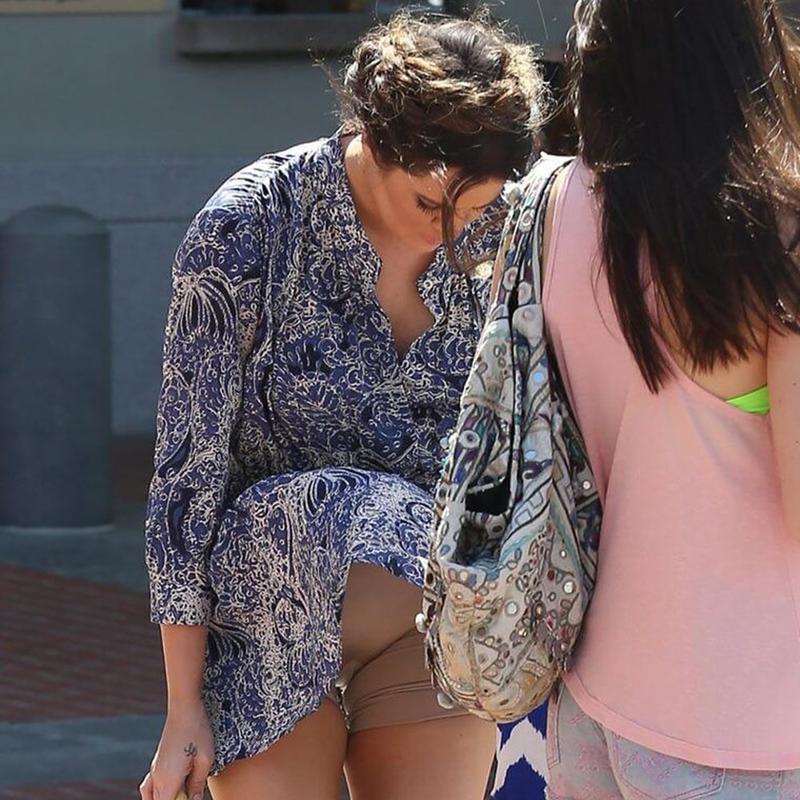 We can only imagine all the pressure they are under. All the more reason to make sure that you behave well and dress sensibly in public. Thankfully, Khloe managed to do the latter and although her dress was caught in a breeze, she didn't end up flashing people.
#35 Penelope's slip and fall
One of the most beautiful women in the world, Penelope Cruz manages to look stunning whatever she wears. However, not even her goddess-like face can avoid an accidental slip and fall on the floor. Somebody ought to be fired for this mishap.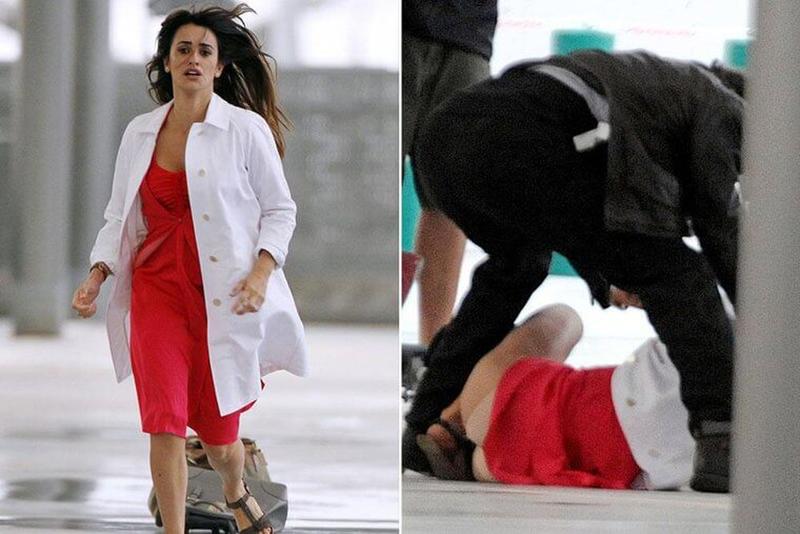 Apparently, the floor was slippery or wet and that led to the petite Spanish actress falling and flashing people inadvertently. Embarrassing, yes, but it could have been a lot worse. She could have been injured because of the fall. Fortunately, she was okay, but pictures of the accident are on the Internet forever.
#36 Keyshia Cole
Not to be confused with Ke$ha, Keyshia Cole is a fantastic singer and equally talented performer. Her second album topped the charts. Though her musical career has faded with defunct record labels, she's still a prominent TV presence. But hair and makeup aren't always around…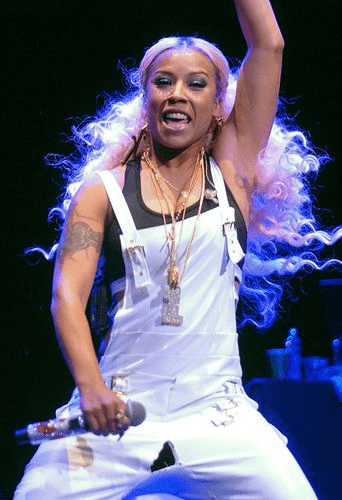 Concert performances are always high-energy, especially for those on stage. Perhaps that's why she didn't notice the wardrobe malfunction. Of course, fans and paparazzi did and they couldn't help but snap a picture of her torn overalls. Sorry Keyshia, you still look fabulous.
#37 Miley and her tricks
Miley Cyrus has always been controversial, especially since leaving the restrictive world of Disney. There was a period of time when she kept grinding and flashing her tongue on camera that seriously people didn't know what to do with her.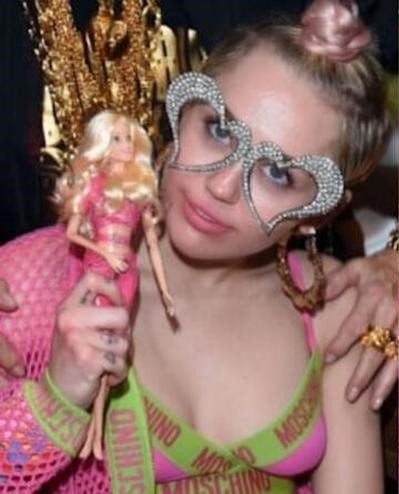 Thankfully, she's past that stage now. However, there was a time in 2014 when she brought a Barbie doll as a plus-one to an awards show which she then decided to put in her mouth. It didn't surprise anyone because she's done more daring and confusing things in the past.
#38 Ashley Graham flashing everyone
Regardless if you are a celeb or not, the last thing you want to do is flash everyone. Unless, of course, you're an exhibitionist. But that is precisely what unknowingly happened to Ashley Graham when she wore this mustard-colored dress.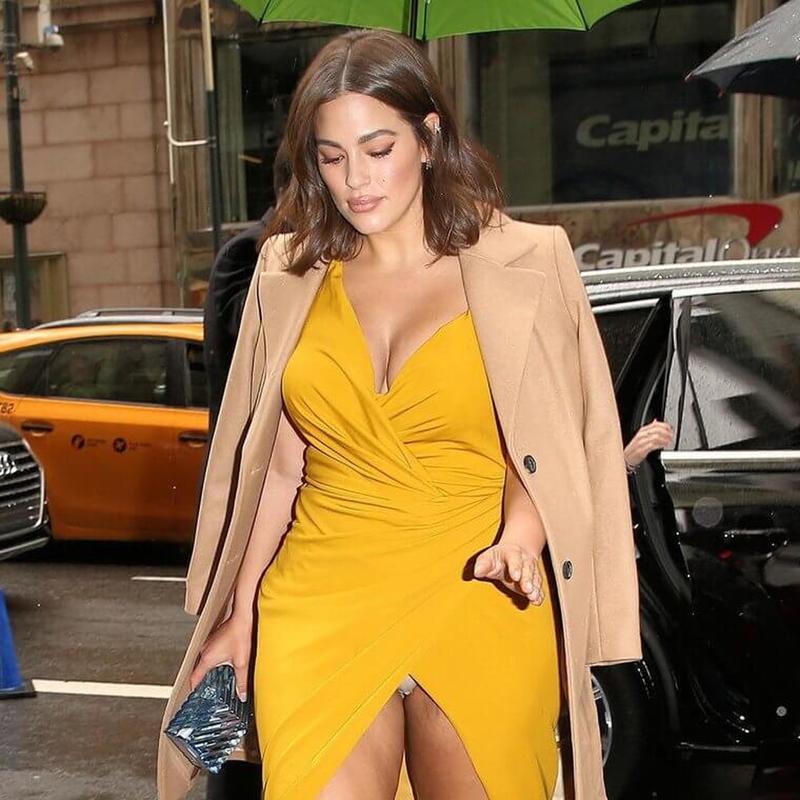 We're not sure if she picked out the dress herself or if the stylist did it for her, but they didn't anticipate the slit being so high that her underwear would end up being shown to everyone. We just gotta be thankful that at least she wore underwear because some celebrities have been caught without it.
#39 Bailey's top has gone with the wind
To date, Bailey's biggest Hollywood role has been that of Adilyn Bellefleur, the half-fairy daughter of a sheriff in HBO's drama series True Blood. She might be a vampire in that show but in real life, she's just like the rest of us in the sense that she also has wardrobe malfunctions.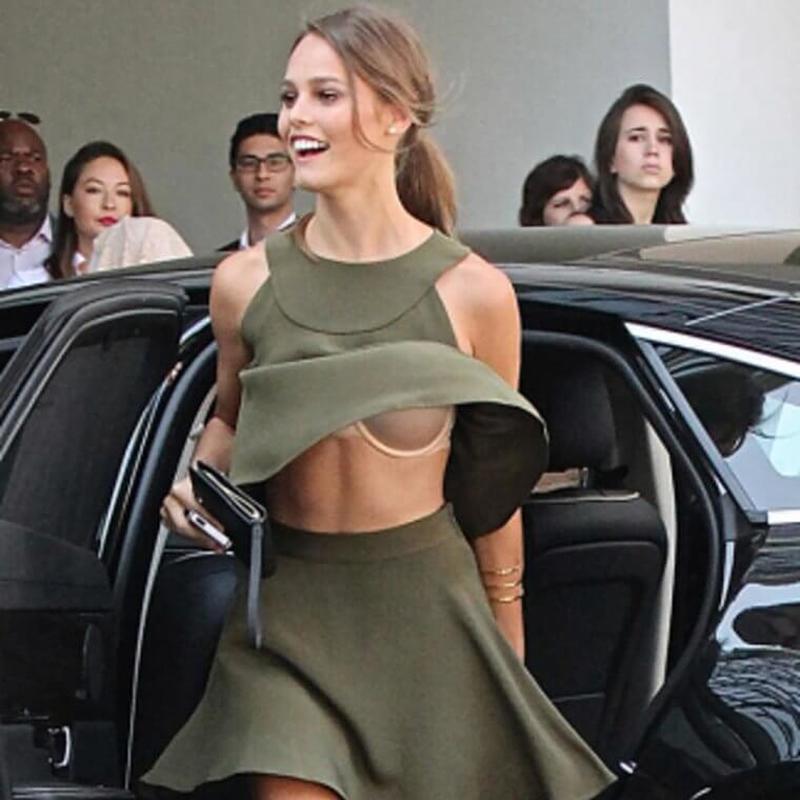 Here you can see her top getting blown by the wind and people accidentally getting a look and see at her bra. Fortunately, she had something on underneath because imagine if she hadn't. Also, it was good of her to put her hands on her skirt right away or else a disaster would have ensued.
#40 Mila Kunis proves that nobody eats pizza well
Mila Kunis has starred in dozens of movies and TV shows, there's almost no chance that you haven't heard of her. She's always well-put together and she breezes through life. That is, when she's not eating pizza, apparently. Sorry, Mila…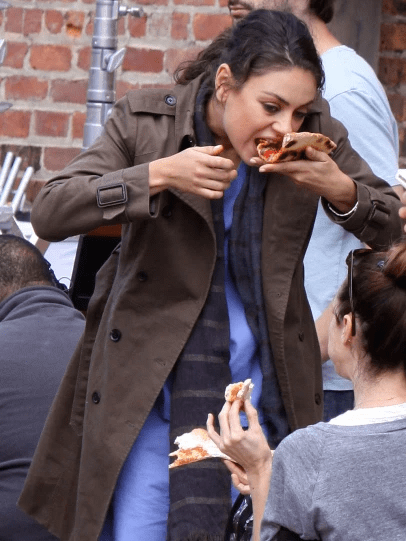 Maybe it's the pizza that's cursed. Nobody can look perfect while chowing down on the cheesy goodness. Celebs need to eat, too, so we can't fault her for taking a bite while trying not to drip grease everywhere. We blame the pizza here.