Everyday Objects That Take On A Whole New Form When Viewed Under A Microscope
By Giovanni DS October 4, 2021
---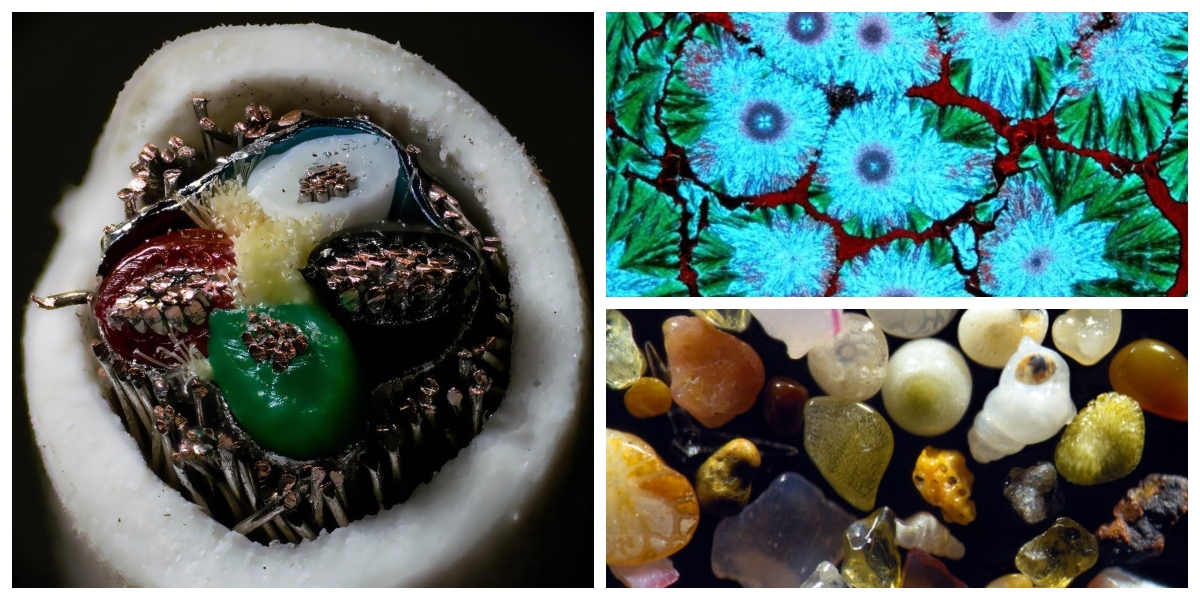 We often take for granted how beautiful the world truly is. Maybe it's because the modern world is not as simple and straightforward as it used to be. Or perhaps, we are just too distracted nowadays because of our technology and digital-filled lives. Either way, modern life and the chaos that accompanies it often stop us from taking a moment to really appreciate the natural world around us. So, take a moment for yourself and follow along as we take a hard and detailed look at some of the things we find around us on a daily basis. Thanks to the power of modern microscopes, we are now able to see some of these everyday items in a completely new light. Some for the better, others… well see for yourself.
Human Eye
Many poets and writers around the world have created soulful and emotional descriptions and interpretations of the human eye. Our eyes and the magnitude of colors and shapes they can take on are some of our most distinctive features.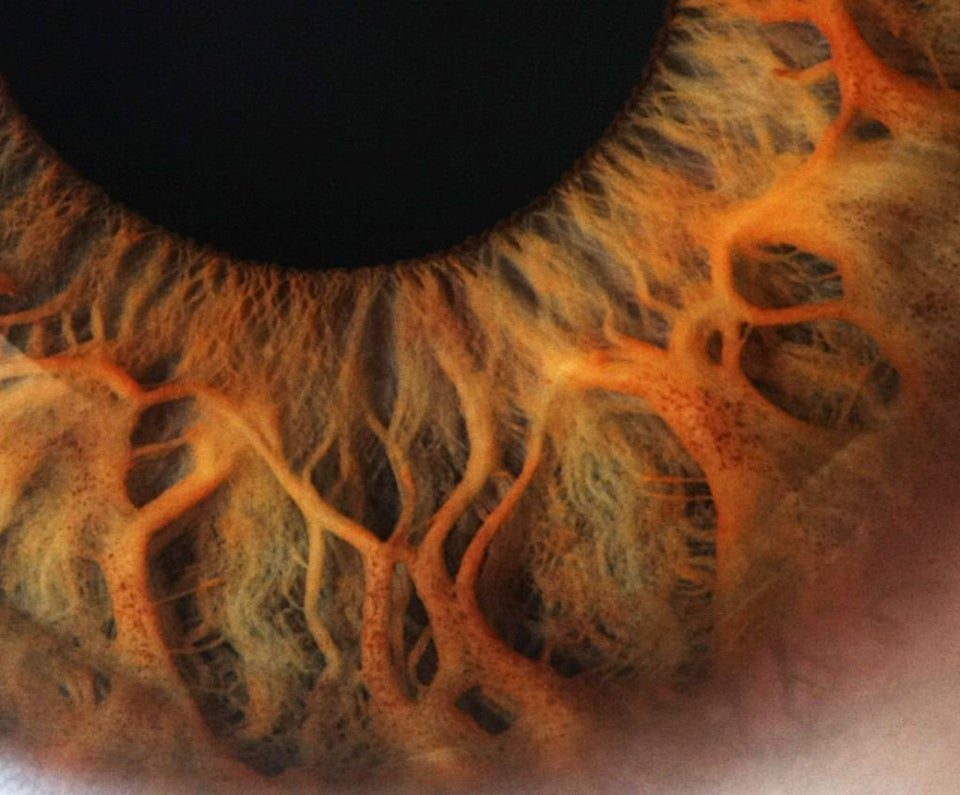 That said, all that beauty and color is quickly ruined and erased upon seeing what it actually looks like under a microscope. Irises look like frightening suns, with veins looking like nightmarish trees straight from the deceptions of a Stephen King novel.
Sesame Seeds
Sesame seeds are a wonder of the world. Not only do they enhance the taste of any meal, but they also offer a whole host of medicinal benefits and are believed to help lower blood pressure and cholesterol. No wonder we have been using them for centuries.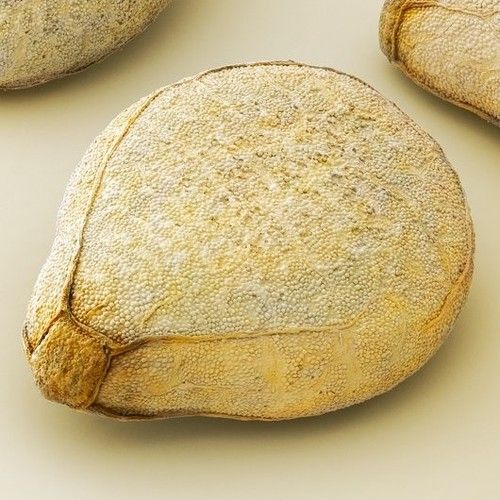 When placed under a microscope, the appearance of these seeds surprisingly does not change that much. However, you can really see their texture. If anything, they merely look like a bit smaller and more tightly held clumps of their full-sized versions.
Strawberries
You really know summer is here when the strawberries start popping up in the markets! Sure, sometimes they can be a bit watery, but when they are good, they are exceptional! Unfortunately, they are not so sweet to look at with a microscope.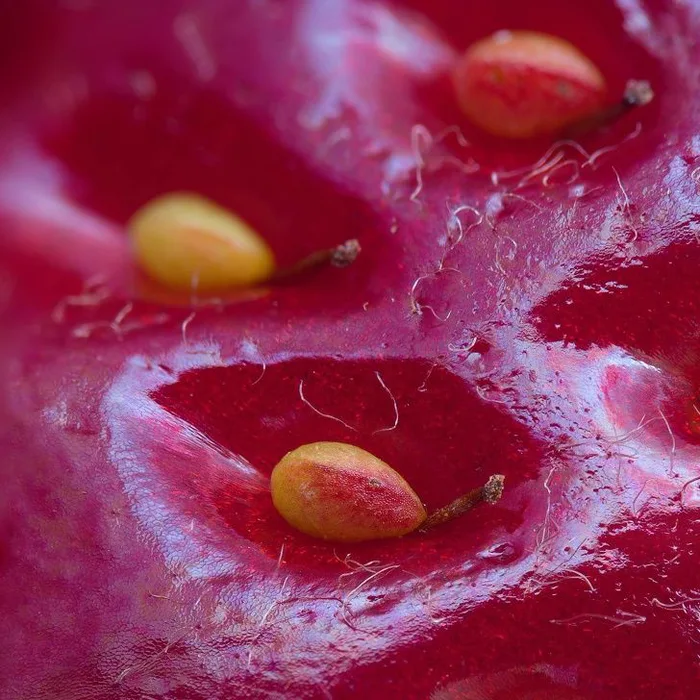 Their once smooth red skin ends up looking like some kind of gross and hairy red jelly dented with bug-like yellow dots. However, beauty is in the eye of the beholder; when seen from a different angle, they aren't so bad.
Tomatoes
At first glance, the tomato is a nondescript, though not unpleasing, fruit. That all changes once you place it under a microscope transforming the smooth red surface into an interpretation of stained glass or the cracked surface of a riverbed.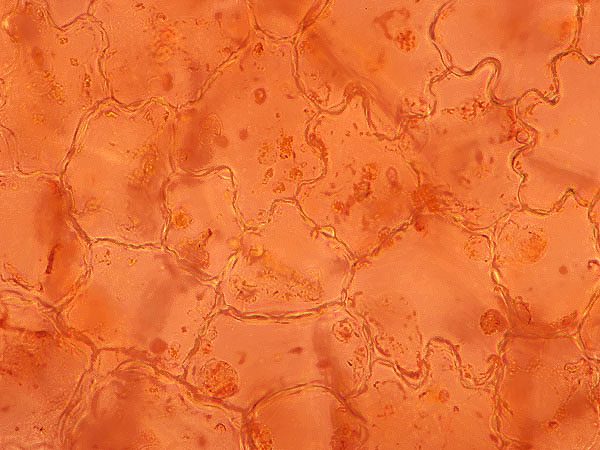 The microscope allows us to really take a good look at this amazing fruit. A simple, clean slice of tomato changes into a wondrous piece of reddish, orange-tinted stained glass. We think this is truly something that can be displayed in any art gallery.
Grapes
No matter their shades of reds or hues of greens, grapes never fail to capture the attention of our eyes (and stomachs) with their simple but elegant appearance. We have to say, though, that their appearance becomes both horrifying and unsettling when further inspected.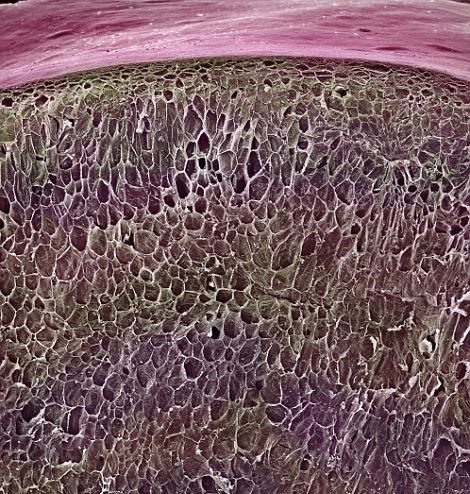 The exterior of the grape simply looks like a red or green clump of small mounds, but the inside offers you a creepy pocked marked and insect-like burrow that would fit right at home from the aliens of the StarCraft games.
Purple Onion
Just as no kitchen is not complete without cinnamon, like we mentioned before, no meal is complete without onions! The classic yellow onion often grabs most of the attention, but the radiant purple onion and its dazzling sheen should never be ignored.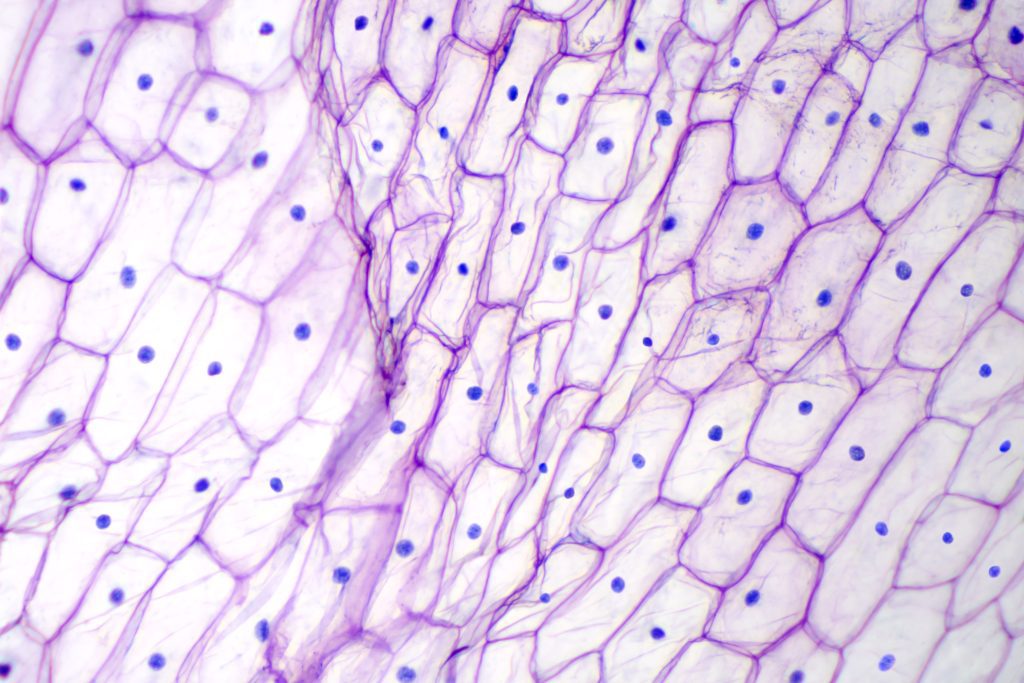 Once under the focused eye of the microscope, the bright reddish-purple and bright skin of the onion takes on the appearance of little speckled water pockets colored with the lightest tones of pink. The focused look is surreal yet also oddly relaxing.
Wheat Grain
Wheat, grain, or wheat grain, no matter how you call it, has been a prominent food staple for thousands of years, and it's essential for hundreds of cultures and nations whether it's bread, pasta, pastries, or pizzas, we love our wheat!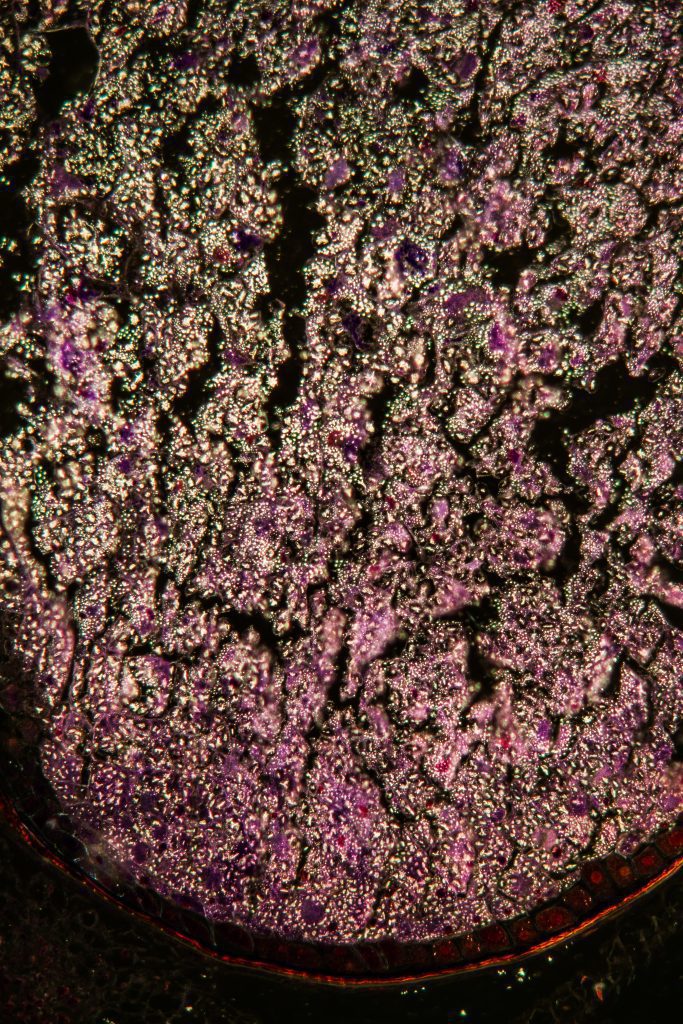 Wheat might generally look like funny hairy pods sitting atop of strands of grass without a microscope. But with one, it starts looking like rows of sand-covered teeth. The microscope allows us to see all the finer details of this versatile crop.
Roasted Coffee Bean
Sometimes, you just cannot beat a good old cup of bean juice. The iconic smell and bitter taste of coffee have dominated the world for years and in many cultures. This is an obsession that you might drop after seeing it under a microscope.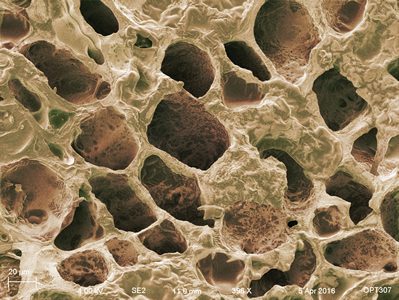 Those little beans of light and deep browns look more like clumps of fudge that dozens of ants and bugs have nibbled on or some kind of bug-infested tunnel network. It's a good thing our eyes cannot see that when we make our morning cup of Joe!
Salt and Pepper
Salt and pepper is a duo just as iconic as Tom and Jerry but a lot more harmonious. These two ingredients have been flavoring our meals for thousands of years, making it no surprise that salt used to be worth more than gold!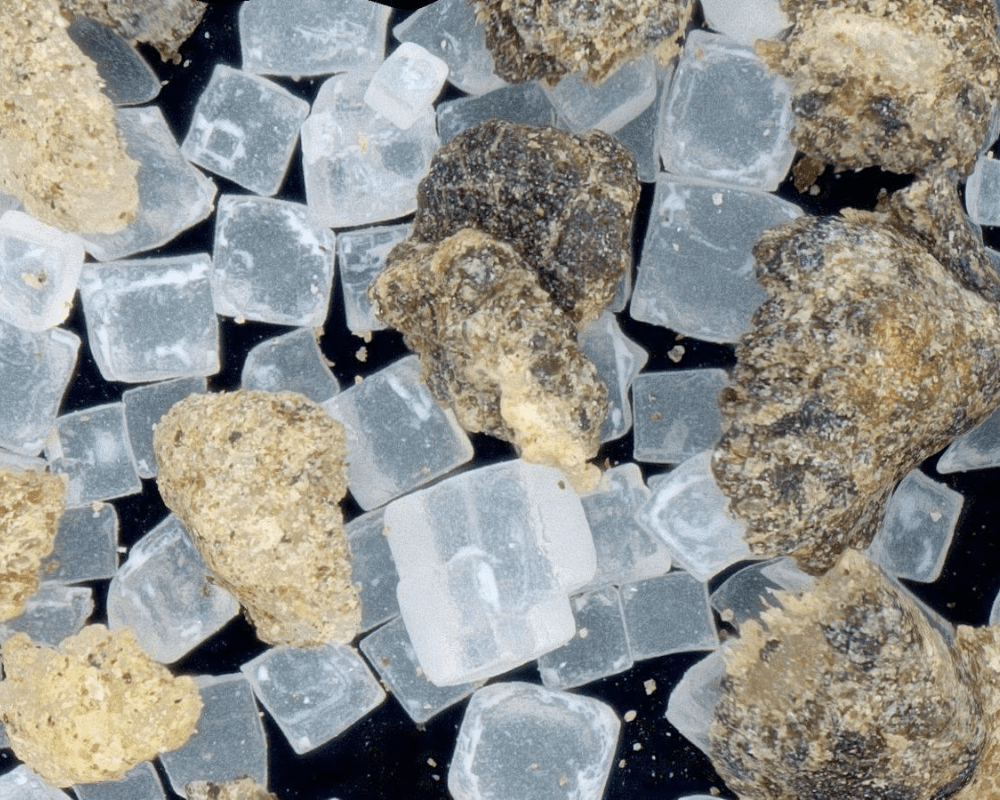 When seen through a microscope, these two might fool you into thinking you were looking at something else, with the pepper looking more like broken pieces of driftwood and the salt looking like lumps of marble stone or marshmallows!
Cauliflower
Cauliflower might not be everyone's favorite vegetable. That said, if, for nothing else, it is a perfect example of when life and nature impersonate art. You might not think so at first, but you will once you take a closer look.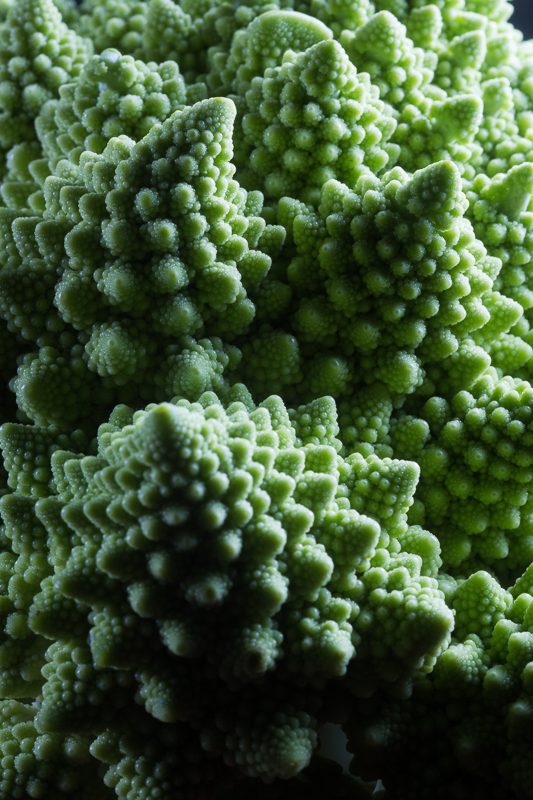 In the science of mathematics, there is a concept known as the Fibonacci sequence, where each sequence and spiral is the sum of the two previous numbers. A concept that can beautifully be seen by the cauliflower when it is under a microscope.
Shrimp Tails
The ocean is home to hundreds of amazing animals, some of which are seen as prized delicacies. The shrimp is one such animal that, funnily enough, people either love or hate (it's fair to say the name sea cockroaches didn't help).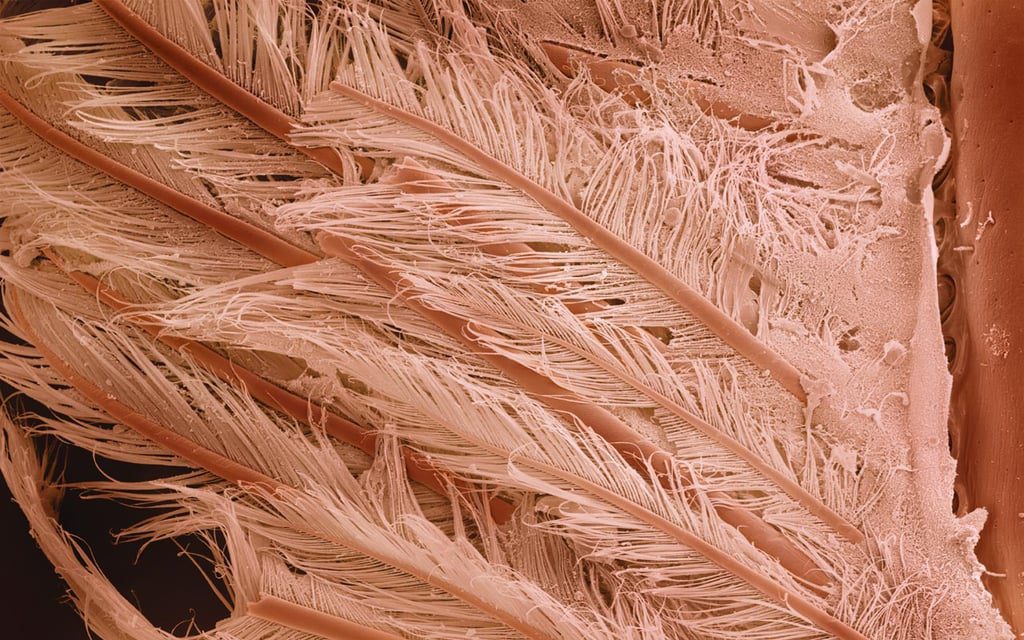 We all have a rough idea of what a shrimp looks like, but do we really know what it looks like? One of the most fascinating discoveries of the shrimp's appearance is that their tails actually look like tiny bird feathers.
Star Anise
Even though it has the word star in its name, this humble little spice from south China and north Vietnam is often not as well known in the kitchen. Its tantalizing fragrance is used in everything from cooking to cosmetics.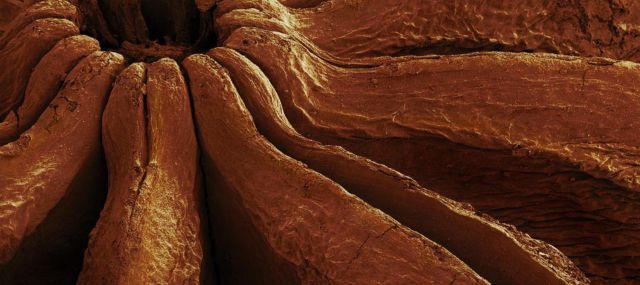 Normally, these seeds look like little woody stars, but once under a microscope, they look like something between an actual starfish and the Sarlacc desert monster from Star Wars: Return of the Jedi. We guess it's up to you which one you see.
Moldy Tomato
Ok, this one is rough, so you have been warned. There is nothing worse than reaching into the fridge or cupboard looking for something to snack on only to find it is covered in mold. There is literally nothing to do but chuck it into the garbage.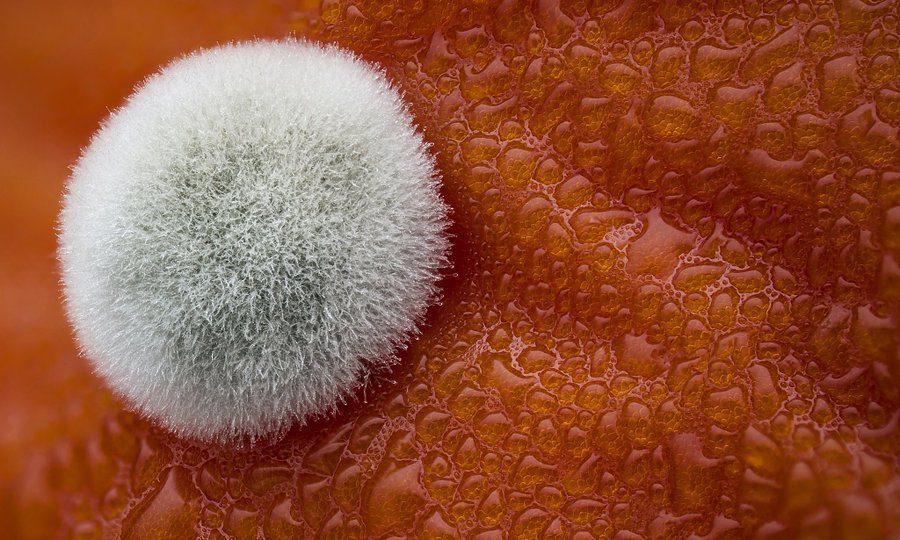 Mold is never pleasant to deal with, touch, or look at. Ever. On the brighter side of things, this is not so bad when you zoom in on this tomato with mold, which looks more like a fluffy white ball on a blanket of red jelly.
Sand
Sand is something that is both a joy to play with and a nuisance to get rid of. Sand is also something that, at first glance, looks quite unassuming because "it's just sand." Well, wait until you see wait lies within.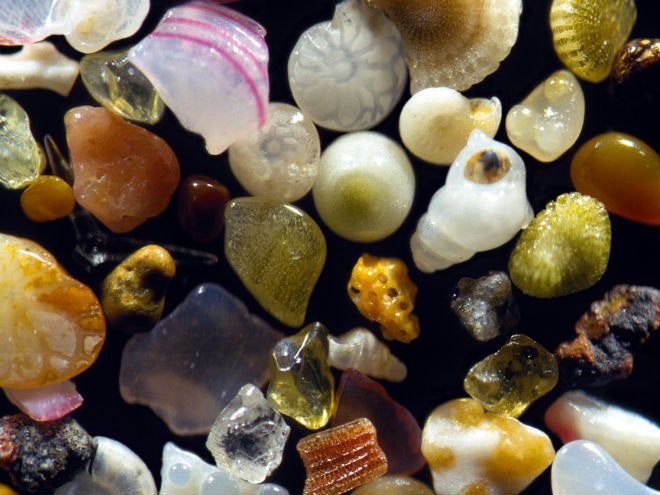 When seen under a microscope, these tiny grains of ground-up shells, salts, and rocks really come to life, transforming it into a colorful field of minerals that compete for the title of "gems of the sea." Each grain is so unique!
Flour
Much like wheat and grains, flour in all its forms has also been an important friend for many human cultures over the centuries. Corn flour, in particular, is often a favorite when you need to thicken a pot of soup or make tortillas.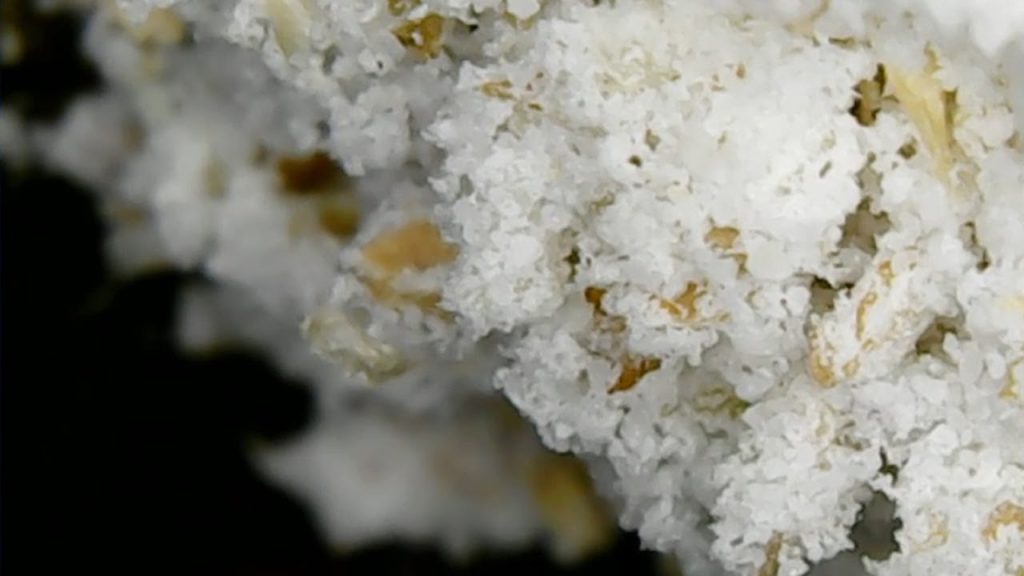 Upon closer inspection, the individual grains of the flour tends to look like tiny sugar granules or miniature little snowflakes., If only they tasted as sweet! That said, flour is used in almost everything we eat (unless you're gluten-free).
Credit Card Holographic
Things that are guaranteed to give us a heart attack if they are ever lost are our phones and credit cards, Oh yeah, and our kids. Our cards are incredibly important for obvious reasons, but have you ever really looked at them with a close eye?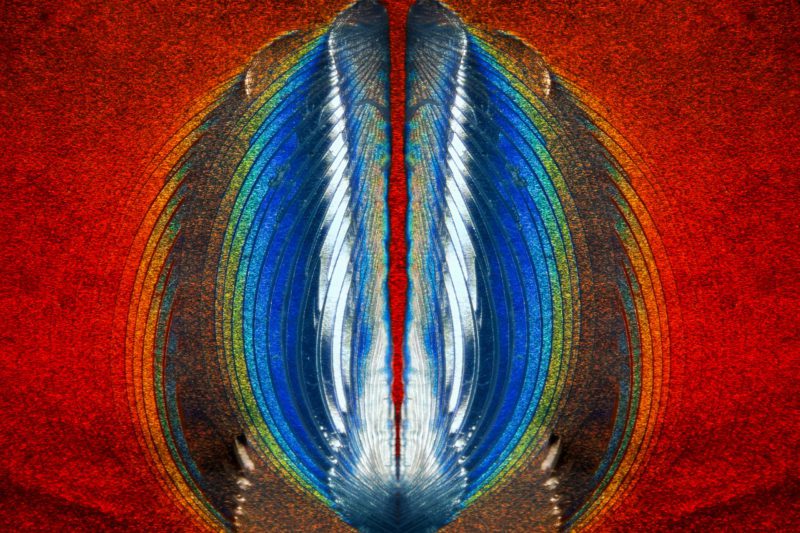 Most cards, whether they be credit, debit, student, or any other one you can think of, all come in a variety of colors, holographic and shiny surfaces. But, when seen through the lens of a microscope, you will come to realize just how beautiful they can be.
Chili Pepper Seeds
If you ever want to give your meal that edge, that heat, that (insert overused French saying), then consider adding a few chili peppers. This spice will add some depth of flavor to your meal while also helping to unblock your sinuses.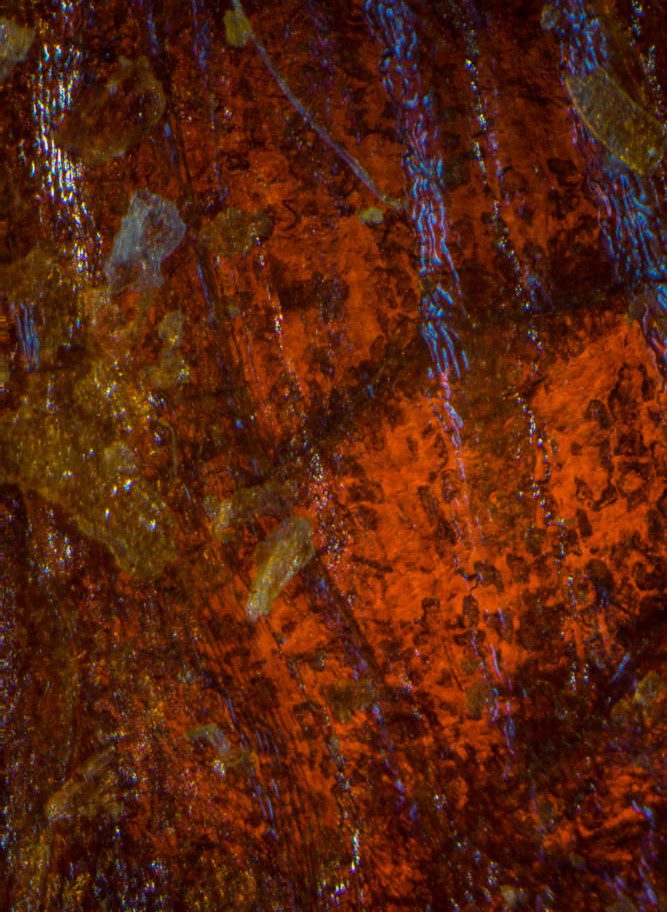 A more detailed examination of the chili flake does not reveal anything as shocking as the others. It simply offers a closer look at something we might use every day. However, sometimes simplicity is all you need, and we bet you won't look at these items the same every again.
Rusty Metal and Nails
We all know (hopefully) that it is an extremely bad idea to play with, step on, or cut yourself with rusty metal. The main reason for this is the risk of contracting tetanus, or lockjaw, due to rust and the bacteria that come with it.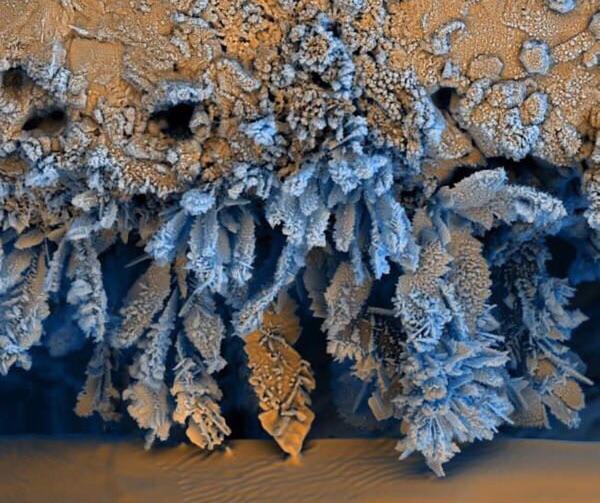 What is interesting is that upon further inspection, the rusty surface of a bit of metal or an old nail actually looks like a really messy-made sandcastle, or what a sandcastle would look like if you tried using rocks.
Human Nail
Speaking of nails, our nails are also really bizarre looking under the microscope. Normally, there is not much to them. They're just clear pieces of hardened calcium, that is, unless you like painting your nails or aren't a fan of handwashing.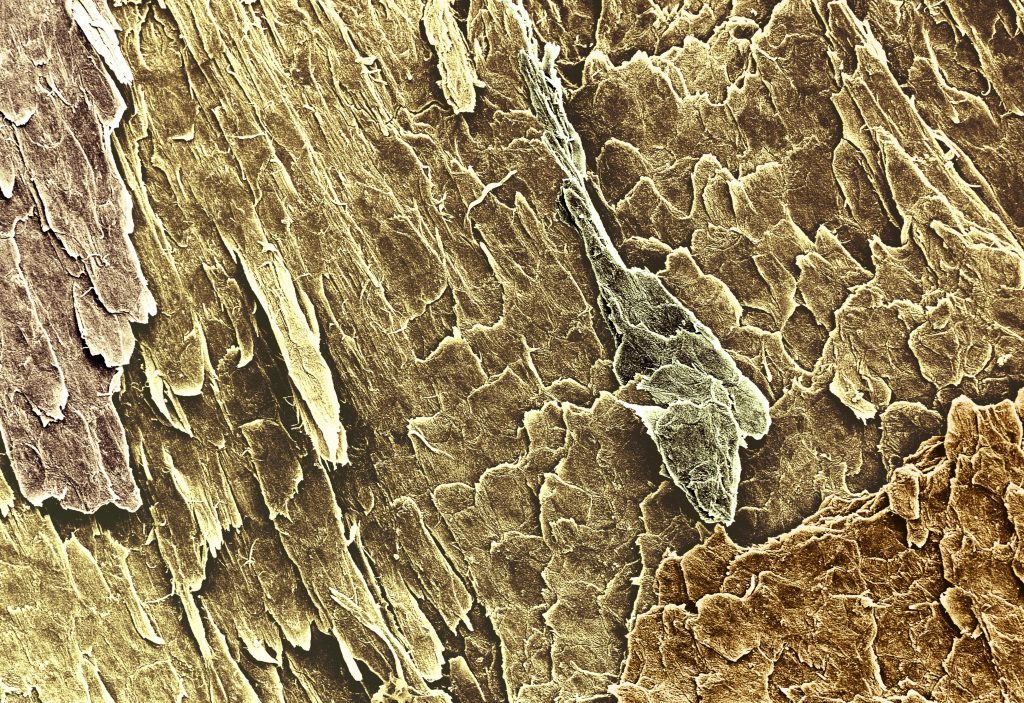 On the other hand, the microscope shows us that our nails look more like scratched and peeling pieces of tree bark. This one is really interesting because you just won't think our nails could look like this!
Red Liqorice
Licorice is another amazing snack that, nonetheless, some people actually don't like! And for those who do like it, they are stuck in a never-ending war on whether red or black — *cough*, black always, *cough" — is the best!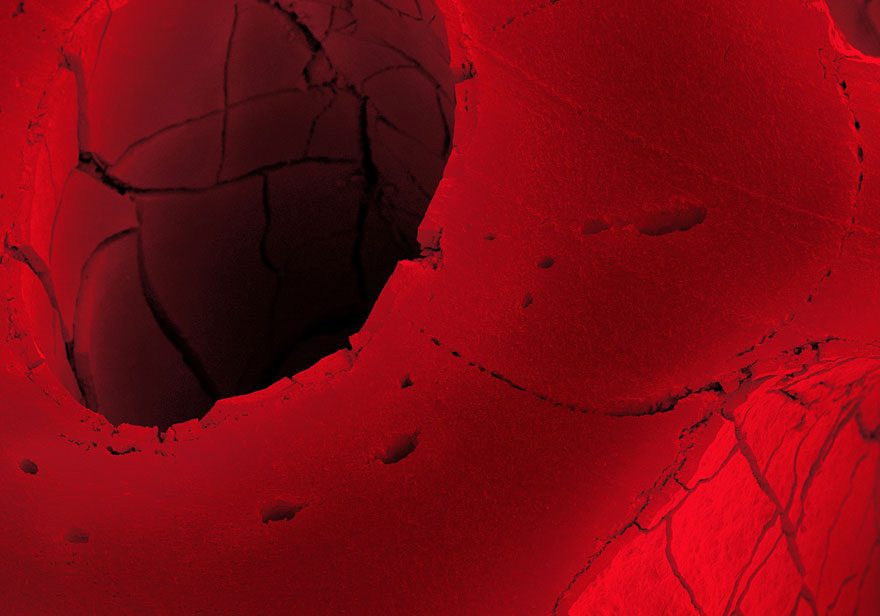 Anyway, most licorice, whether black or red, has an often smooth and shiny texture. It should not come as a surprise that it looks more or less the same under a microscope. It actually looks a bit like putty or a little bit like red dried sand.
Raisins
Our next item is the infamous raisin of treats and snacks that some people either completely hate or love. For some, they are an addictive little fruit. For others, they are a tasteless imposter that fools people into thinking they are chocolate chips.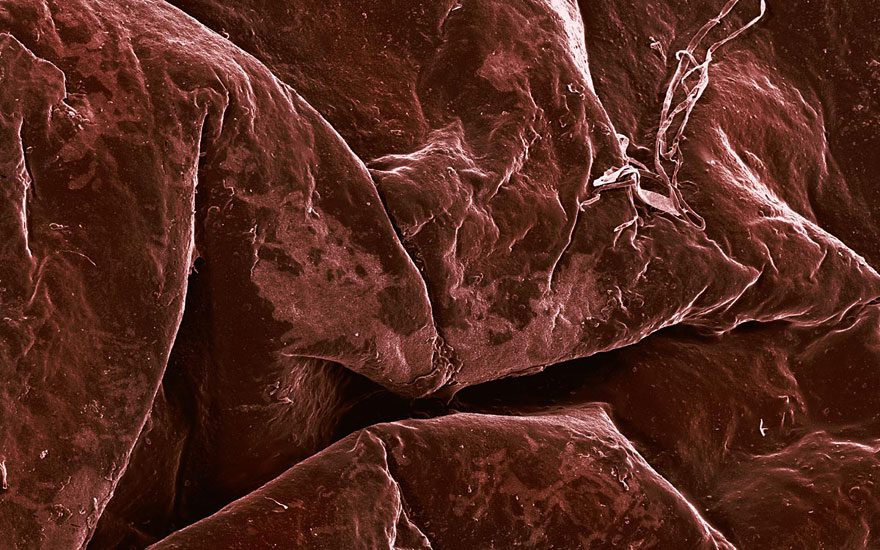 Whatever your feelings are for them, it is undoubtedly worth it to take a look at this microscopic image of them. When zoomed in, their wrinkly surfaces take on the appearance of an enormous and mountainous cavern. Or maybe a beanbag.
Oreos and Cookies
While we are on the topic of sweet treats, who does not love a good cookie or, to be more specific, a classic Oreo? Well, if you are an Oreos fan, wait until you see this. You will never see them the same way!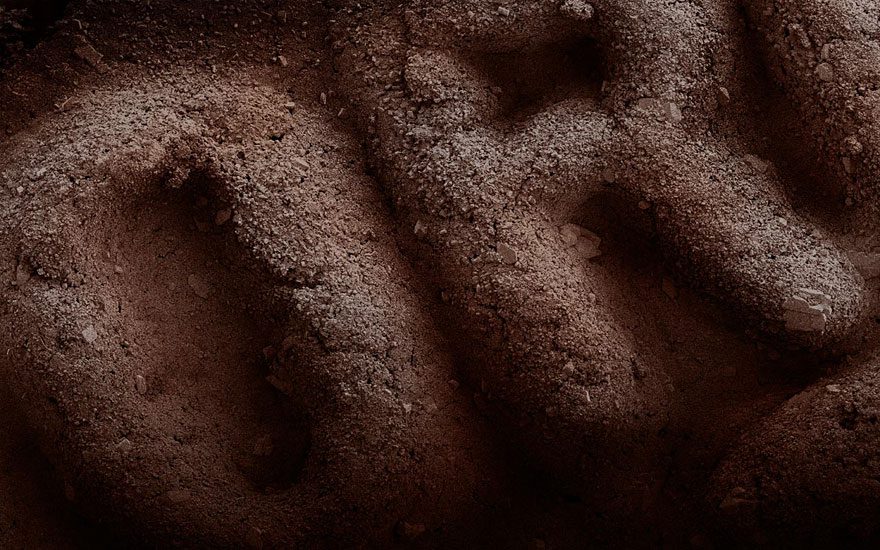 The microscope turns these little chocolatey delights into something reminiscent of space, with the Oreo indent looking like the landing site of some brave space explorer's expedition. A fitting thought, seeing as how Oreos are truly out of this world!
Mosquitoes
On the topic of things that annoy people, the one insect that is universally hated is the mosquito! You're finally settling in for the night and getting all comfortable in bed only to then hear that high pitch buzzing right beside your ear!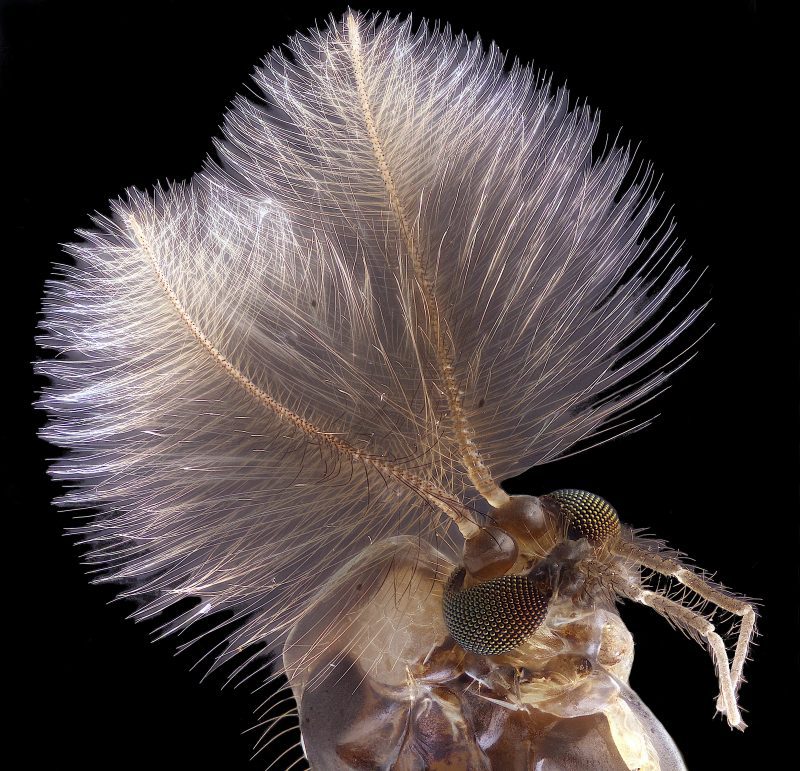 But, the buzzing isn't the worst part because you know, no matter how much you cover yourself, the next morning, you will be covered in itchy and swollen bites. But they are kind of cute with their little fluffy hats when looking up close.
A Lynx Spider
While the mosquito is deservedly hated, another species of insect, or should we say arachnid, is often hated purely because they are a bit creepy looking. But, they trap and eat mosquitoes. That's right. We are talking about spiders.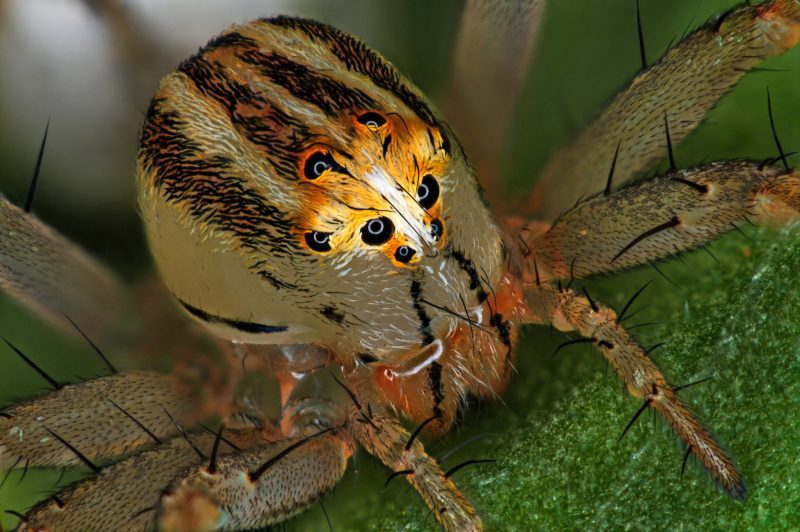 We won't lie. Some spiders are still a bit creepy to look at, especially when zoomed in. But some of them can also be cute. Either way, they don't deserve the hate they get. This little fellow even looks annoyed about it.
Tapeworm
But, if you still think a spider is creepy looking, wait and see what we have in store for you. Just like the mosquito, this parasite is nothing but a pest and a health risk. Yeah, we're talking about tapeworms.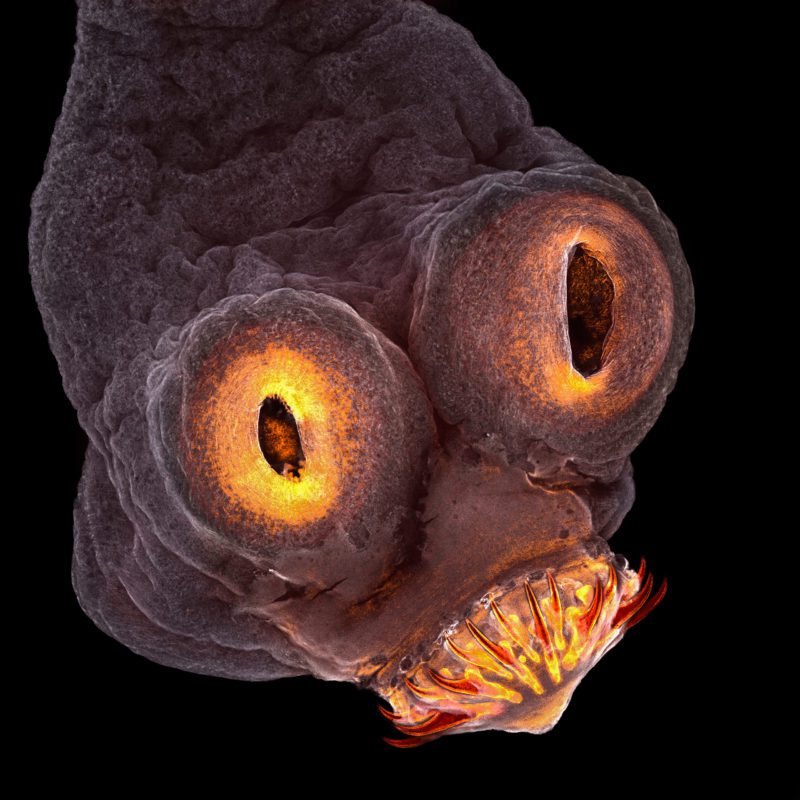 For those unfamiliar, tapeworms are parasitic worms that make their home in your intestine and feed off of your gut's nutrients. This microscope image of it, while extremely horrifying, perfectly captures the detestable nature of these nuisances.
The Nose of a Fly
If that didn't creep you out, then you have to see just what a fly's nose-like antennae looks like. Sure, the fly, in general, is not really creepy looking, but seeing its nose under a microscope is sure to make you extra uncomfortable.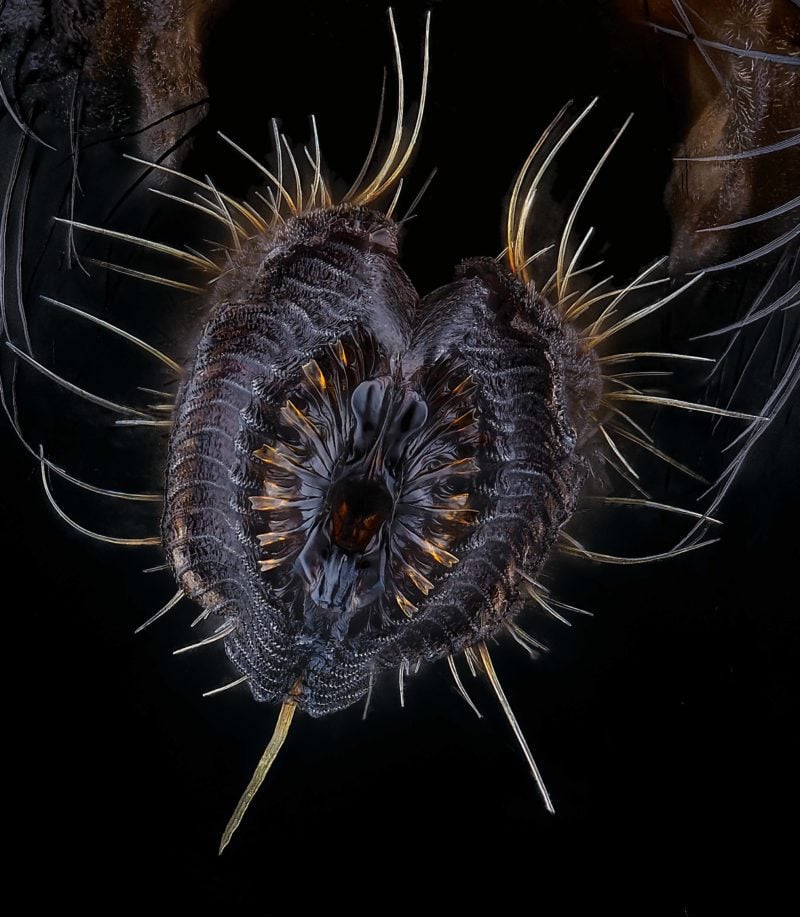 Up close, the fly's nose looks like some horrific monster or a distant cousin of an Anglerfish. This terrifying appendage (or proboscis as it is called) is used for smelling and collecting scents as well as for eating and feeding.
Strands of Damaged Hair
When it comes to our physical appearances, our hair can become something of an obsession. For some, it's the constant checking to see if it's still there. For others, trying every product under the sun to get those Hollywood locks is on their schedule.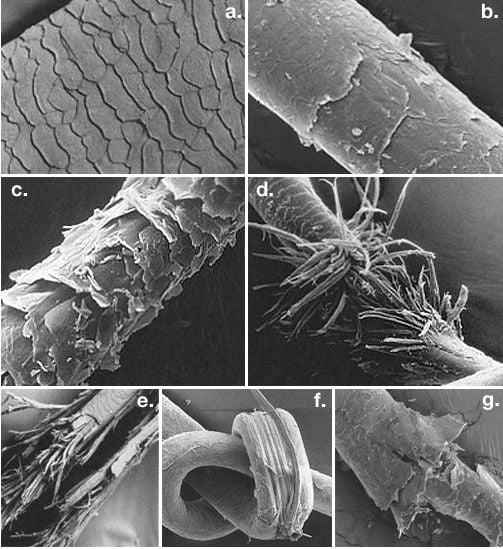 Surprisingly our hair strands actually look quite rough under the microscope. This picture displays several different hair strands in varying states of split and heat damage. This is just more proof that taking care of your hair is important.
Strand of Dyed Hair
While we're busy playing with our hair, it would also be a shame if we didn't take a look at what dyed hair looks like under the microscope. While these strands look mostly the same, the dye really makes it look like art.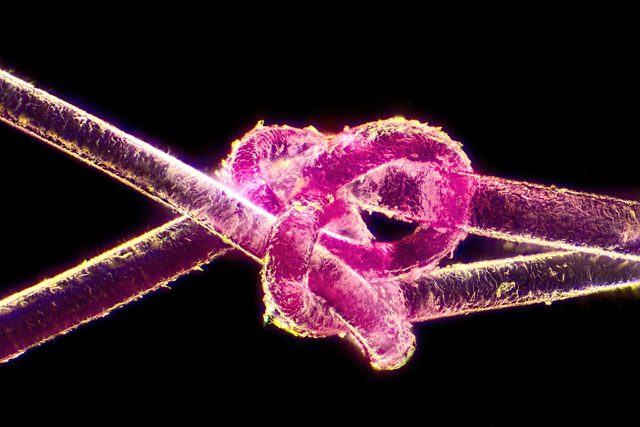 The purple-pink dye job elevates these otherwise flat surfaces into colorful and vibrant strands that seem to have been artfully arranged and entwined. If only our hair could always look that good in real life. Unattainable beauty standards, right?
Banana Cut in Half
Bananas are a super tasty fruit that is packed with potassium, which is not the same thing as vitamin K; that is a misconception. Even though banana flavor never really works (except for smoothies and bread), the fruit itself is always a winner.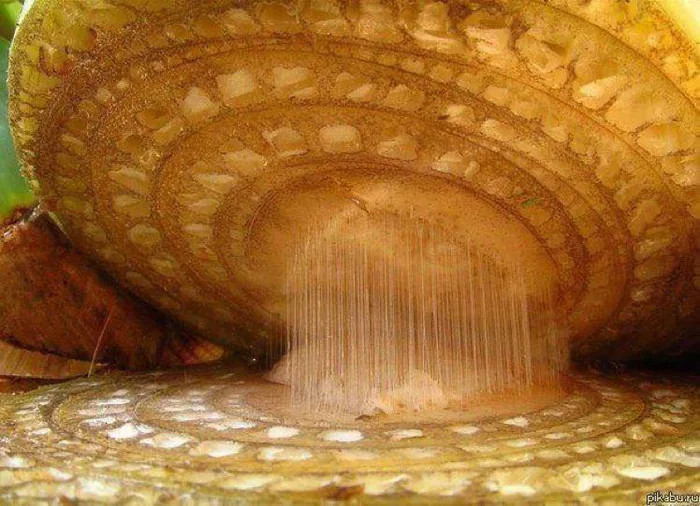 Thanks to the microscope, we can catch a glimpse of this tasty fruit up close. This particular shot shows us a banana that has been cut in half, which, funnily enough, looks like the rings of a tree being chopped open.
Banana Peel
Now that we have an idea of what the inside of a banana looks like up close let's take a look at its peel. The peel of the banana is a skin that encases the flesh of the banana, keeping it safe from bugs.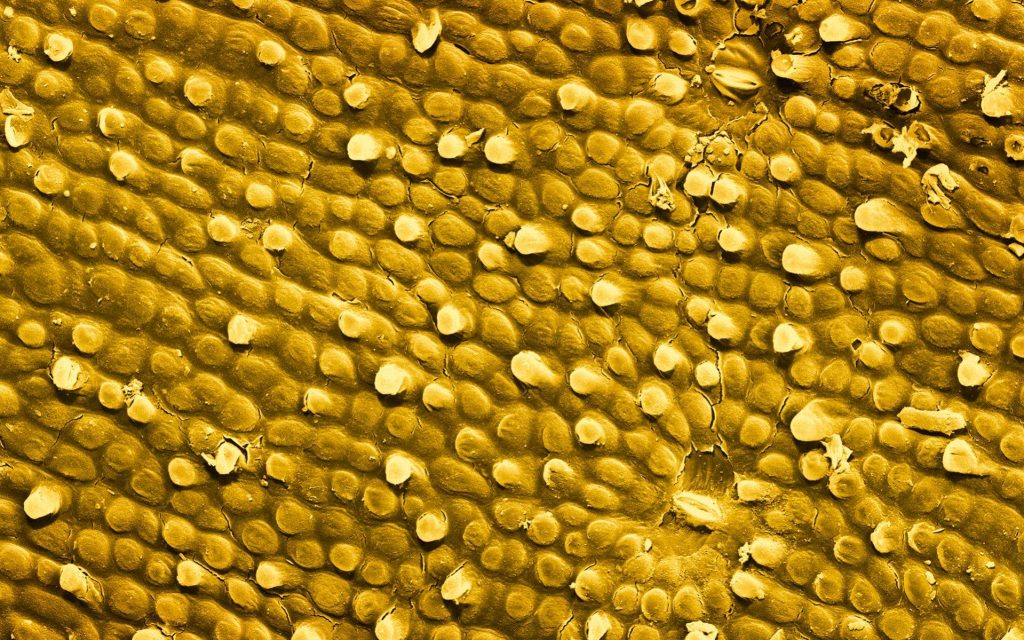 When we take a look at the peel through the microscope, we can see that the skin actually has quite a bumpy surface that we normally would not be able to see. We usually think of bananas to have the smoothest skin of all the fruits.
Sugar
Sugar is both a culinary blessing and a curse. Without out it, we would not have been able to make most of the sweet treats we now have. That said, we and our teeth would certainly be healthier without it.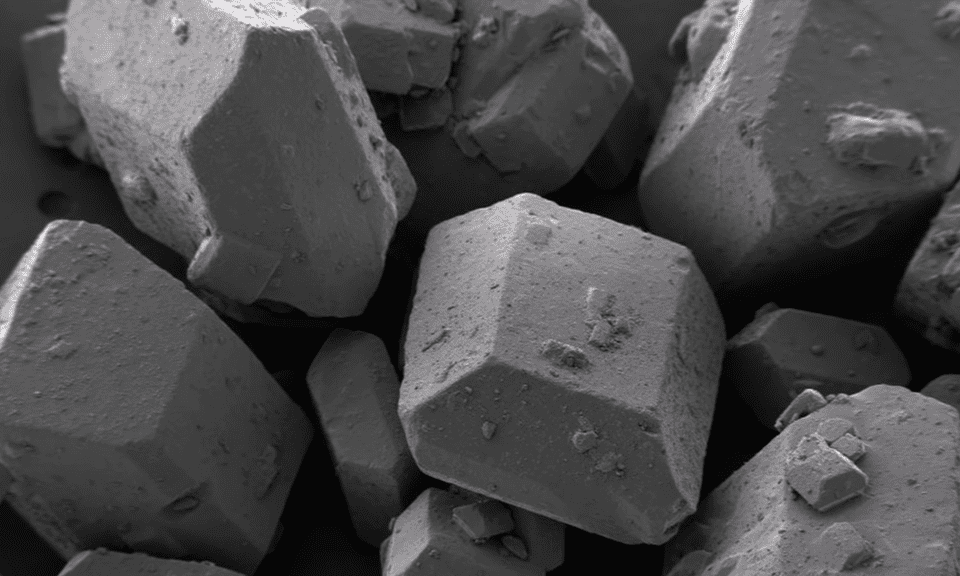 Sugar, white or brown, shares a similar appearance to sand on the surface. It's only after we zoom in that we see how different they both actually are. Under the microscope, we can see that they look like rocks or hard candies.
Bread
We've talked about wheat and its role in keeping us alive over the centuries, but have we really talked about bread? Bread might seem dull to some, but it is a celebrated delicacy. Some may even argue that it's what makes us human.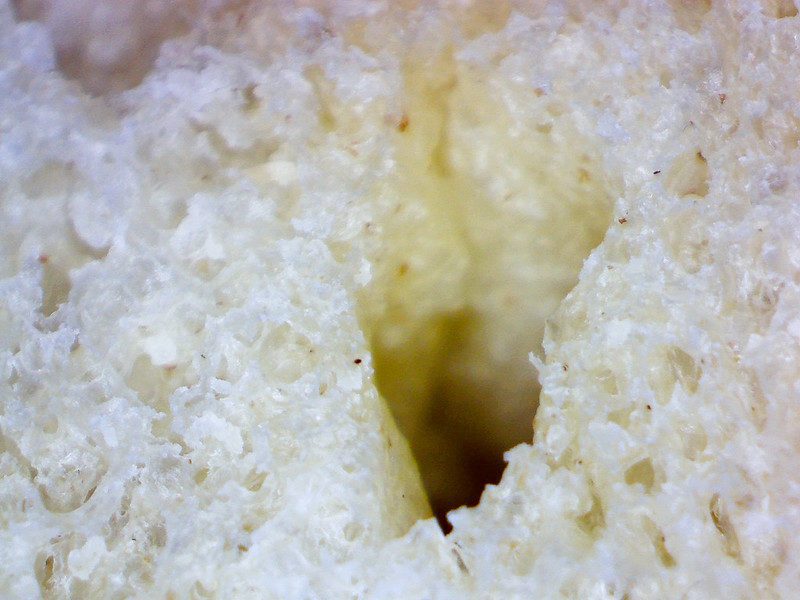 Under the piercing eye of the microscope, we can get a real good look at this piece of bread and use our imagination to transform it into a little cavern surrounded by fluffy white grass. Either way, it still looks tasty!
Fried Onions
We already know what an onion looks like under the scope, but what about a fried one? Onions by themselves are a great way to add some rich and sweet flavors to your meals. Fried onions just elevate the sensation.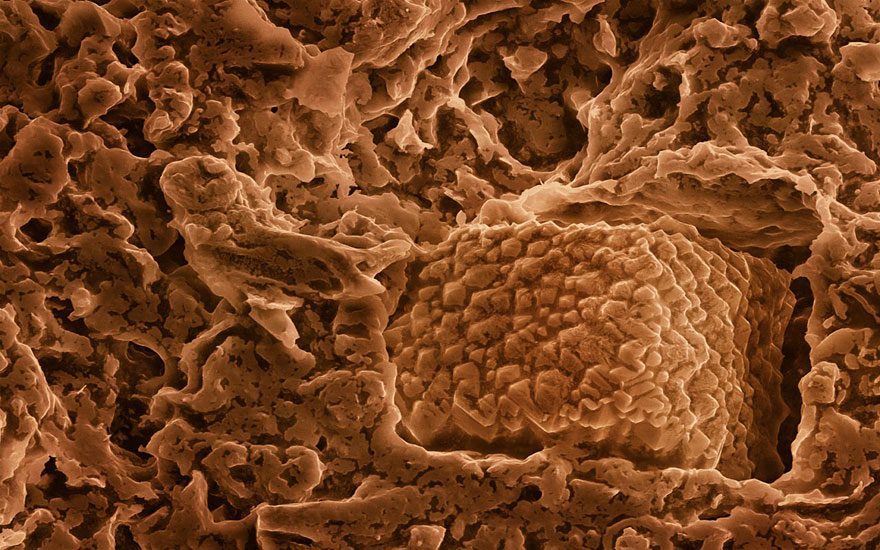 Fried onions can either be caramelized in a skillet or covered in breadcrumbs and given a quick oil bath. Both are great and mouth-watering ways to add flavor. Placed under a microscope, you can see the effect that the heat or oil had.
Cabbage
Cabbage is one of the more versatile vegetables out there that can be used in a lot of recipes or even by itself. Versatility aside, cabbage is also a super health vegetable packed with a lot of nutrition and heart-protecting antioxidants.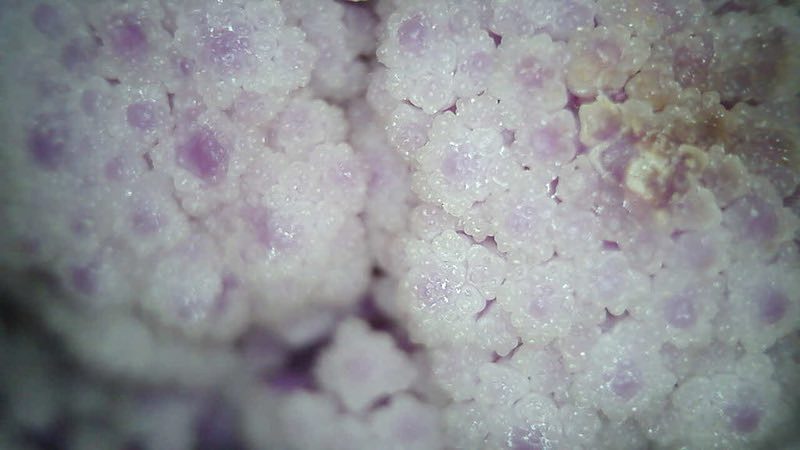 Cabbage already has a fluffy brain-like appearance when it's harvested. It kind of keeps this appearance under the microscope, but it is less apparent as the vegetable ends up looking more like an odd cluster of white flowers or maybe even dense bubbles.
Record Groves
Ordinarily, we might have had to include a brief explanation of what a record is, but seeing that they are fashionable again, we're sure you're familiar with them. Right? If you don't know what it is, a quick google search will give you the answer in seconds.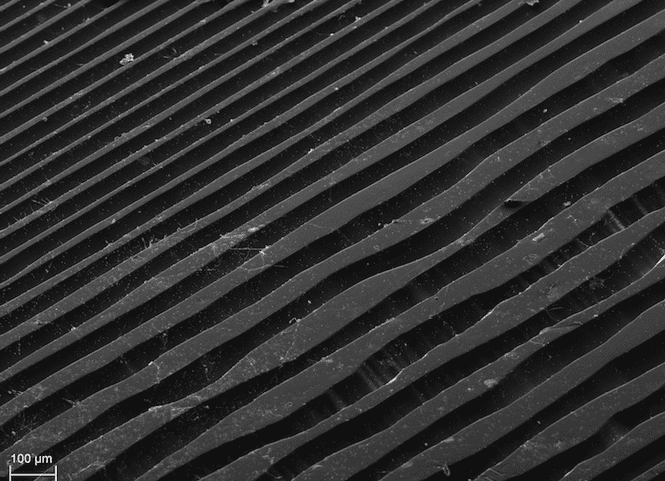 They're basically the old version of CDs (oh no, you do know what a CD is right?) that were made of vinyl and had spiral cut grooves that played the music. Under a microscope, they could easily be featured in any gallery.
Cut Phone Charging Cable
To say charging cables are important is an understatement, especially nowadays with how much we rely on them daily. It's because of this that our day will feel ruined if we ever lose or accidentally damage them, making it so we can't even use our gadgets.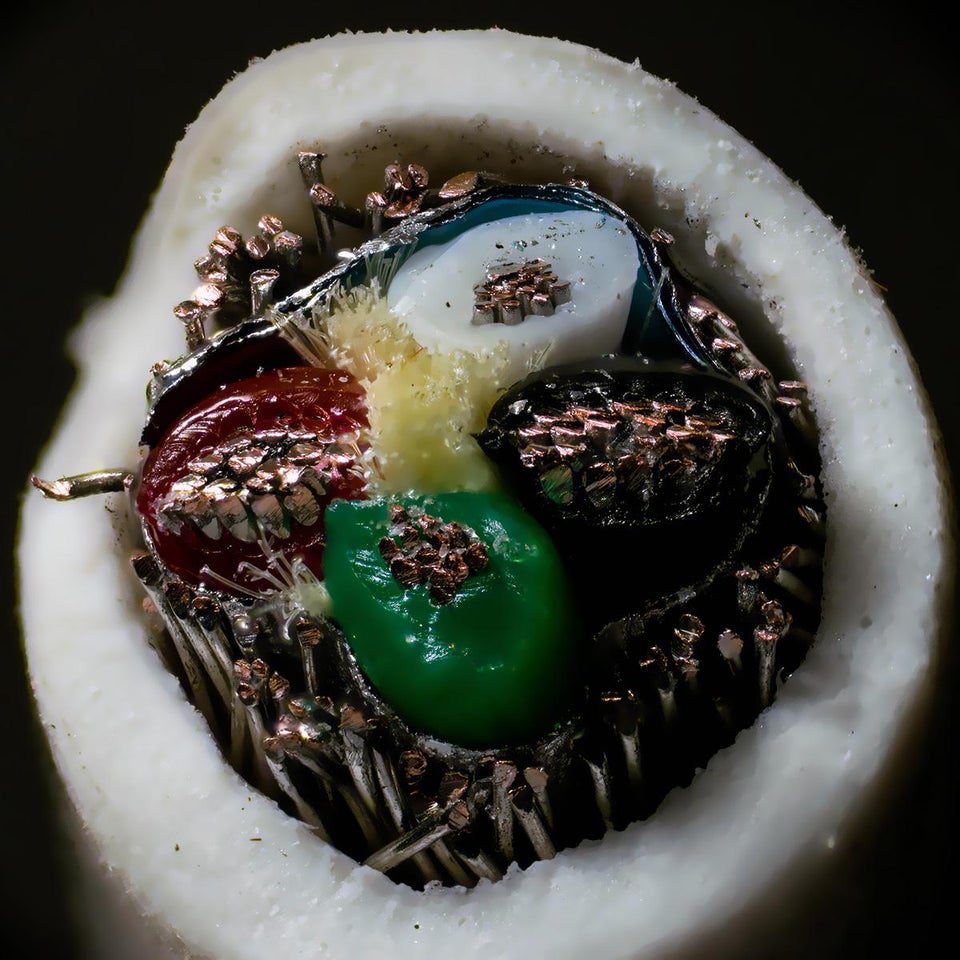 At the end of the day, how they work is a complete mystery to us. The picture above helps to illustrate what's going on inside these mystery cables. This cut-up cable is certainly eye-catching and looks like some ruined cake and not an actual piece of technology.
Cat Tongues
Our beloved cats, fuzzballs, or mayhem makers, are always there to provide us with hours of hysteric entertainment and love so cold and distant at times that they could make Tywin Lannister look like the father of the year.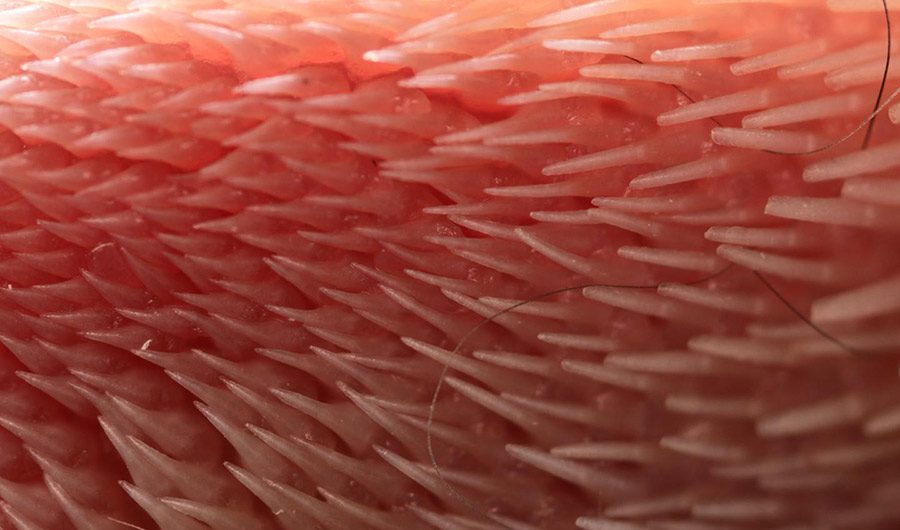 If you own a cat or have come into contact with one, you most likely have realized that their tongues often feel like sandpaper. The reason for this is because their tongues are covered with backward-facing spines that act like hairbrushes.
Cracked Steel
Steel is an incredibly strong and versatile piece of metal that is used in everything from good-quality knives, pots, and even cars. Because it's "metal," we often think that it's impossible to break it or even damage it.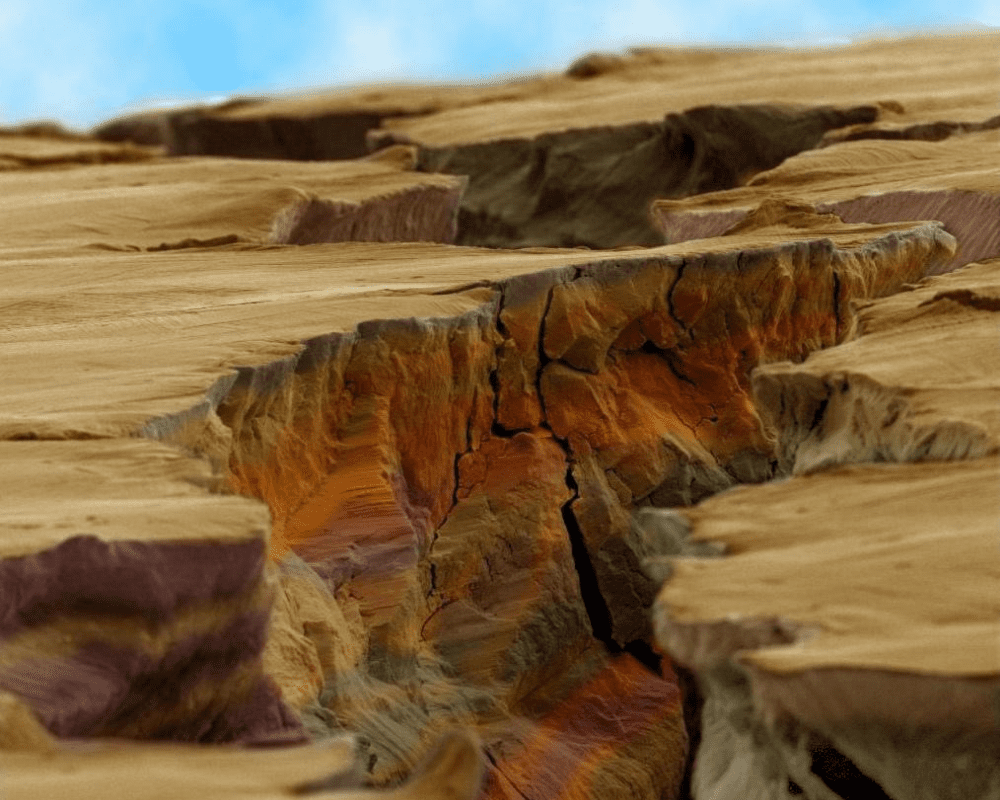 Well, that is far from the truth. Metal, be it iron or steel, is prone to break and chip with over and incorrect use. This next microscopic image shows us a piece of cracked steel. However, it looks more like a desert canyon.
Pumpkin Stem
Pumpkins are a seasonal favorite for many because they naturally offer a sweet taste that pairs great with many meals or soups. Ordinarily, it's the vibrant outer skin or insides that capture our attention, but the stem is also quite marvelous.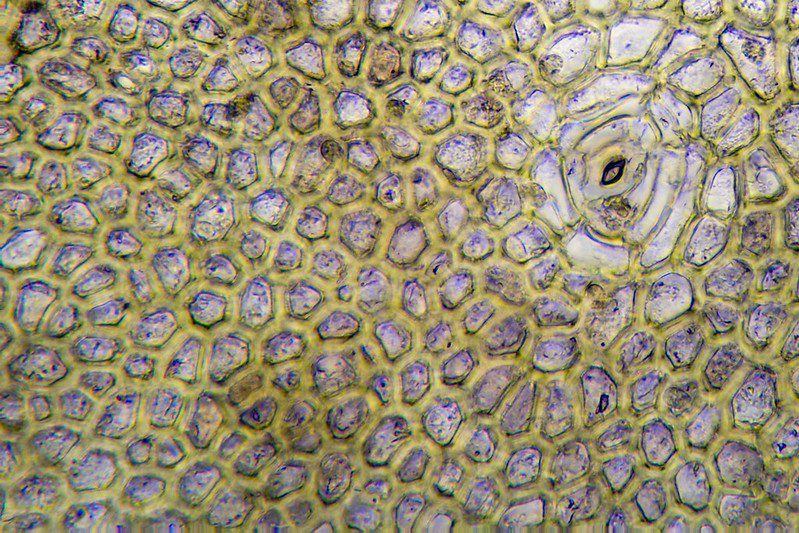 The lens of the microscope transforms their green and grey stems into something reminiscent of carefully created mosaics. If we did not know what we were looking at, we would quickly think it was the walkway of some rustic estate.
Coconut Oil And Butter
Coconut oil or butter has experienced a revival of interest in the last few years, quickly becoming a "healthier" alternative to dairy butter and vegetable oils. And, while it is quite unassuming at first glance, the microscope changes that.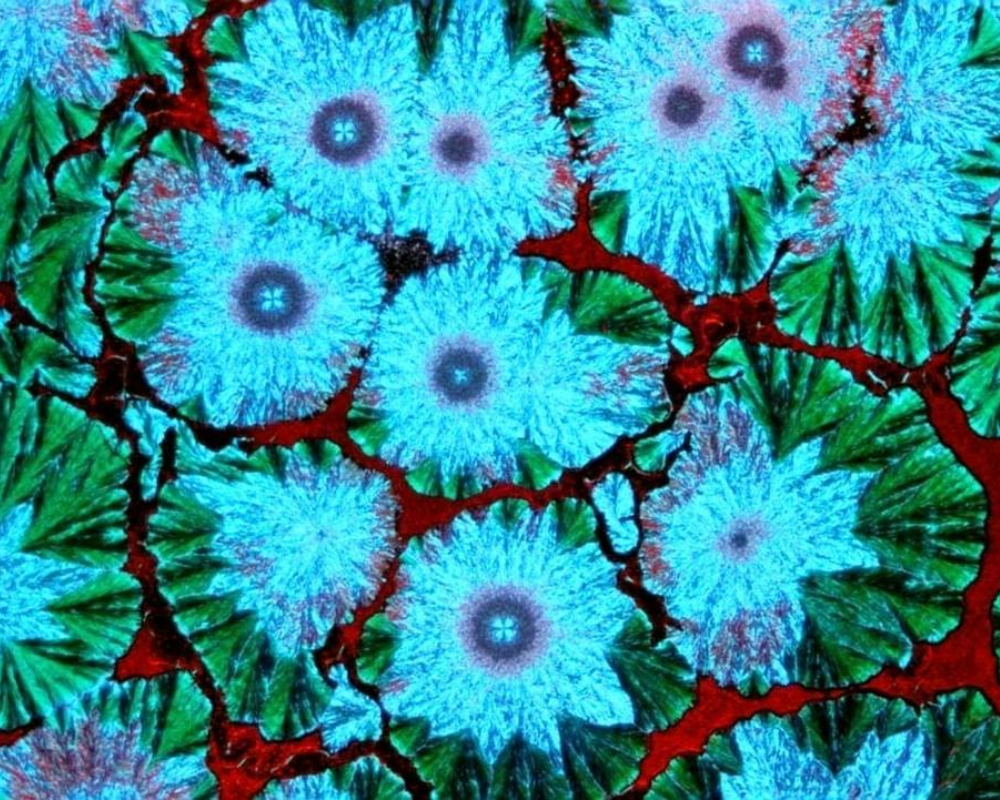 With the keen, focused eye of the microscope, we can see that the once clear white liquid of the coconut butter is removed when you heat it up and replaced with brilliant crystal-like shapes of dazzling colors. We, unfortunately, don't know the reason for this outcome.
Balsa Wood
Speaking of wood, it is only fitting that this beautiful piece of nature occupies the last spot on our list. Trees have existed from the very beginning, offering shelter and breathable air. They come in thousands of shapes, textures, and colors.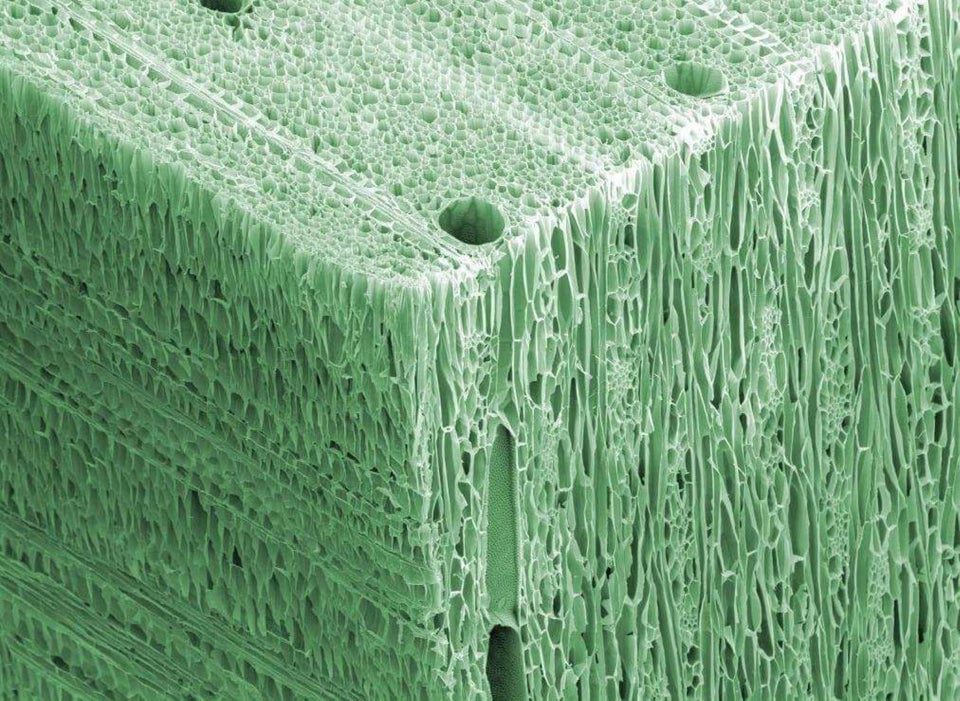 Here we have a close-up image of a cut piece of balsa wood. The wood itself isn't this shade of mint green. And instead, it is a color added in post-production to help flesh out the fascinating textures and patterns.