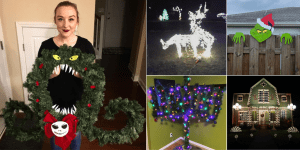 These Folks Conquered The Christmas Decorating Challenge
By Alex D
---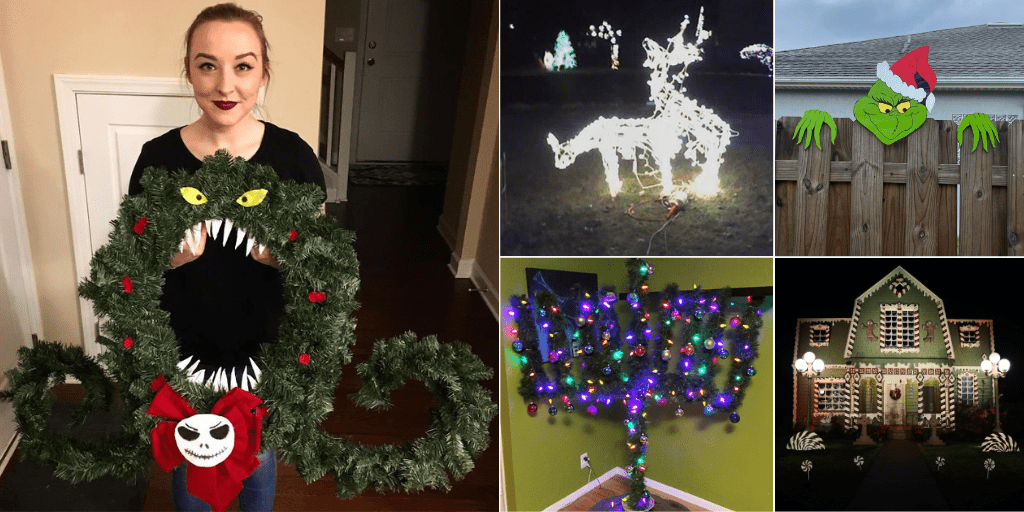 Fa la la la, it's time to deck your halls. Santa Claus is coming to town, and hey, you want him to like what he sees. How can you impress the fat man? All across the internet, cheer champions have posted their very best decor. To get ready for the holiday spirit, we'd like to share a few decorating masterpieces. Whether it's an extra special tree or a whole new way to use lighting, creativity is the name of the game. There's a lot to be admired and you're bound to get inspired. Your mission is to choose a new tradition. We dare you to recreate these ideas in your home. It's almost Christmas time, once again: Are you ready for Rudolph?
Finally, the Tree-Rex
Once, giant lizards roamed the earth and roared. You may be under the impression that the dinosaurs died and became museum bones. You may breathe a sigh of relief. But don't get too comfortable — the Tree-Rex is alive, and well!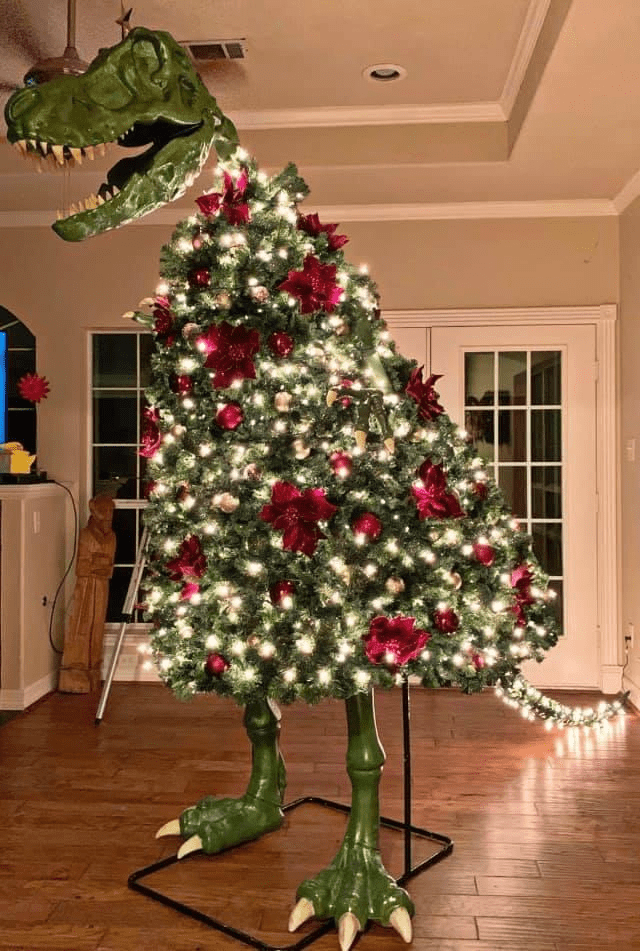 Here, he towers in the living room scaring everyone in sight. As you probably see, his toenails are bigger and sharper than his teeth. He is electrified with lights from his chest to the tip of his tail. Worse, he looks hungry!
Creepin' Around the Christmas Tree
Tim Burton achieved a cult classic with The Nightmare Before Christmas. The star of his film was Jack Skellington, a skeletal zombie and the Pumpkin King of Halloween Town. Jack exclaimed: "I'm a master of fright, and a demon of light, and I'll scare you right out of your pants."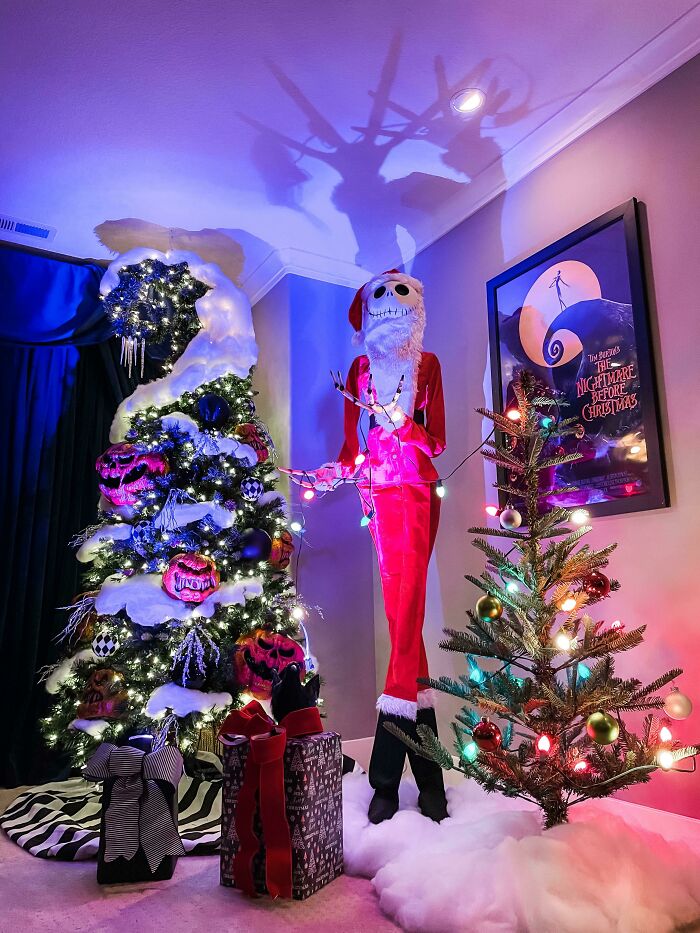 Here, a movie fan created the ultimate tribute. The tree is full of undead pumpkins. We see Jack himself standing in the corner in a Santa outfit. He casts a shadow from the back wall to the ceiling. Delightfully creepy, we say.
When You Won't Let Go of Halloween
There's a debate about the most festive holiday of the year. Some say it's Halloween, with all its spooky decor. But Christmas is either a close second or the winner. Here, one display manages to avoid the argument and combine them both.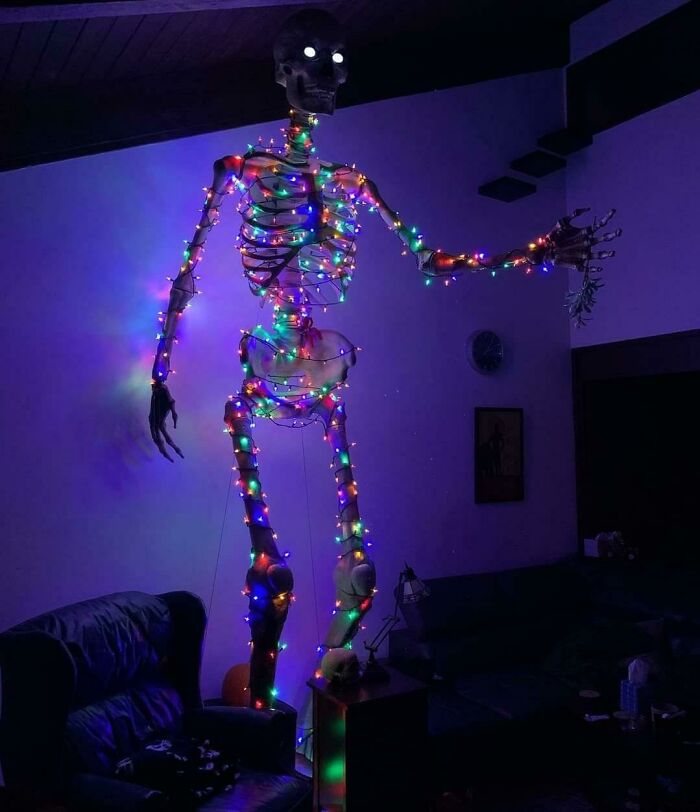 This skeleton is gigantic. It stands tall to the ceiling and stretches a long, bony arm. On its finger, it dangles a winter twig. It's decorated with colorful lights, which makes it a Christmas skeleton. Is that really so odd?
The Real-Life Gingerbread House
Christine McConnell is a photographer from Los Angeles. She normally styles people for her photoshoots. But in her free time, she styles her parents' house for holidays. Here is her gingerbread creation for Christmas. No delicious detail has been spared. It's not edible, but it is incredible!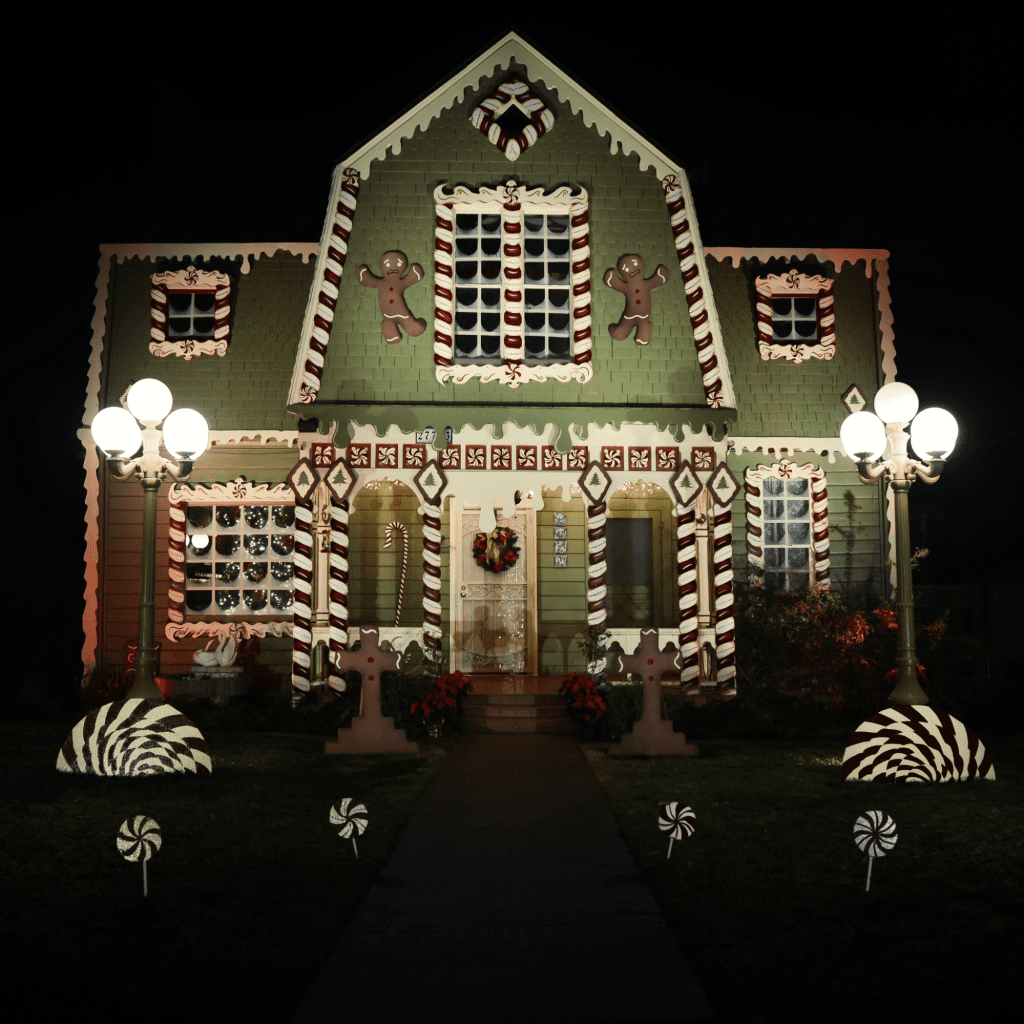 The design features a candy cane pattern. You can see it on the windows, roof, and columns. Then, there's peppermint candy and a few gingerbread men. To top it off, it's frosted. This is just like the gingerbread house you made — just way, way better.
When the Wreath Bites Back
In December, your home likely has a wreath on the front door. Traditionally, it's a simple craft with bows or bells at most. This gal decided to go beyond that norm. Here is the version from her favorite seasonal movie: The Nightmare Before Christmas.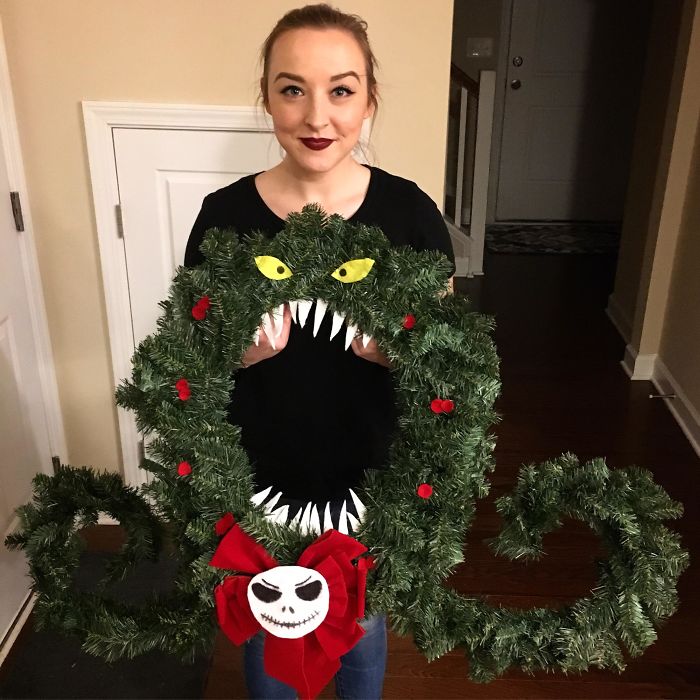 It's pretty easy to recreate, and the internet is full of DIY. First, twist your greens into the shape from your nightmares. Add a red bow and a Jack face made from white felt. Add felt teeth, eyes, and berries. Cut cleverly and super glue. You've got yourself a maneater!
The Holiday Compromise
In America, there are two very popular holidays. Most people celebrate Xmas. Some celebrate Hannukah If you're in a home with both, it's hard to pick a theme for the decor. This bright idea illuminates both traditions, and we can't look away.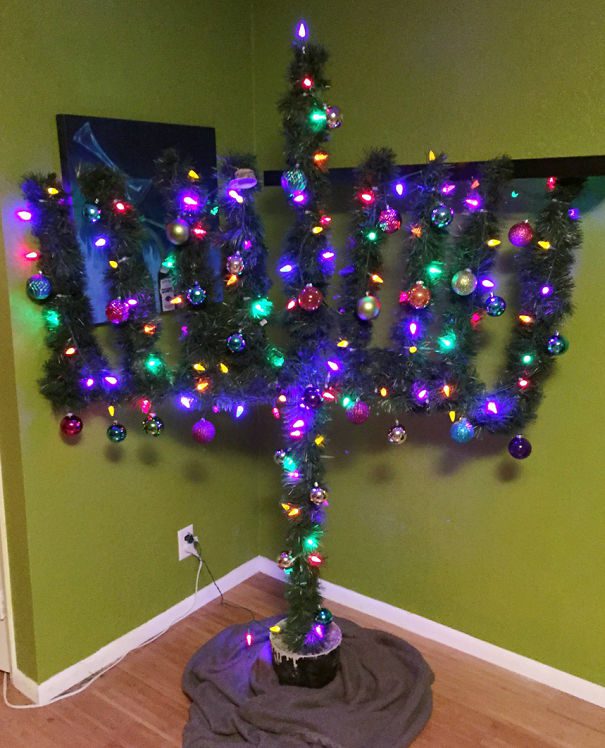 To make your own Hannukah tree, attach a stalk of winter greens to a secure base. Then, add nine arms to make a candelabra. There should be nine in all, with the big helper candle in the middle. Add lights and you've got a Christmas vibe, too!
Santa, I Am Your Father
Star Wars has been blasting through our screens for decades. With new franchise films, it's still going strong. Darth Vader can claim some of that credit. He's the villain that started it all! And this Christmas, he's coming to a tree near you.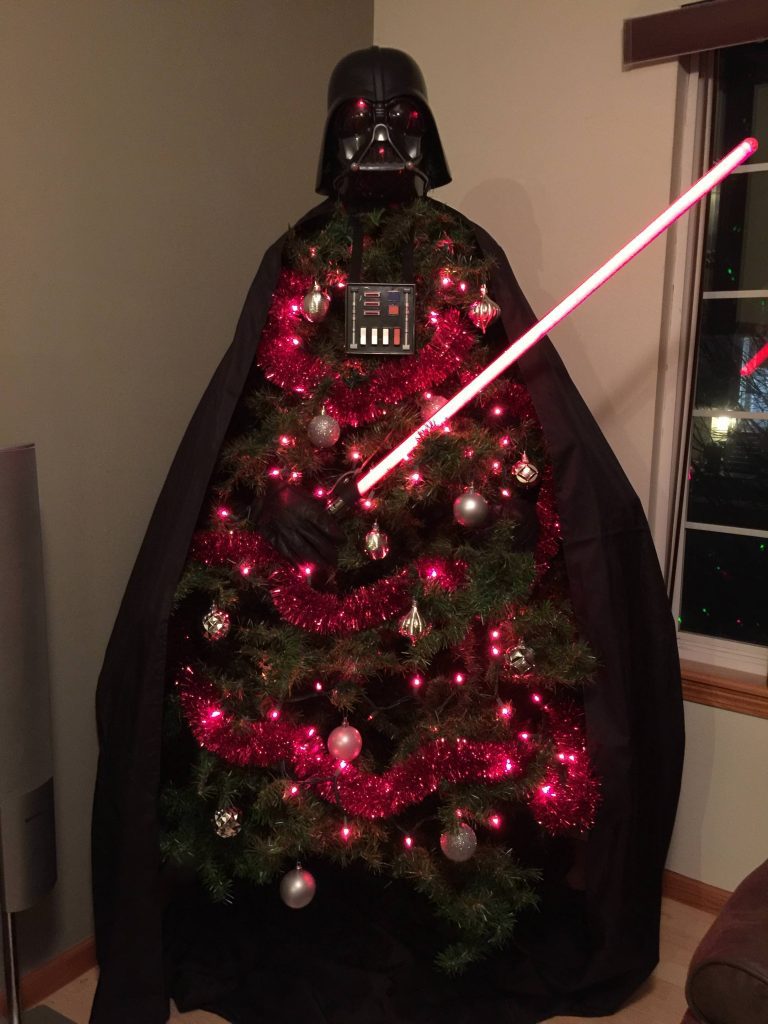 Here, Darth lurks in a tree. We thought he was out in space in a galaxy far, far away. But in fact, he is right here with a lightsaber threatening us with annihilation. Why can't he ever just have fun?
Bah Humbug Vibes
In Charles Dickens's book A Christmas Carol, we meet the character Ebenezer Scrooge. He's a stingy man who despises the cheeriest holiday. His name has become synonymous with hating charity as well as Christmas itself. His signature phrase? Bah humbug!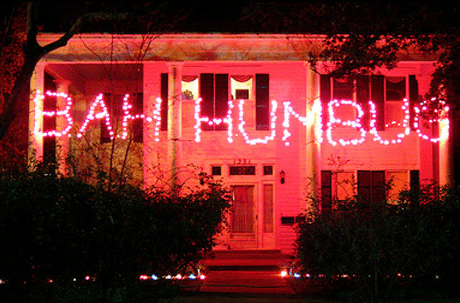 We can see one local Scrooge decided to honor the villain of the tale. On this home, Tiny Tim is nowhere to be found. It's a simple message for onlookers. Christmas is a waste, and they're not having any of it!
A Grinchy Hand
The hand is instantly recognizable. We all know who this is, even without seeing his face. The Grinch is hiding in this tree, and he is dangling an ornament for us to see. Is he taunting us? Most likely, yes.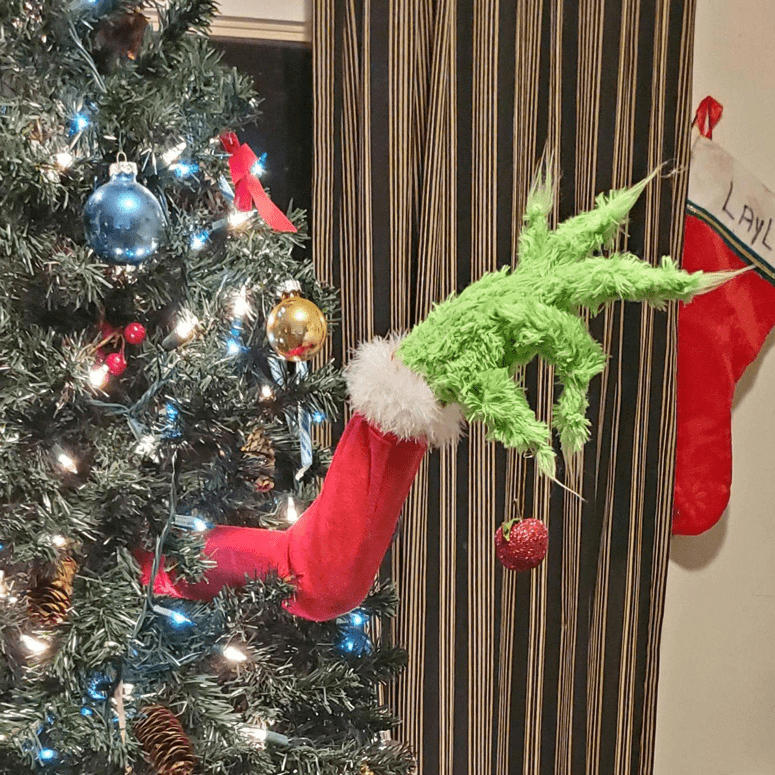 We don't mind that he is hiding. It's not like we want to hang out with the whole character. He has a notoriously bad attitude and that's not what we want on our favorite day. Let him sneak around. He's a mean one, Mr. Grinch.
Check Out This Newborn Ward
We may think the world stops on Xmas, but hospitals still operate. Doctors and nurses keep it all running. To keep things festive on December 24, this newborn ward decided to decorate. The little ones got their own stocking, as seen here.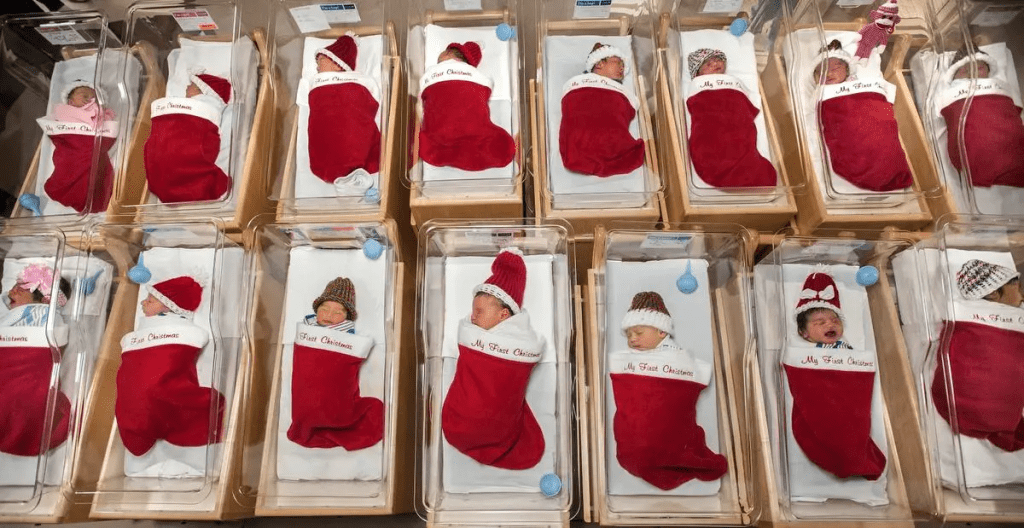 It's a metaphor, of sorts. Normally, we hang stockings on our mantle place and expect gifts. Old St. Nick fills the oversized socks with oranges, candies, and little trinkets. This is a much better filling though. It's the gift of life!
Let There Be Light
Losing a limb is a life-changing event. This legless Christmas lover didn't mope about it, though. As we can see, he decided to use his prosthetic to his advantage. It's fair to say he won the decorating game this year. Look at the glow!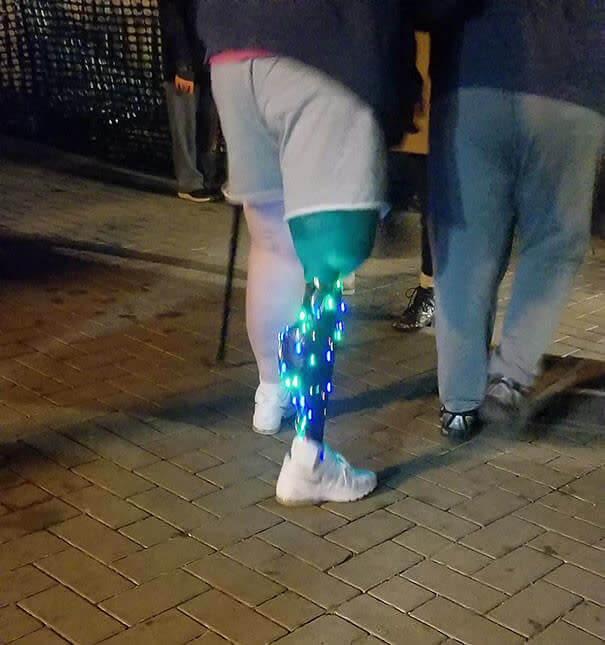 Usually, we decorate our trees and houses with twinkling lights. But without realizing it, we imposed our own restrictions. This amputee shows us there are no limitations when it comes to colored string lights. You don't even need an outlet. Plenty have batteries!
Grandma Got Run Over By a Tractor
Farms usually get attention during the fall harvest season. They host corn mazes and pumpkin picking on Halloween. Hayrides and apple picking are delightful in autumn. But should they be left out of Christmas? We don't think so, and this farm didn't, either.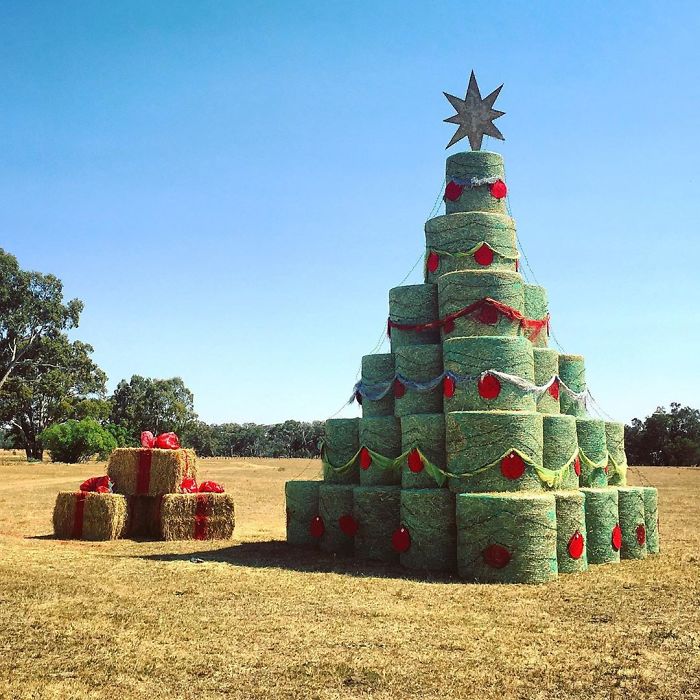 There was hay lying around, as per usual. For holiday fun, it was stacked into a tall tree formation. It was painted green, and then giant ornaments were added. Other bales became big, wrapped gifts. We love the idea. Yee haw!
Digital Trees, Please
According to the National Christmas Tree Association, Americans buy up to 30 million trees every year. Does that sound like a lot? If you've ever felt wasteful chopping down a tree, this is the solution for you. Behold, the iPad tree!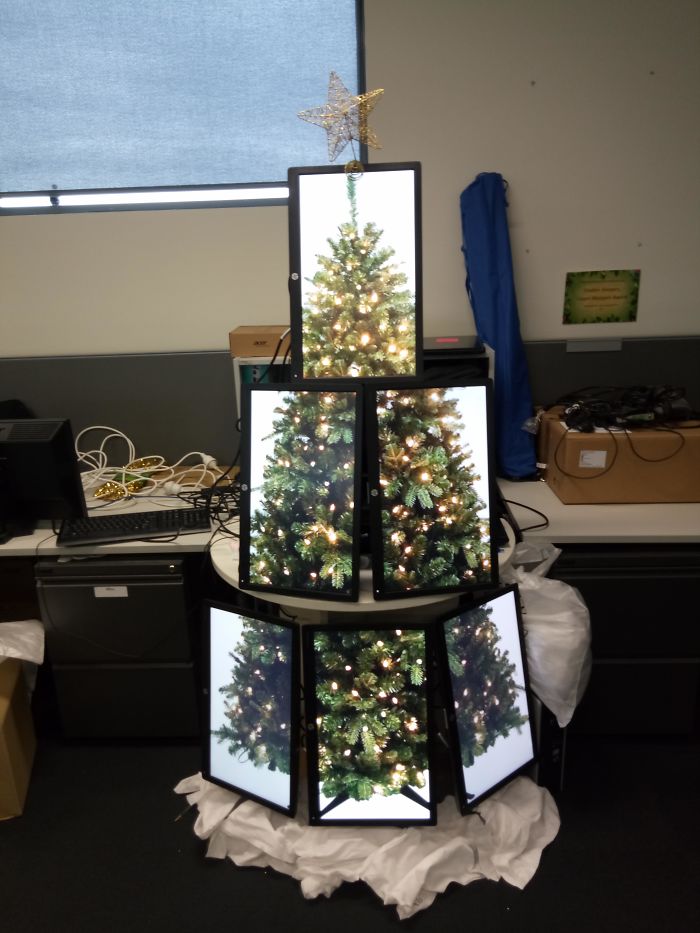 To achieve this effect, all you need is a ton of devices. Don't have them at home? That's not surprising! Try this at the office. We suspect there are unused electronics just waiting for a new mission. This is a noble one, for a noble day.
Seasons Fartings
As they claim, Xmas is the most wonderful time of the year. Decorations can be seen throughout the city, and your neighborhood looks magical, too. Your own home gets a makeover. But be honest: Have you been neglecting the toilet?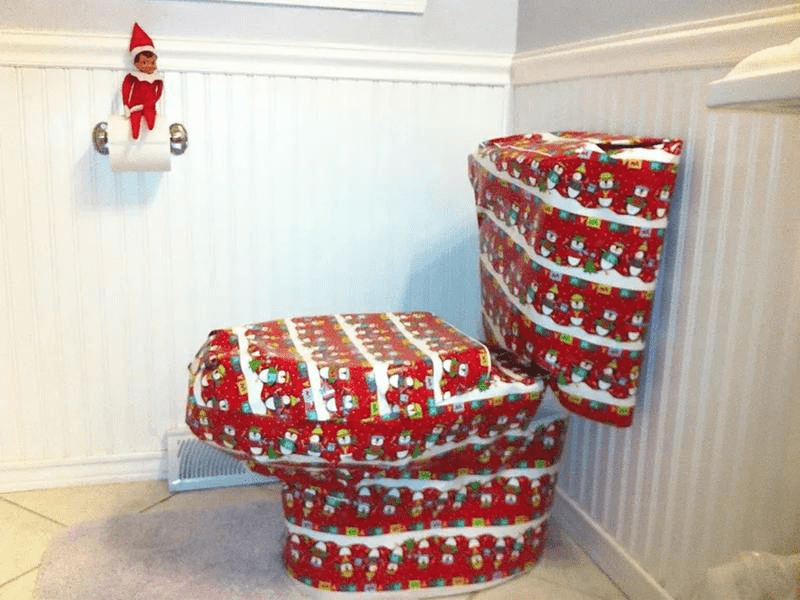 We know you have. There's no need to be ashamed: Almost everyone has excluded this room from the fun. But now, you have the awareness. Wrap your toilet and top it off with a pretty bow. Joy to the swirl!
Dad's Double Train Tower
One creative dad recalled getting a toy train set for Xmas, long ago. He decided to create a fantasy version for his family, and the internet is enjoying it, too. His dreamy double tower is an entire holiday town with working tracks and lights.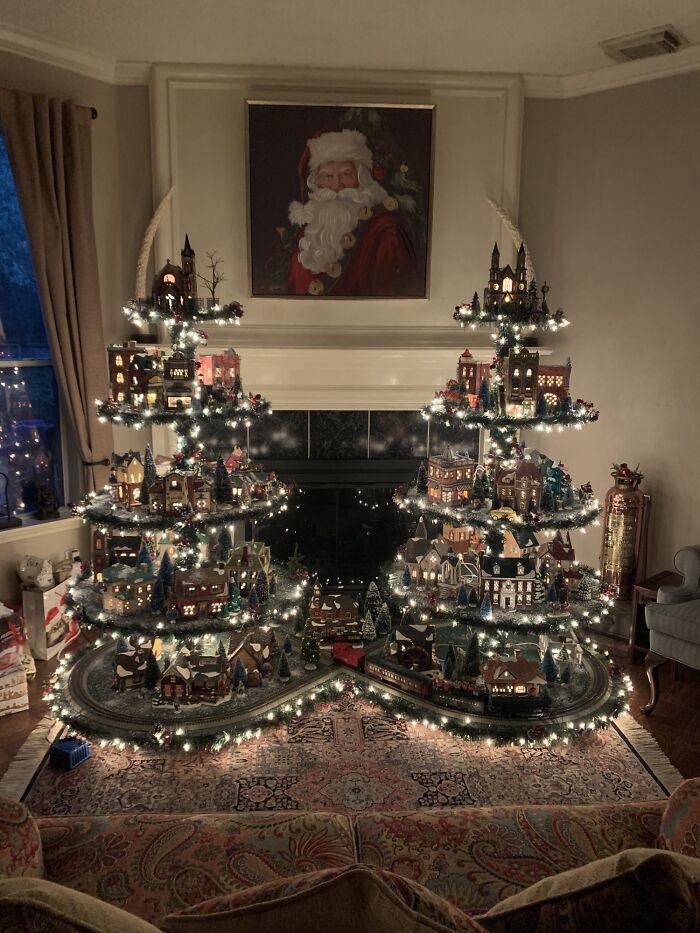 We see tiny buildings of every style: Single-story homes and large townhouses, church towers, and shops are all here. Lovely little trees pepper the scene. It's so realistic, yet so small. If we were the right size, we'd live here and ride the train. But we're not!
How Reindeers Are Made
For centuries, Santa has delivered our presents with his reindeer: Dasher, Dancer, Prancer, Vixen, Comet, Cupid, Donner, Blitzen, and Rudolph. Here in the dark, we can't identify which two have snuck away. But we can see what they are doing!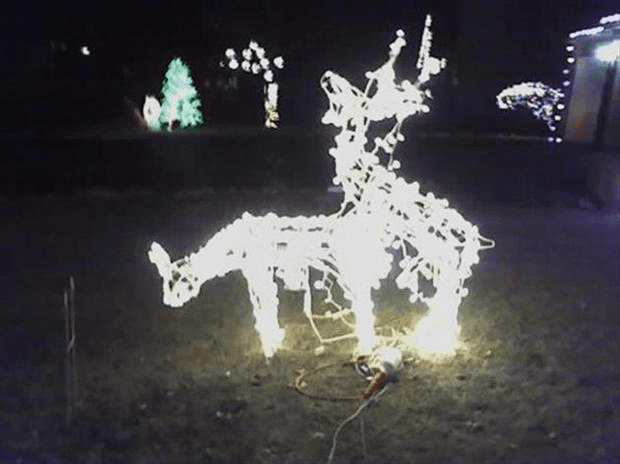 In fact, everyone can. Not only are these two in plain view but they are illuminated. Maybe they thought their quick romp would go unnoticed. But the internet is forever, and they are about to go viral. Ho, ho, no!
This Tree is Awfully Grinchy
Dr. Suess created an aesthetic with his 1957 story How the Grinch Stole Christmas. We know the book's look from a mile away. This tree is Grinchy, no doubt. We see the colors and shapes we recall. And sure enough, the Grinch himself is here.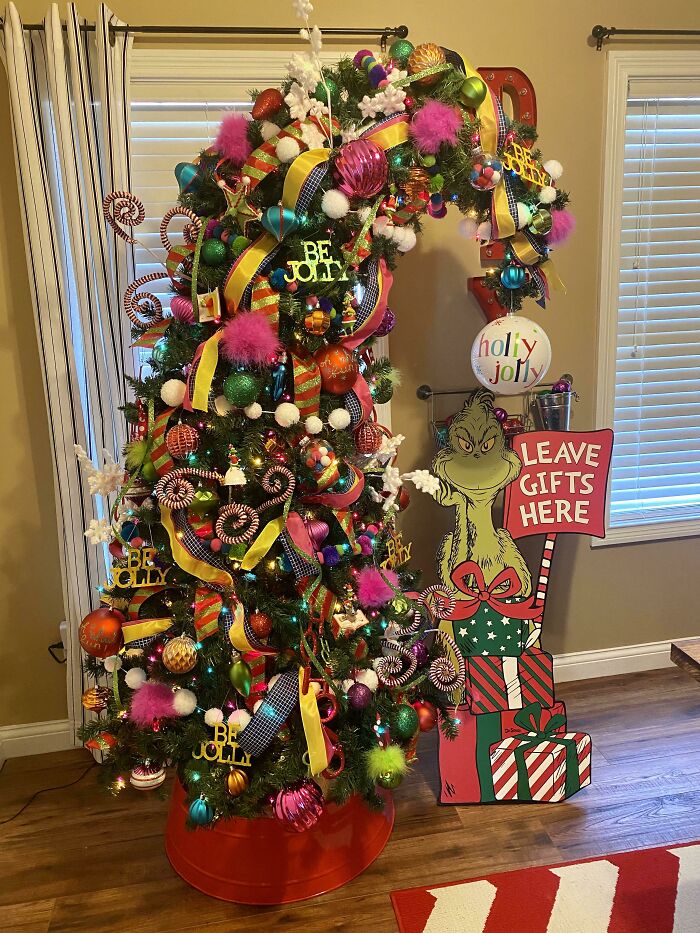 He lurks in the corner, as he often does. He is standing behind a stack of gifts and next to a sign instructing you to leave more there. We don't trust his intentions, of course. We're not adding to the pile!
Santa Claus is Cruising to Town
Traditionally, Santa flies around in a sleigh. But the modern world offers other options. Here, we can see another option for quick deliveries. This little smart car is making its appeal to the red man. Would you call this flattery?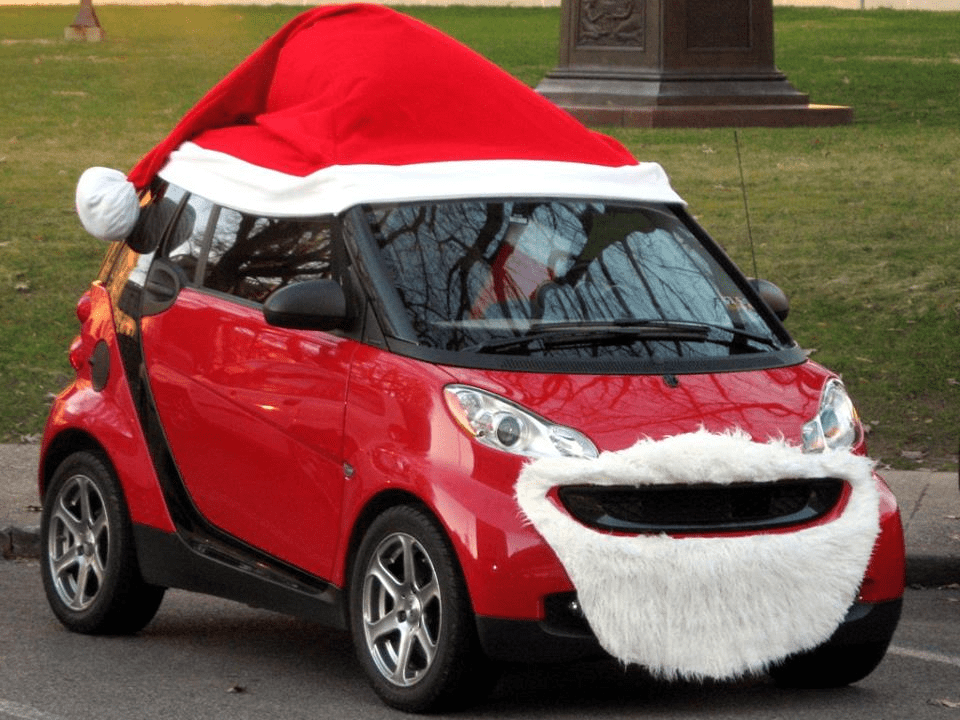 In a way, it is. We see this vehicle wearing the iconic beard and hat. No one else wears it quite like the big guy. This is a decent imitation. And as we know, imitation is the sincerest form of flattery.
When You're Just Meh
Most of us love twinkling lights and tinsel. But what if you are a bit of a Scrooge? Deep down, some of us are. This homeowner decided to embrace the impulse with this display. Sure, it's Christmastime. But really, meh.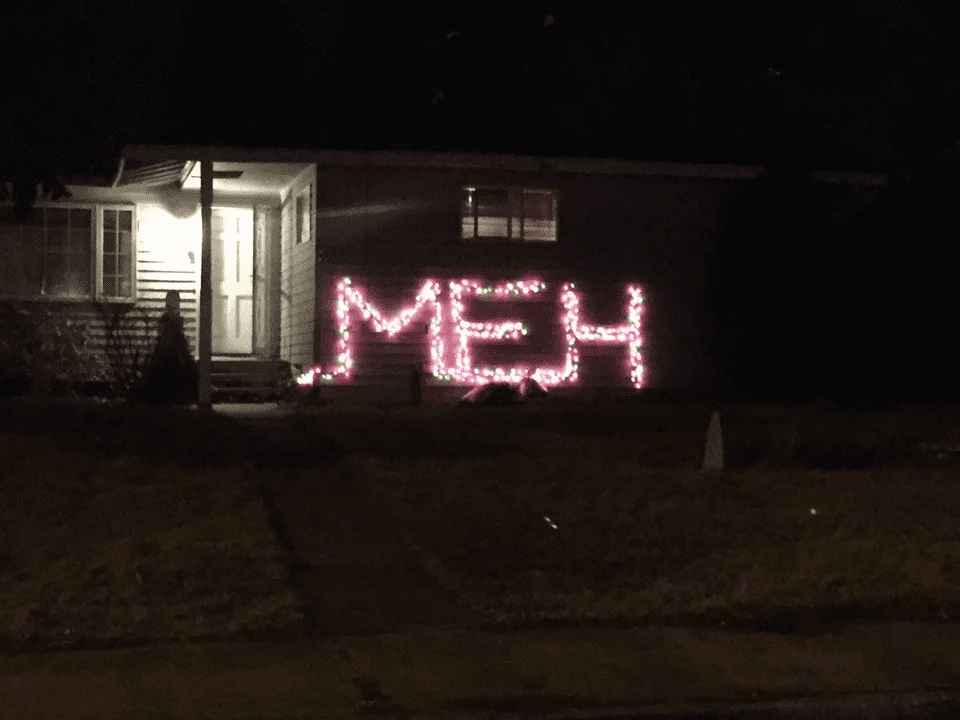 We all feel that kind of mood, from time to time. But when the entire town is in high spirits, it's harder to ignore the vibes. This person is unaffected, and they're not ashamed: They're just not that into you and your Christmas obsession.
It's Beginning to Look a Lot Like Broccoli
The grocery store wants you to know that the holidays are here. Did they buy a fir? No, they used what they already had in stock. We can see employees built a tree of veggies. It includes broccoli, cauliflower, tomatoes, carrots, and more.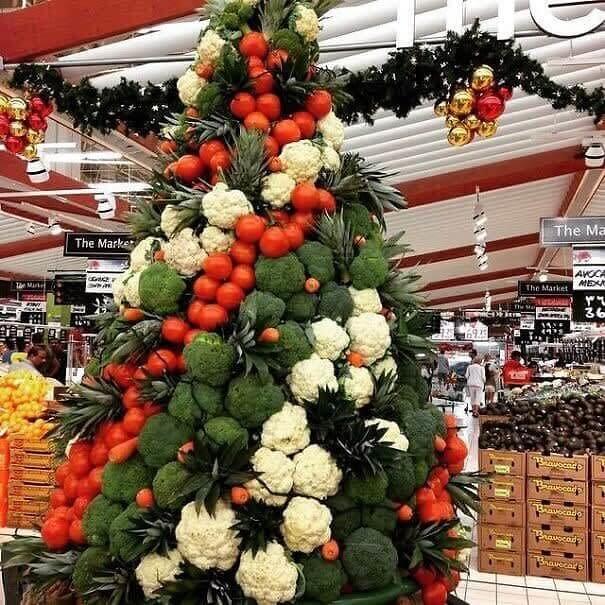 This tree would be delicious steamed and seasoned. Perhaps after the holiday, it can feed the homeless, a colony of rabbits, or the town's vegetarians. There's bound to be interest out there. Just not from us. We'll take the ham!
If the Tree Fits
This family was determined to fit a tree in the living room. Their philosophy was simple: The bigger the tree, the deeper the holiday spirit. This time, the tree was taller than their roof. But it didn't slow them down one bit.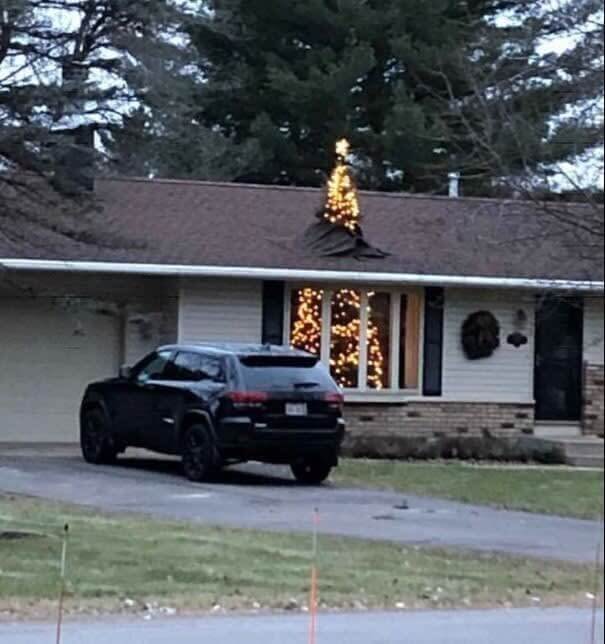 Most of us would give up and buy another one. But this roof was easy to crack. A hole was opened so the tip top of the evergreen could poke through. Lights were added first, of course. They're not crazy!
Good Cheer For Good Health
On Christmas, plenty of folks continue medical treatment. Thousands have emergencies, and women give birth. Life doesn't stop! For all these cases, hospitals stay open. Here, one wing decided to celebrate the holiday with a little humor and a lot of tinsel.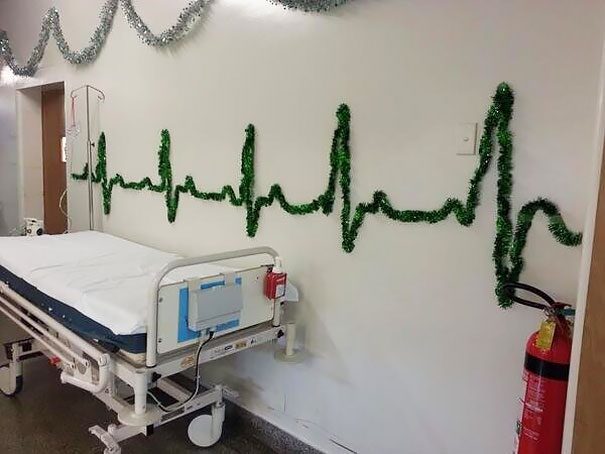 We are sure you recognize what this is right away. The pattern fits the hospital setting. It's a human heart rate. That's the goal here, of course. Everyone wants a healthy beat like this. This Christmas, the docs will try their best.
Last Christmas, You Gave Me Your Books
We know it's been a while since you've been to the library. Maybe audiobooks are to blame. Maybe videos and podcasts have taken over for good. But once in a while, it's nice to sit down with a classic book for nostalgia's sake.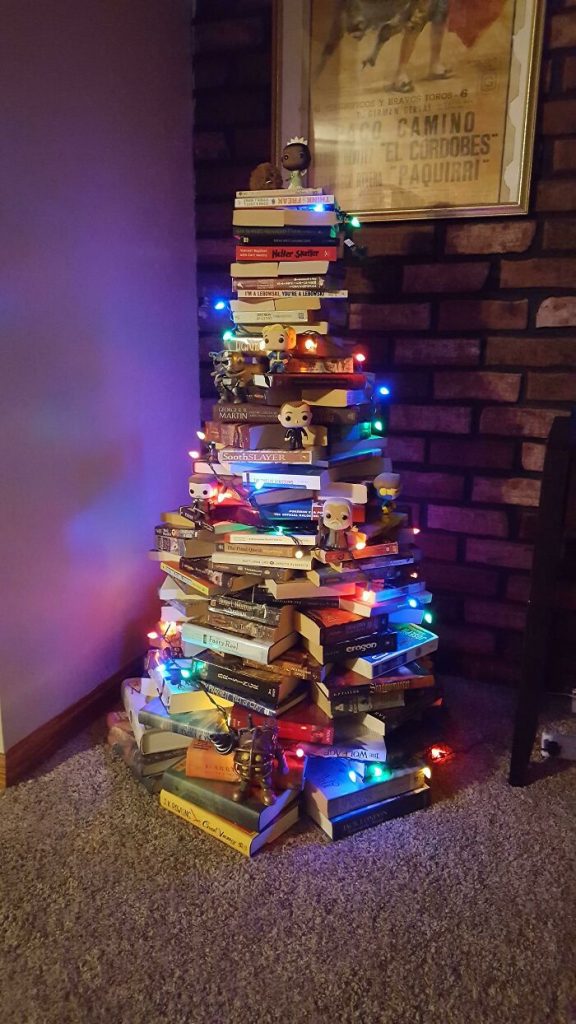 This tower offers a lot of options. From classic fiction to modern novels, there's something for the whole household. The lights and figurines add to the fun. Stepping back, it sure does resemble a tree with ornaments. Could that be the idea here?
Meme in Heavenly Peace
The era of the meme is upon us. So is the holiday season. Here, two mischievous schoolteachers decided to combine the two for their students. On the left door, we see an angry pair of women. On the right, we see an arrogant cat. Seem familiar?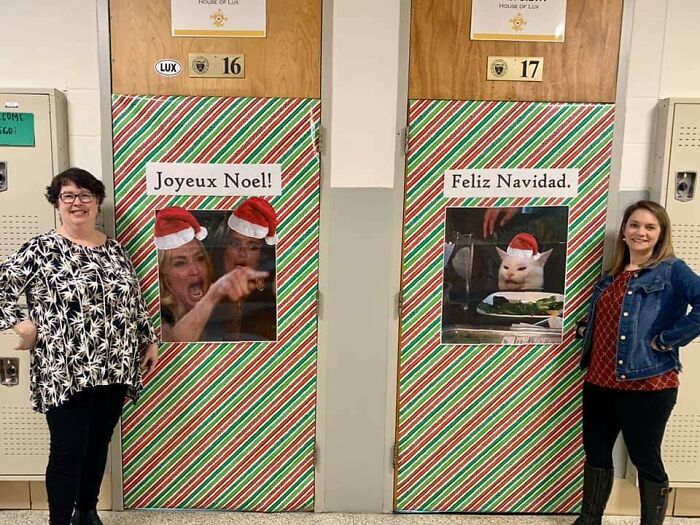 If you've been on the internet at all for the past decade, it should. The 'Woman Yelling at a Cat' meme is actually a screenshot from a reality show and a photo of Smudge the Cat. They always seem to argue word choice. Here they go again!
Not Your Average Sleigh Ride
For ages, most people enhanced their cars with bumper stickers. Some added a coat of bright paint. After MTV's Pimp My Ride, people really started to upgrade their wheels. But this is a method we've never seen before. Could it be for Christmas?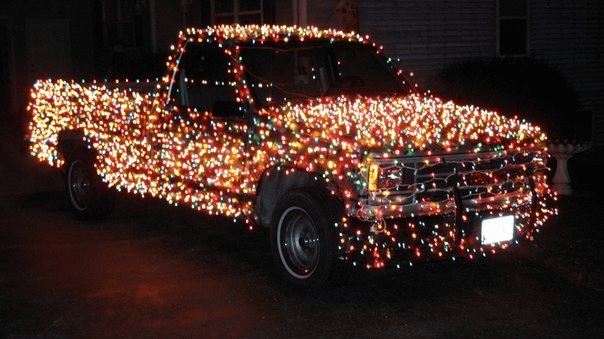 We'd assume so. If you've already decorated your house, try your vehicle next. This pickup truck is lit to the max. Its driver covered it in colorful lights and not an inch of space was wasted. Twinkle all the way!
You're a Green One, Mr. Neighbor
Once upon a time, the Grinch tried to ruin Xmas. We know that he came to appreciate it in the end. But along the way, he harassed the Who people of Whoville. It must have been creepy. Was this what they saw?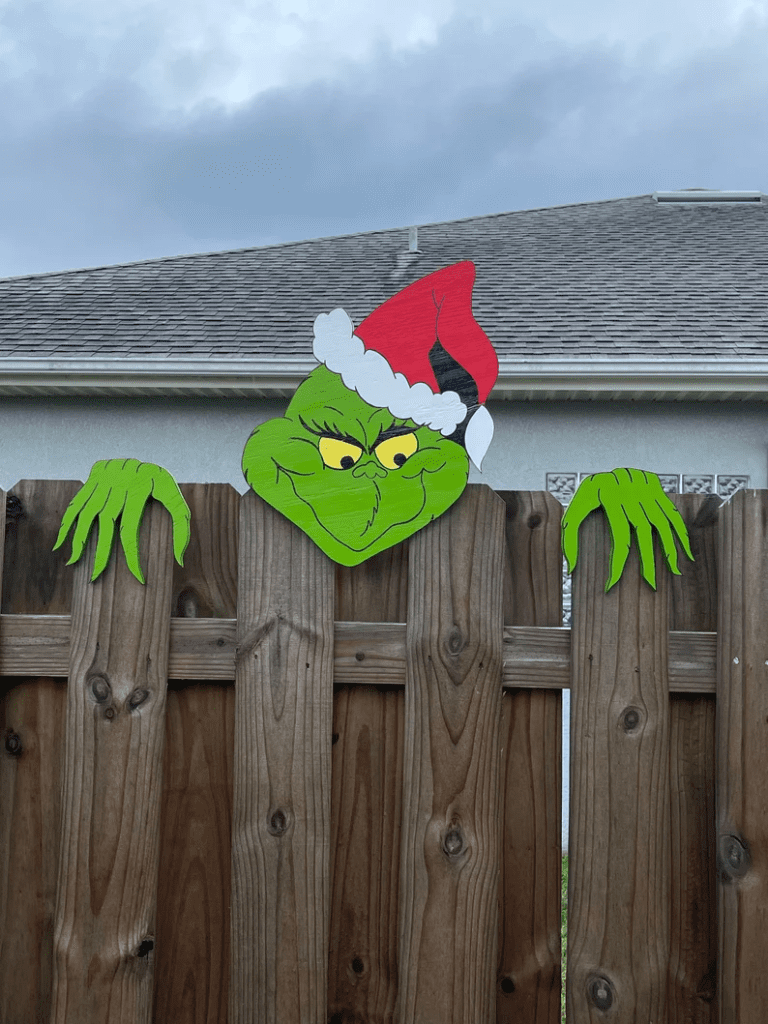 It's probably exactly what they saw. The Grinch wasn't one to mind his own business. Christmas was never supposed to be a slight to him personally. But when you have a heart of coal, you tend to lash out. Here he is, plotting his plan.
Even Santa Does It
When you fly around and deliver millions of packages, you're gonna need a backroom break. Santa Claus does so much for us. Should we be offended he is taking a leak off this roof? Maybe not, if we are fair.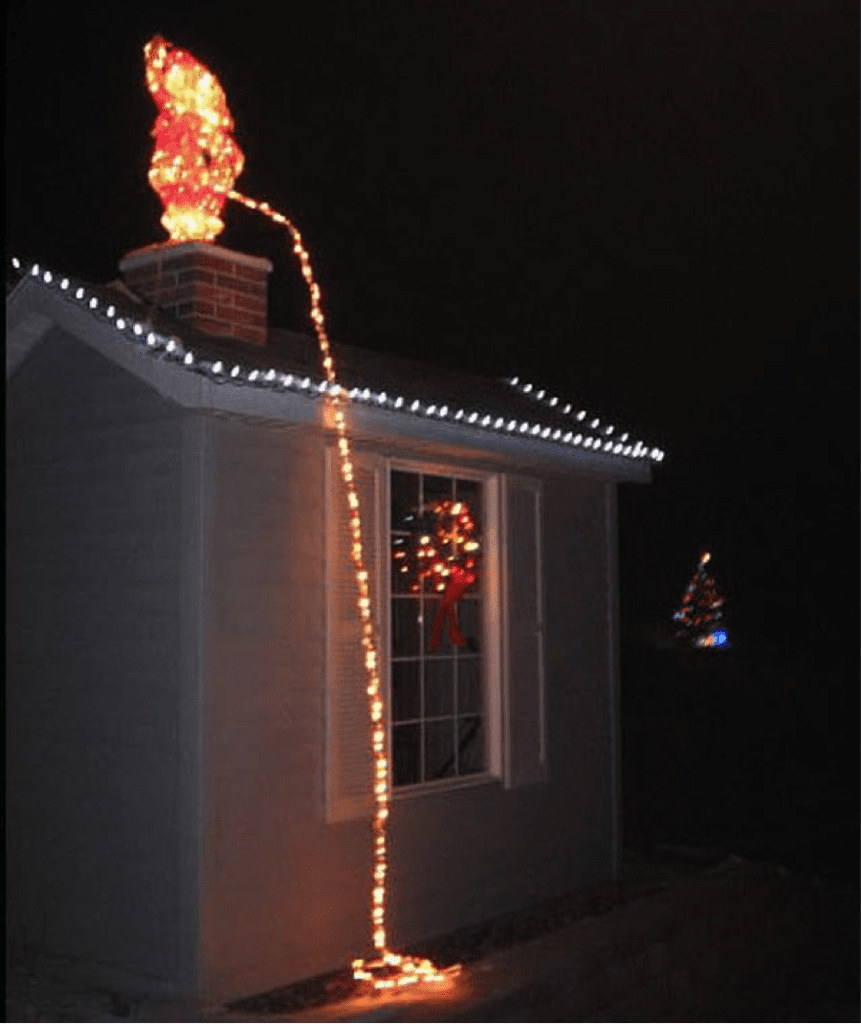 There are no options in the sky. Santa isn't going to wear a diaper on the job, either. On the ground, he is usually shuffling down our chimneys. We wouldn't want him to use that. The gutter is just fine!
The Periodic Table of Christmas
We admit it: High school chemistry class wasn't exciting, outside the baking soda volcanoes. But maybe we couldn't appreciate the magic of that science. This Christmas display shows us all the elements in the world shaped like a tree. Isn't it delightful?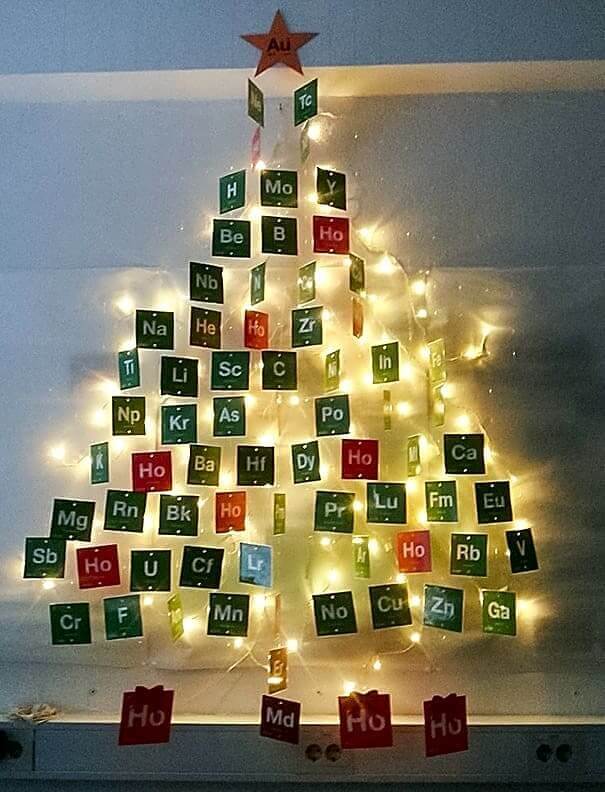 It's been a while, but we recognize most of these substances. We see hydrogen, helium, oxygen, carbon, and neon. There's aluminum, iron, and calcium. Uranium is here, too. But thankfully, it's not deadly in paper form. This is just DIY!
Rudolph the Red-Nosed Speedboat
If you have a boat, it's time to use it in your Christmas routine. How, you ask? There's a way, and we found an example in Alexandria, Virginia. This speedboat was made to look like Rudolph the Red-Nosed Reindeer. We see antlers and a big, red nose.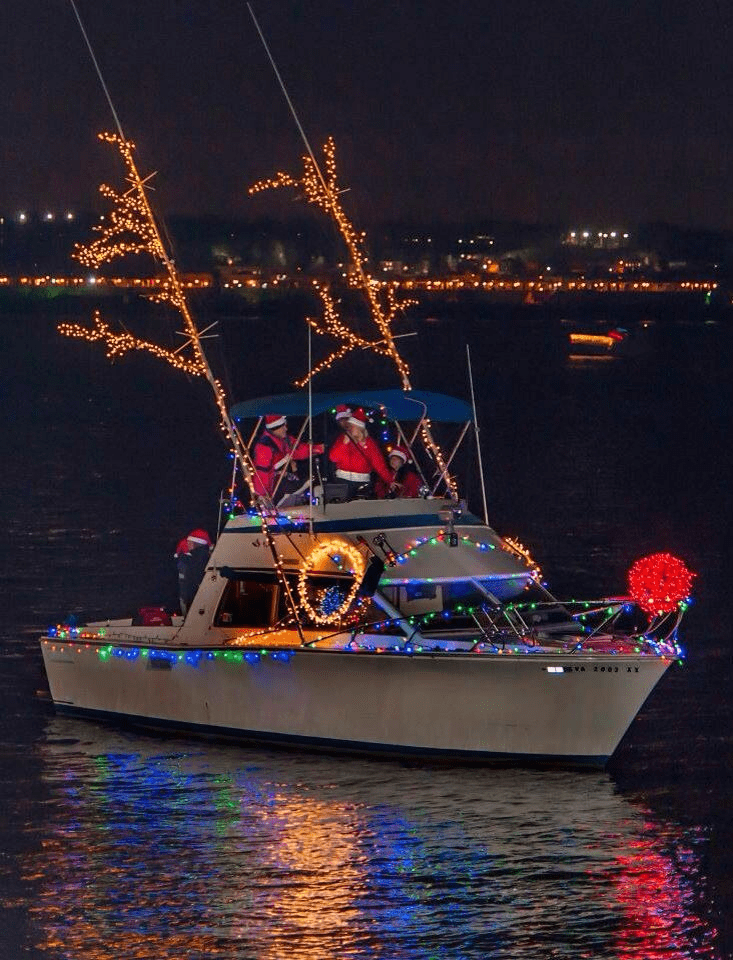 The crew has dressed up, as well. Captain, first mate, and helpers alike are all Santa lookalikes. Some would call them impostors. We like to think they are just admirers of the most generous man on the planet. We sure are!
Ditto Did it Better
The house on the left went all out with their Xmas display. They used lights of every conceivable kind. We see the trees in the yard are wrapped with strings and the roof has icicle lights. No colors were spared. What about the neighbors?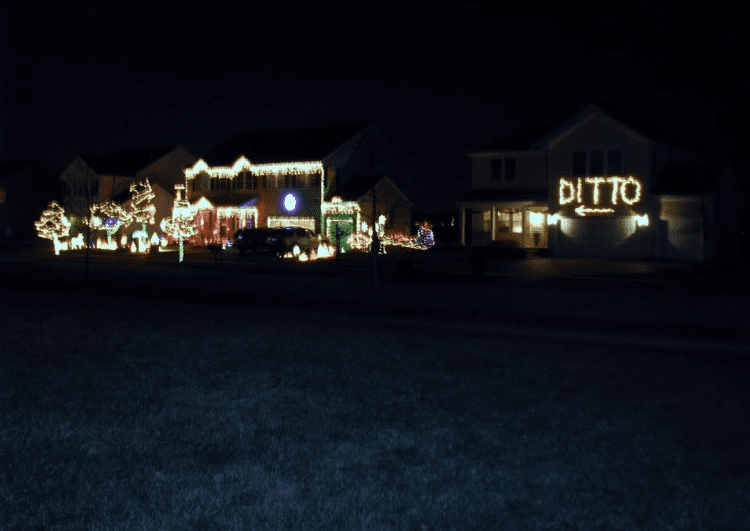 The competition isn't exactly fierce. In fact, the folks next door are not trying to win. In their own way, they provide entertainment — perhaps even more, by accident! House number two endorses the first design with a simple phrase: Ditto.